Travi$ Scott Brings Out Kanye West & Chris Brown to the Stage
Travi$ Scott and Young Thug's successful 'Rodeo' tour stopped by LA for two back-to-back shows at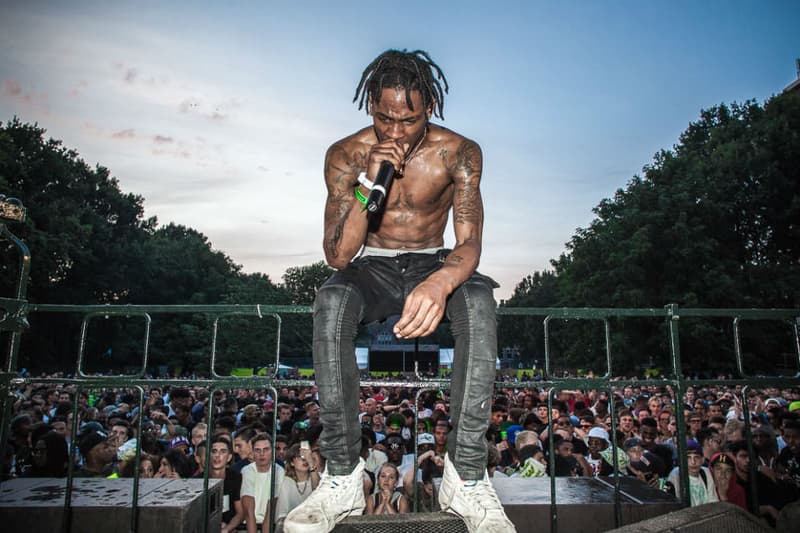 Travi$ Scott and Young Thug's successful 'Rodeo' tour stopped by LA for two back-to-back shows at Club Nokia this weekend. The second show offered a big surprise for the attending audience as La Flame brought out his mentor Kanye West to the stage in order to perform his latest single "All Day." On top of Yeezy's appearance, Chris Brown also showed up during the concert's medley finale of "Mamacita," "Skyfall" and "Lifestyle." Watch some Instagram-captured footage of the event below.
What to Read Next
'Ye wore the adidas YEEZY "Clog" while performing.
---
The trio breathe new life into the 'So Much Fun' track.
---
Travis Scott, Eminem and Migos also make it on this year's top 10.
---
---
Reminiscing on his first time meeting 'Ye.
---
New Balance has reinterpreted its retro 997 silhouette into a sleek upgrade sporting a charcoal
---
adidas Originals' flagship store in Seoul marked the release of the highly anticipated 50-colorway
---
Ever since he began his adventure with Photoshop at age 12, Florian De Looij has been honing his
---
---
It's been another jam-packed week filled with engaging headlines from footwear, fashion and
---
Having honed his skills working with luxurious brand such as Prada, Calvin Klein and Yves Saint
---
The adidas Originals Superstar gets a digital makeover in the "Pixel Camo" colorway. The silhouette
---
More ▾