Drake - If You're Reading This It's Too Late (Review)
With an air of authority, Drake blindsided his fans with a surprise release of If You're Reading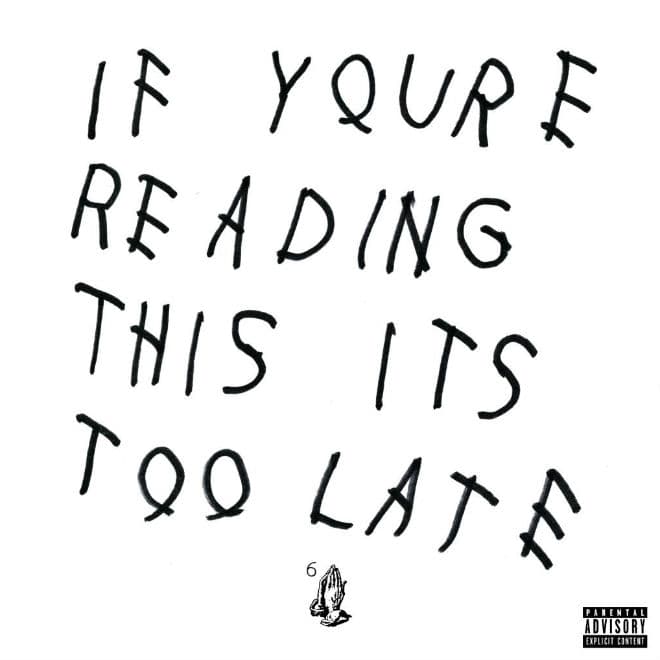 With an air of authority, Drake blindsided his fans with a surprise release of If You're Reading This It's Too Late, offering little to no way of discerning its intent –album or mixtape, we may never know — aside from the verifiable assumption that it celebrates the six year anniversary of his 2009 project, So Far Gone. On trend with that sexennial milestone, Aubrey continues to put on for the city that raised him, as well as bolster its nickname that he helped popularize, by including track-titles which incorporate the symbolic number and by weaving "The 6" into wordplay throughout the compilation. Furthermore, as a line like, "My sound got the whole city a way right now/So I don't give a f*** about what anybody sayin' right now," suggests, the project chronicles a rapper that not only wears his hometown crown, but is also, without a doubt, at the top of his game.
As the smooth sound of a distorted (and, slightly unassuming) "So Anxious" sample creeps in at the top of the 17-track mixtape-meets-album hybrid, Drake enters casually, acknowledging that should he succumb to a fatal ending in the near future, he would indeed be the stuff of legends. Agreeably, so. Howbeit, in that presumption alone we immediately see an extreme confidence in the rapper's delivery that is, though present in his past work, seemingly inflated as of late. Drake's punchlines hit harder; his blows are more directed; and, maybe more expectedly, he manages to lyrically unearth a ludicrous amount of offbeat (and rather entertaining) ways to declare his kingdom, i.e. "I mean besides Ricky Ross, Aubrey the biggest boss out here." (Insert the Rozay grunt.)
On the grounds that many can't relate to a life infused with 100 bands, boxes of free Jordans, and texts from centerfolds, Drake is preaching from a far less relatable vantage point with this release. Moreover, there is a palpable shift from the "Thank Me Later-Drake," a wary, yet identifiable, newcomer adjusting to the tribulations of rising to fame, and the "If You're Reading This It's Too Late-Drake," a seasoned vet, juggling an account that brags, but also bellyaches, about the view from the top. Pressure to stay relevant, sift through phony friends, and single out that special someone all appear to have a lasting effect on the 28-year old. Even Drake himself recognizes the change: "Please do not speak to me like that Drake from four years ago/I'm at a higher place." Whether the higher elevation has brought spectacular scenery, altitude sickness, or possibly a little bit of both, is up for debate.
In order to develop an opinion on the matter, the listener has to wait about half way into the album before hearing anything resembling wavering insecurity, seeing as how the first eight cuts serve more as a self-praising victory lap, which, fittingly, Drizzy commandeers almost exclusively by himself. Aside from some sporadic monologues in Jamaican patois, a rant from Lil Wayne about ungrateful rappers, and the recording of a disagreeable phone operator, If You're Reading This It's Too Late doesn't see the company of another voice until the eerie vibration of an OVO collaboration rings in a heavily-synthesized PARTYNEXTDOOR on what is sure to be the SoundCloud golden child, "Preach." And, well, since the only other artists to tag team on the the project include Drizzy's YMCMB predecessor, Lil Wayne, and the Days Before Rodeo budding star, Travi$ Scott, it's clear that Drake placed less importance on features, and more focus on both his own lyrical contribution and the helpful hand of heavy-hitting producers. Employing the support of trusted collaborators like Boi-1da, Noah "40" Shebib, Eric Dingus, Travi$ Scott, PND, Vinylz, and more, Drake found himself sitting comfy on a healthy selection of beat cadences and the freedom to experiment with some personally unexplored flows.
If You're Reading This It's Too Late is chock-full of aggressive rap verses–the type of joints that a Drake fan might use to fuel their fiery beastmode, though the project's pace, at times, barely exceeds a crawl. However, to the dismay of many loyal followers, this approach literally left little room on the already jam-packed hybrid release for that singer-and-rapper duality that we've all become accustomed to in a Drake offering. Taking into account the potential of tracks like "Now & Forever" and "Jungle," which find a lonely and emotional Drake chanting, "No looking back when I'm gone/No more," and "F*** what they talkin' about on your timeline/ That's cuttin' all into my time with you," the absence of a standout track led by an infectiously melodic hook, raises some suspicion: Perhaps this uneven delivery is a rebuttal to criticism that says Drake is too soft. Or, maybe his camp withheld the vocally-driven single(s) with plans to release it/them on what was announced as his official album, Views From The 6. The mind ponders.
Arguably the most intriguing part of this project is the uncertainty of it all. No one knows how to label this 17-track after it was initially released onto the OVO SoundCloud page as a mixtape, and later taken down only to find a new home on the more profitable alternative, iTunes. The plot thickens when we examine Drake's decision to pull what is now famously known as "a Beyonce." The strategic move not only demonstrates Drizzy Drake's present-day, authoritative footing, but it also exposes a larger trend among A-List artists, including U2, Skrillex, D'Angelo, and, of course, Beyonce, who have decidedly taken the power into their own hands with these "world-stopping" digital drops–a nod towards the future of music distribution.
Even still, there is a countenance of unsolved mystery that surrounds If You're Reading This It's Too Late–a swarm of "what ifs" married with a dose of "what nows." For instance, in light of the current climate at YMCMB, which sees Lil Wayne suing Cash Money Records Co-Founder, Birdman, for $51 million dollars over the delayed release of Tha Carter V album and threatening to bring Drake and Nicki with him when he exits, is this mixtape/album Drake's long-awaited reaction to the debacle? There has also been talk that Drake's surprise release was rushed to fulfill a contractual obligation with Cash Money. Of course, this is all speculation, but Mr. OVO certainly did load the project to the brim with suspiciously subliminal jabs, most notably in "Star67": "Brand new Beretta, can't wait to let it go / Walk up in my label like 'Where the check, though?"
Regrettably so, Drake does little in the way of press, leaving the masses to either 1) anticipate the unanticipated, or 2) pray for the best-case scenario. (Oh, and by best-case scenario, we definitely mean the fruition of a rumored Kanye and Drake collaboration project, which Yeezus recently stated was the inspiration for his newly unveiled track, "Wolves.") Now however, in the midst of this ever-present ambiguity, stamping View From the 6 as definite–even considering that Drake announced it as the name of his next official album release–seems a bit chancy. Because, let's face it, when you're dealin with the 6 God…ain't no tellin'.