Authenticity and Power in Fashion: Balmain's Olivier Rousteing Discusses Rihanna and Social Media
HYPEBEAST recently caught up with Balmain's Olivier Rousteing, as the talented head of the historic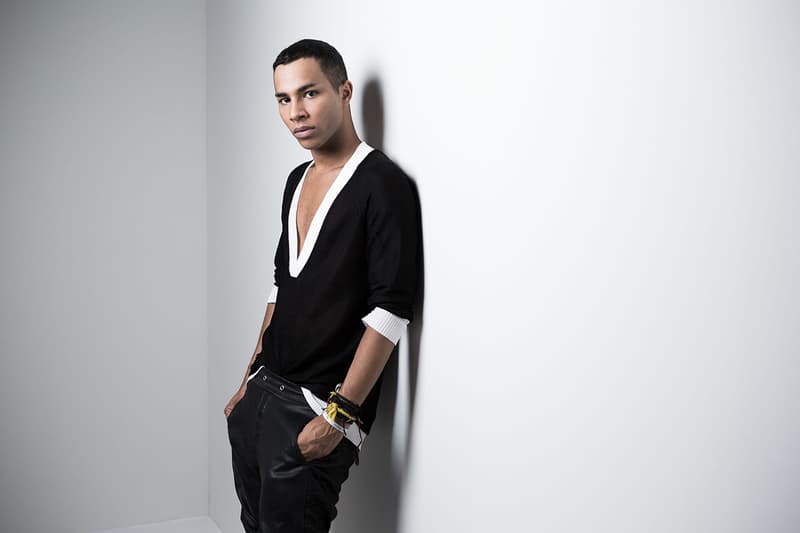 HYPEBEAST recently caught up with Balmain's Olivier Rousteing, as the talented head of the historic fashion house celebrated the opening of their first flagship store in London. The young visionary opened up about the grandiose impact opening a shop in London will have on the future of Balmain, as he continues to revolutionize the Parisian line during his tenure as creative director. Over the course of discussion, Rousteing provided candid access into the inner workings of his mind, revealing his deep-rooted admiration for powerful women, which spurned the formation of his "Balmain Army" campaign, his interest in social media's authenticity, and his love for London's diversity, going so far as to emphatically proclaim, "London is the most international city in the world."
---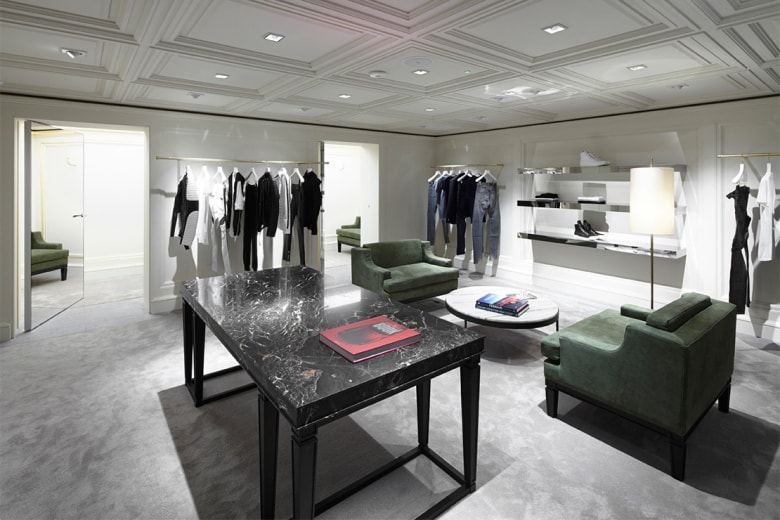 "London is such an inspiring city and since day one, Britain has always been a part of my world, so I am really excited to be merging the two."
---
The Importance of London
London is such an inspiring city and since day one, Britain has always been a part of my world, so I am really excited to be merging the two. With this London store, we wanted to keep the Parisian DNA; the luxury and the quality, yet at the same time migrate away from the French starch, and go for something more cozy, more British. We have kept the white and the black, and touch of gold that is the richness of Balmain, but have different areas — for example, we sell couture clothes, so we have those special rooms for welcoming our women. I feel like in this store, you can feel the warmth of London, mixed with the luxury and the quality of Paris, which was the goal. I love this store.
London Versus Paris
I think London is way more inspiring than Paris. When I come here I feel more inspired by the press, and I feel more inspired by so many different things — by the people, I think the beauty of London is that it is very diverse. Also my London customers are way more different, and that's what I love — the diversity. I think Paris has obviously inspired me, but I think for example Versailles, is inspiring, but it is more inspiring because Kim and Kanye had their wedding there. You know what I mean? I think Paris just needs to actually bring something new to make it more beautiful. There are journalists who say, "Paris is a party, but only if you have the key." I also share this belief. I love having the key to Paris, but I also love welcoming people who are actually a part of the world, and are coming to Paris to offer me a "new Paris." On my Instagram when I was calling Paris Fashion Week "Parih Fashion Week," I was referring to Rihanna because Rihanna makes sense in Paris; Kim makes sense in Paris, because they both make Paris more beautiful. I mean Paris today is obviously one of the most amazing cities, but what Paris used to be in the '70s was designers bringing exoticism and new culture into their shows, and obviously their visuals.
The Clothes & the Store
I believe the store contains the same DNA of the house. We are simply putting in my clothes, which are already flamboyant. Couture serves as a good match, because the store upholds the house's base, so with the clothes we are adding the necessary substance. The store is obviously not hip-hop. You don't feel the R&B or the pop; you just feel the French touch mixed with the warmth and beauty of London, plus the clothes, which are going to be more hip-hop, and sometimes couture. There is a direct relationship between the clothes and the store.
---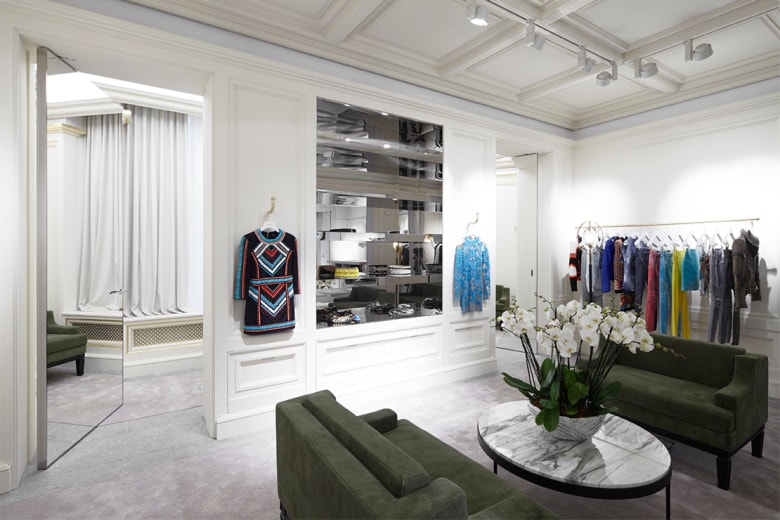 "I just love my surroundings. I love my new generation, I love my world, so I am just pushing the new world. That's what I want."
---
Rihanna, Kim Kardashian, and the Balmain Army
It is really hard to find a man stronger than a woman. I think women are always stronger so there is no male who can be compared with Kim or Rihanna. I think they are stronger than any man in this world. I think they are the goals. There is no doubt that the women are always stronger.
Female Muses
Honestly, I have a couple of girls who I love, but I do have to say that today, to reach Rihanna and Kim is obviously pretty hard. I think that Gigi Hadid is going to be a really strong girl, and she already is. You know it is all about connections. I know it sounds weird because people are like, "Oh my gosh is it the star system? Is he a socialite?" I'm not a socialite at all. I am just sharing nice moments. I shared some nice moments with Gigi at my party in Dubai. That's how I meet people, and after I judge if there is or isn't a connection. I've met so many good people, and I have such a great PR team who make sure I meet different women and men. It is all about being natural. In my show you can get Adriana Lima, or Anja Rubik, or Binx, or you can get Issa – it is just different women. Your background, age or body doesn't matter. It is all about power and strength, and I think that is what I show in my casting of girls. They are all different, but they all share the common point of being very strong girls.
Style Inspiration from Kanye and JAY Z
Yes, the men's collection is also really important to me because it is more of what I am going to wear. This collection here (in-store) is more sporty, but obviously the incoming collection is more night/evening. I am just playing with what I want to wear. It is about feeling an emotion, and Kanye is always inspiring me; different men like soccer players, and JAY Z also inspire me. The "Balmain Army" for men is also really different because you can get hip-hop, you can get young kids, you get different vibes, Justin Bieber, etc. I just love my surroundings. I love my new generation, I love my world, so I am just pushing the new world. That's what I want.
---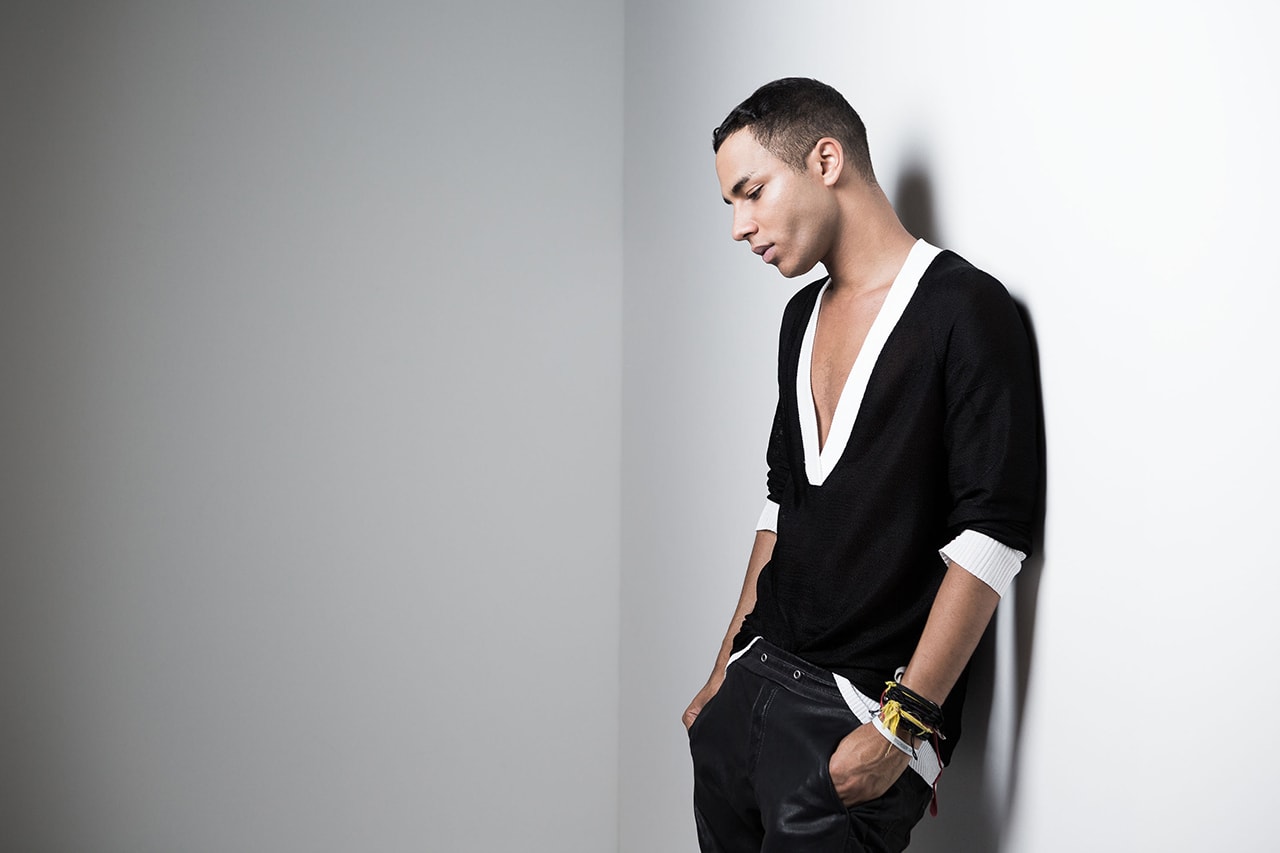 "I am not working with big stylists, I want to keep it real, keep it true, and keep it myself."
---
The Evolution of Olivier Rousteing, the Designer
I think I have evolved as a designer as much as I have evolved as a person. I feel like what I did four years ago I would not do again today. You know, four years ago I tried to please too many people and I got a bit lost in a way, although I am happy with my work. Today I try to please myself, which does feel like trying to appeal to my customers, my buyers, and the press, but at the same time, pleasing myself is still really important. I feel like you can tell when a designer doesn't please himself, and aspires for the press's approval instead. What I am trying to do now is tell people I am pleasing myself, and by doing so, I am also a happy person. Every morning I look myself in the mirror and can recognize the reflection. I have the freedom of mind to say I would be proud to defend my collection for the next six months, and that's what is most important. I am not working with big stylists, I want to keep it real, keep it true, and keep it myself. I feel like my buyers are buying more realness in a sense. Today I am into pop culture, I am into my age, and I don't want to try to be someone else. I aim to be this guy who is actually surrounded by amazing people. I know that sometimes it is controversial to get pop culture in a luxury brand, but I feel like that is the new world.
The Authenticity of Social Media
What sometimes bores me about fashion, and the magazines, is that when you are a big advertiser, you are going to get your clothes shot. There is no question. It could be the crappiest collection, it could be the worse ever, but you are going to have some shots in a magazine. I think with social media, it is more natural and more real. I have 1 million followers, so people are going to see my new fashion show. I don't think any magazine is going to sell 1 million issues of their magazine in-house for example. The reality is that I grant access to my fashion in a different manner. I think that's what is important. I can get followers who are customers, and I can appeal to the daughters of customers. I feel like it is a big family, where people are going to share and are going to check out my latest collection. I think social media is the new way of advertising, and in a way diverging from the rules and monarchy of fashion. I have amassed my followers without having to pay anyone to get these followers. At the end of the day, when you get shot in magazines you have so many publicists who call and say, "I'm an advertiser, I need to advertise this jacket in my magazine." In my case, I have my social media; I have my Instagram, and people do not have to pay anything, and I am not paying anything. It is just more natural and real. That's what I think the world wants now: more honesty, and sincere feelings.
Check out Balmain's 2015 fall/winter collection here.