Tyler, the Creator Talks Favorite Skaters, The Weeknd and His Love for Cats
The Odd Future visionary's latest interview.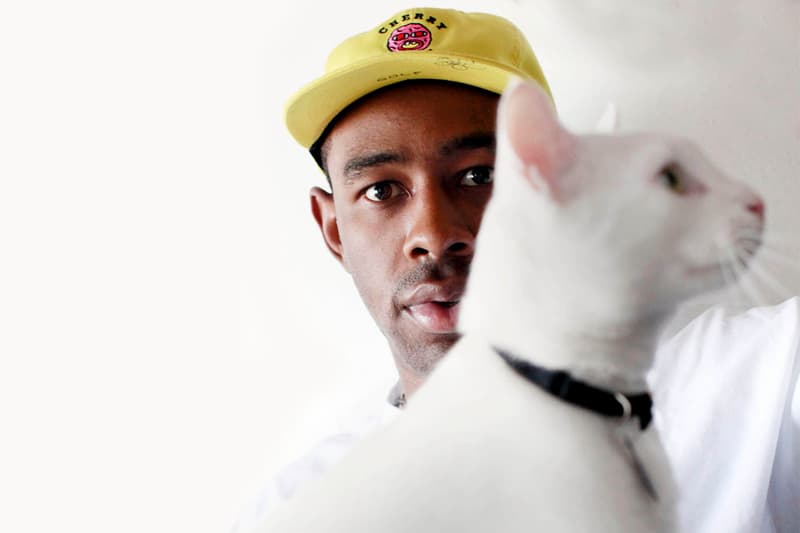 Prolific rapper, producer and designer Tyler, The Creator is always up to something. 2015 has proven to be a strong year for the young artist who "was never into sports growing up," having collaborated on a GOLF x Vans Pro Classics Old Skool collection, hosted another successful Camp Flog Gnaw event, and installed a new mini-ramp in his house. Tyler recently had a quick chat with PUSS PUSS Magazine who picked the rapper's brain on topics like skating, music and cats, naturally. Read our favorite excerpts from the interview below and read the full piece in Issue 3 of PUSS PUSS.
How good of a skater are you?

I fucking suck! But when I was skating a lot my favorite trick was a fake half cab heel — that was my go-to trick. I could just do it back to back no problem, but now I fucking can't. But hey, we skate the mini ramp [at my house] now so that's cool.

What's your favourite skate video?

Yeah Right by Girl, Team Ice Cream vol 1 by Ice Cream and Illegal 2 is really cool.

Who are your favorite skaters?


Eric Koston was one of my favorites and forever will be. Right now, the Fucking Awesome team is really killing it. I've kind of known those guys for a while so Nakel Smith, Kevin Bradley, Sage Elsesser and Sean Pablo's a beast! It's really cool to see those dudes getting to a bigger realm. I'm very proud of them.

What's your favorite Vans shoe?

I wear Old Skools 24/7.

What music have you been listening to lately?

I really like The Weeknd's song, "Tell Your Friends." That song is so fucking great, I really like it. Also this song by Eternity's Children called "I Wanna Be With You," that shit's really good, it's like an old 60's song, it's really great I love it.

So what else do you do for fun? We heard a rumour you used to whisper mean stuff to kids when their folks weren't looking, do you do that to animals too?

I like animals they're cool, but talking to animals like regular people is so fucking funny.

You seemed to have fun with the cats on our shoot, what did you say to them?

Well I didn't say much to those, I remember meeting some animals and joking round saying stuff like "Hey man, I got some drugs, you wanna smoke?" retarded stuff like that it's funny.

You recently took a photo of Pharrell and Kanye. Tell us about that.


There's not that many photos of those two. There's one photo in Japan at the Ice Cream store opening, a couple of other photos of them floating around too but seeing that photo [of them] in 2015, it's like they're still chewing it and they're still friends. It meant something to me. It's like no matter what I'll be, I guess I'll always be creating, I'll always try to do that at an awesome level. So seeing those two try to do that, I mean I look up to them so much and they know they're fucking gods. I love that photo, it's cool.