Max Schaaf x Vans Syndicate Mountain Edition 4Q "S"
The Oakland-bred motorcycle aficionado customizes the Mountain Edition.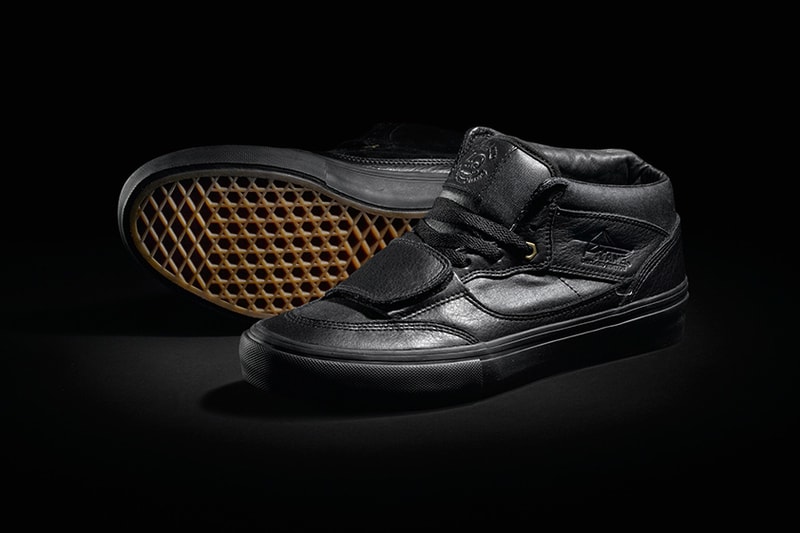 Veteran skateboarder and motorcycle builder Max Schaaf — known as much for his creativity on four wheels and a wooden deck as he is for his custom bikes — first teamed up with Vans Syndicate back in 2009 and now, to celebrate the imprint's 10-year anniversary, he's back with a brand new creation: the Mountain Edition 4Q. A premium, heavy duty mid-top, the Schaaf collab takes cues from his hometown of Oakland and comes decked out in military-grade leathers with heat-resistant Warrior suede lining, debossed logos, custom tank art on the sock liners and an all-black aesthetic. Finally, finishing touches include Ultracush HD footbeds and Vans' signature waffle gum sole.
The Mountain Edition 4Q drops Saturday, October 17 while an excerpt of Syndicate's interview with Schaaf appears below. For the full interview, head on over to vans.com/syndicate.
Sorry I missed your call, I was just on my motorcycle.

Where were you riding to?

I had to go into the city to grab some motorcycle hardware, and I heard a John Prine song today and I had to have it, so stopped by this little record shop in Oakland on the way home. Its hard to find his records on vinyl, the guy told me 'i don't have the record here, but I have two at home and I'll hook you up with it if you come in tomorrow'

You didn't try to find it online?

No, I'm just trying to avoid that shit right now. I'm trying to do a little bit more 'made in America' even though its impossible, and a little less E-Bay or Amazon. The extra 10 bucks you spend just seems so worth it.

Well, I'm calling to ask about the new edition of your Vans Syndicate shoe, but let me first ask you if you remember your first skate shoes ever? How you first got skate shoes as opposed to random other shoes?

Yeah, its weird, cause I don't ever remember a time without Vans… as perfect as that is for me to say to you right now… I've seen photos of myself in the navy-blue boat shoes (Authentics) before I skated. We wore hand-me-downs, and shoes were a pretty big deal, and that being said, I really cared what shoes I had. Early on when I started skating, I saw a dude skating in Hawaiian print Vans slip-ons, and I had to have 'em. My dad found where they sold them, it was a few towns away. At the time I wore a 5.5 and all they had was 7.5.

I convinced him that they fit, I remember showing up at a kid party and instantly everyone noticed that my shoes were too big for my feet. But… they were the really sick Hawaiian print Vans from way back, that must have been 1983.

Since the beginning it was Vans, then the red checkerboard high-tops. I did the custom order that they used to have in the back of magazines. It said 8-12 weeks, and it took months and months and months… waiting for the UPS dude to come. I did a pretty wild pair, checkerboard on the outside, Hawaiian on the inside, red tongue on one, blue tongue on the other, they were nuts but they were so cool.

All the stuff you are mentioning is all stuff that Vans has brought back, that skaters wear now… the Hawaiian print and custom orders. But for a long time those shoes were hard to get. Did you ever have the lace-savers?

That's embarrassing dude, not only the lace-saver that came with the shoes but i'd lace in an extra one to the front of the checkerboard Vans.

Its funny we are talking about it, because I just went to NY for that bike show there, and was having a full shoe crisis, cause I wanted to skate a bit, but I wanted my shoes to look right. And none of the shoes I had were right so went to the local college kid store and bought some navy Vans boat shoes (Authentics)… the navy blue and white ones, cause those always look so good. I shoe-goo'd the ollie area, cause I knew I was going to skate in Brooklyn…. and still I look down and remember the smell of the first box.