Christopher Raeburn Discusses Functionality and Sustainablity in Fashion and His Role at Victorinox
There's often a perception that high fashion designs aren't the most practical. While this might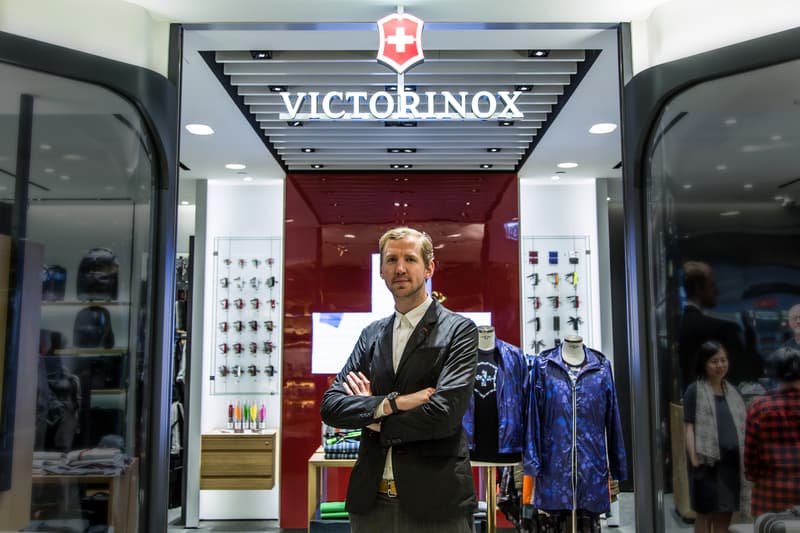 There's often a perception that high fashion designs aren't the most practical. While this might sometimes be true, Christopher Raeburn's innovative approach to fashion design questions these judgments. In particular, Raeburn and his namesake label has garnered a reputation for reusing military fabrics. While functionality and sustainability are imperative motifs in Raeburn's work, the British designer also ensures a balance between sophistication and playfulness. "I always try and have a bit of fun. There has to be some humor, as fashion can be quite serious." Raeburn's pioneering approach — which is structured by the four R's: reduce, reuse, recycle and Raeburn — has brought new awareness to a luxurious fashion audience. Since his appointment as Art Director for Swiss label Victorinox, Raeburn has helped launch the longstanding utilitarian label's fashion division. We caught up with Raeburn during his layover in Hong Kong before heading to Victorinox's Shanghai flagship opening, where he shared his latest designs, while also speaking on early inspirations and how growing up in the countryside of Kent has yield his unique perspective.
---
Sustainability and English Influence in Design
"The utilitarian elements in my work are much inspired by my early surroundings."
How were you introduced to the idea of sustainability in fashion design, and how have you incorporated this in your Victorinox work? 
I studied women's wear in university, knowing that it would be challenging. I admit that I didn't know what to do with my degree. I was encouraged to develop the remade concept at the Royal College of Art. It was a natural progression in both my own line and Victorinox. At Victorinox, we only reuse Swiss military fabrics. Each design is truly special, and is accompanied by its own tag explaining the design process. For example, we explain how we reuse parachutes in our outerwear pieces. The good thing for both my own company and Victorinox is that the more you expand, the more opportunity you get to use sustainable materials because you develop relationships with factories. Since so much military fabric is available, finding the material is not the problem. It's more about partnering with the right manufactures and the process that follows. The bigger your brand, the more people want to collaborate.
Growing up in England yielded a distinctive way of looking at life and fashion. Has this been incorporated in your work?
Absolutely. I grew up in rural Kent where we had to make our own fun. Through fashion design, I realized that there is a clear linear pathway for the child that was playing outdoors. The utilitarian elements in my work are much inspired by my early surroundings.
Military prints remain very popular in different sectors. What can you say about the use of camouflage in your designs? 
Camouflage is such an energetic and compelling pattern. It has made a beautiful transition from military to streetwear. For 2014 fall/winter, I've worked with Victorinox on two camouflage prints. One is created from the Swiss national military and is seen on the Highlander II Jacket, and the other is called Shield Camouflage because it displays the Victorinox cross and shield. It is important not just to replicate camouflage but to develop new prints.
---
Part of the Victorinox Expansion
"Victorinox has a fantastic history. The company is 130 years, old and quality, trust and innovation are ingrained in its DNA."
In 2010, you were approached by Victorinox to design for them. What has this been like?
Victorinox has a fantastic history. The company is 130 years, old and quality, trust and innovation are ingrained in its DNA. It is extra special because it is family-owned and still independent. Through trips to its headquarters in Switzerland, I have deepened my understanding of the label's unique manufacturing process for multipurpose knives and now its crossover onto fashion. I'm excited to be part of its expansion.
How do you balance what you do at Christopher Raeburn with your role as Art Director at Victorinox?
When I started at Victorinox I was worried about how to balance both roles, but they need each other. Collaborations are really important to the growth of a brand, and after each collaborative project I return to my own work energized. I've learned a lot by working with both brands.
Before you took on the role as Art Director, you collaborated with Victorinox on the "Protect" capsule collection for 2013 spring/summer, followed by the "Rescue" line for 2014 fall/winter once you were appointed. Have you maintained the same design aesthetics?
Functionality, longevity and military detailing are factors I've used in both lines. The Protect line focused around sustainability and recycled fabric while ensuring that the overall sensibility was young and cool. Above all, the pieces protect the wearer from unpredictable weather. We have since integrated such values onto the Rescue line. Yet the Rescue collection adheres to more classic styling and builds on the outdoors spirit of adventure. I'm now exploring how we can grow Reuse as a division, interacting with other divisions such as watches, knives, cutlery, luggage and fragrance.
---
Additional Thoughts
"Being able to look good while remaining comfortable is important."
What are your thoughts on the intersection of performance and fashion?
It's a very interesting point in fashion, especially for the younger brands coming out of the UK making this hybrid crossover. Customers want a mix of functionality and style. Being able to look good while remaining comfortable is important.
Which designer are you currently most excited about?
When I think about the growth in London Collections: Men, I'm excited about how British brands working together can have a global impact. The media and buyers are intrigued about what's happening in London. A. Sauvage, Agi & Sam and Lou Dalton are among the many compelling brands coming out of the capital right now.
Do you have a specific market in mind when designing for Victorinox?
We are seeing a lot of growth here in Asia and in the U.S., and it's very exciting to be involved with a brand that is growing. Fashion is still an area that we need to explain, since people mainly know Victorinox for its knives and watches. It's cool to be able to travel and explain the products.
Join Our Discussions on Discord
The HYPEBEAST Discord Server is a community where conversations on cultural topics can be taken further.