Big Sean Speaks On Aura Gold and Forthcoming Music Projects
Soundtracking the summer months with the release of his highly acclaimed studio effort Hall of Fame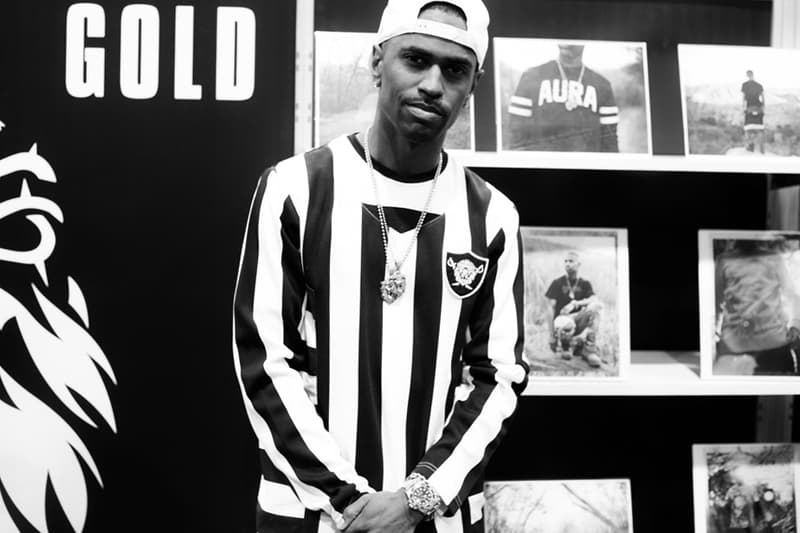 Soundtracking the summer months with the release of his highly acclaimed studio effort Hall of Fame last August, Big Sean continues to excel with his unique disposition in hip-hop, one that blends early noughties rap sensibilities with forward-thinking sonic direction via the help of Kanye West and No I.D. Outside the compass of music, Big Sean launched his clothing label Aura Gold last year — an extension of the Detroit rapper's contemporary style. Headed by its signature lion and gold motifs, each release is upheld by accents of hip-hop's nostalgic years, reworked with existing trends in producing affordable luxury streetwear with a strong nod at athletic inspirations. Before headlining the G.O.O.D. Music Showcase at this year's SXSW, we caught up with Big Sean at Agenda Las Vegas to learn more about Aura Gold's latest designs, the influence of NIGO and Pharrell, and forthcoming musical endeavors.
How do you feel about the response on your new Aura Gold line so far?
It's been great. Overwhelming, you know? The spring season's been oversold, things have been selling out like crazy. It just has a cool flavor to it that I think people are really surprised by. We're incorporating everything I like from the 3M material to the big bold letters, to the digital camo to the tie-dye. People have been really excited about it. Kevin Leong has been somebody that's taken it to the next level as well as Mike Carson, and we're learning as we go and taking it to new heights. I think it's gonna be a brand that's going to be around for a long time.
From the start there were talks that the clothing line would be named Finally Famous, and then it became Aura Gold. What was the premise behind that?
Well I didn't really want to call it Finally Famous, it was people behind the scenes that wanted it to be called that because that's where people knew me from. And I was telling them like "no, we need to build a new brand and call it Aura Gold." When Rick Ross and everybody was at the booth looking at it they were like "man, I love this. Aura Gold, that's a fresh name."  Travi$ Scott is another artist who's showed admiration. I wasn't trying to sell merchandise, I was just trying to create something new and cool.
What do we have in store for next season?
Next season we're expanding the collection, making cooler pieces. I don't want to tell my secrets, I know people bite. I've seen this happen before. Nonetheless, we've got some great things in the works and we're working on it everyday.
How hands-on and involved are you with the designs for Aura Gold?
Heavily involved. Final approval over everything. There's some pieces that I like, and some I don't like as much but some I know that other people will like. If i made just what I liked, there wouldn't be that many pieces. Although I try and design what I would like to wear, I also encompass what's fitting for the public. I think every piece is great, I'm super happy with the new collection.
Can we expect to see more brighter colors for the spring and summer?
Yeah, definitely. A lot of colors – white and brightness to it. I didn't want to make something all-black as we started it off, but that's what's happened and we're building on a lot of creative ideas. I remember I was at a roundtable when I was 19 with NIGO, Pharrell and Kanye. Kanye was the one that obviously had me there, alongside all of the designers for BAPE. I think they were celebrating their 15th anniversary (maybe I'm completely wrong about that), but they were celebrating their anniversary and talking about fashion so I've been around this. If I didn't do something like Aura Gold, then I would be slippin' so I got to show appreciation to my influences. That was a one in a million type of situation I was placed in and to be around people like that, those are the guys that have been doing it 20 years plus, and I'm 20 something years old so, hopefully it's a bright future ahead of us.
Any future collaborations we can look forward to?
We're very particular with that, but we'll do collaborations with our friends and at the same time keep our integrity. Obviously I'm close to Virgil Abloh, Matt Williams with #BEEN#TRILL and all those guys so maybe something like that.
Switching gears from fashion, do you have any new music projects in the works right now?
Of course man. We were on the studio last night. The new album is crazy, it's intense. We put this freestyle out called "First Quarter" that was just straight bars and straight not fuckin' around, kind of just setting the tone. You can expect me on a lot of new projects. I'm on Rozay's new album. You might hear me on that Carter V maybe, maybe not. You got to ask Wayne. But just really setting the tone for this year and going hard for it. I can rap really good and better than a lot of these motherfuckers so, you know, we gonna let that be known this year.
Do you have a name for the album?
I haven't decided on the name of the next album. I have some ideas and I got a lot of tracks done. I haven't been thinking about that too much, I've just been having fun and going with it. I've been kind of approaching it like I did the Detroit mixtape.