DOOM & Bishop Nehru – NehruvianDOOM (Album Review)
NehruvianDOOM is a collaborative project between rapper/producers DOOM (formerly MF Doom) and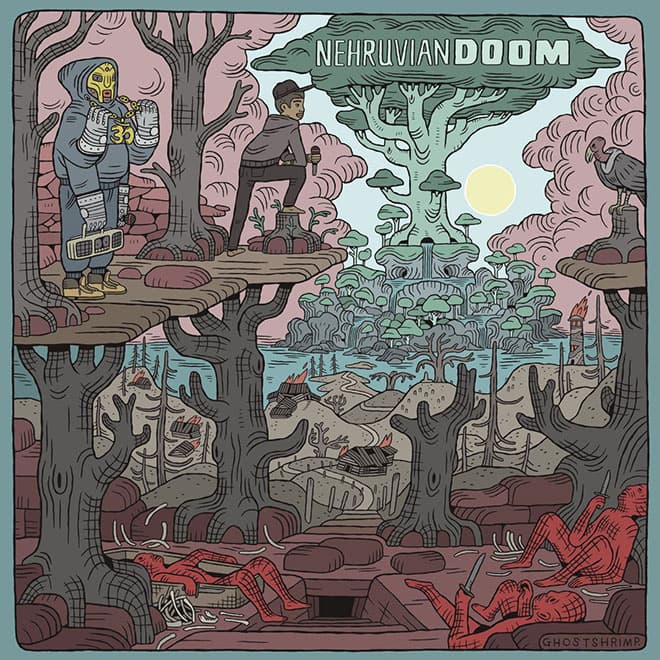 NehruvianDOOM is a collaborative project between rapper/producers DOOM (formerly MF Doom) and Bishop Nehru. The two met in London in April 2013 and began exchanging beats and rhymes ever since.
Markel Scott, aka Bishop Nehru, is no newcomer to the rap game, he's been writing and producing since the age of 13. Throughout his tenure in hip-hop, he's opened for Wu-Tang, signed to Nas' Mass Appeal Records, who also executive produces his upcoming solo album. The Queens native has also been given co-signs from Kendrick Lamar, released four mixtapes and most recently an album collaboration with none other than DOOM. Quite an impressive resume for an 18-year-old.
Scott chose a thought-provoking alias which serves as a direct reflection of his music. The name Bishop Nehru stems from a couple of different characters. One being Tupac's role in Juice, because Bishop preaches to "go out and get mine, you've got to earn respect." The second relates to the former prime minister of India, Jawaharlal Nehru. Prince Nehru worked closely with Gandhi, whom seems to be another inspiration of young Bishop's: So now we seeing death in a frequent rate / But if I keep light working I could change the pace / My extensions got my visions in a different space / Divine grace, wise in a high state," he raps on "OM," the album's second track. He understands that he has a divine right to be a player in the rap game, he's earned it over the last half a decade. A closer look at his lyrics further sustain this notion:
"A walking diamond yet they treat me like feldspar
I'm not as common as you think you better dwell hard"
– "Great Things" (Nehru)
Here are two bars straight out of junior high science class. Feldspar covers 60% of the earth, and Nehru considers himself as a diamond in the rough. He's spitting knowledge that a lot of people don't understand, even if it's as simple as talking about rocks. Nehru makes the notion clear throughout the album that people will know his name, it just takes time to mold and shape into an artist, just like diamonds. Although he may not be recognized by the masses just yet, he's confident that that day will come (as is DOOM).
Playing with polarity could drain a whole battery
Beware of apathy and procrastination
And put the plan in full effect for instant activation
Trust a few jewels that's hidden in plain sight
Ain't nothing else to it, but to do it, but do it right?
– Great things (DOOM)
DOOM is referencing his protégé Nehru in this verse, and it's a phenomenal way to end the standout track of the album. This makes for an incredible partnership, when one artist can feed of anothers energy like an alignment of atoms. There's no doubt that DOOM's lyrics are on another level, he's been in the game since 1999 when he released his first solo album. Under the guidance of DOOM, Nehru has an opportunity to create his own distinct style unique from the feldspars of hip hop. Working under a veteran like DOOM will bring Nehru up in the game, and help him prosper into an artist of his own. DOOM is by no means a traditional rapper, which is why he probably chose Nehru to collaborate together. He obviously sees something shining, or else would have never given him the time of day.
Following up to "Om," comes "Mean the Most," where Bishop goes on for just under three minutes about a girl. While the song only carries two verses along with melodic hook, it's a feel-good, lay back in your seat anddrive around the block-type of track. You can feel DOOM's presence at the three-minute mark, when the sample and lectures come back in. "So Alone" is next in line and the journey continues. Nehru shows emotions of spirituality, love, sadness, anger, and confidence in only nine tracks, and DOOM narrates the story along the way.
DOOM even dug into his coveted Metal Fingers archives for this album. With Bishop on the album, "Fo-Ti" is renamed "Coming For You," and "Bergamont" is used for "Darkness." Besides taking over the hook responsibilities on "OM," DOOM doesn't jump on the vocals until the seventh track — — perhaps because he wants Nehru to tell his own story. He's still a young artist and has a lot to prove for himself.
Classic DOOM with the jazz-influenced sounds, he incorporates some of the greats into this album. The track with the most lyrical integrity is "Caskets" (sampling Reverend Gary Davis' Stay With Me) where DOOM lays out the red carpet for Nehru, giving him veteran advice like "invest wealth or press self check ace stat." The track ends with Nehru going hard on an acapella, transitioning into a beautiful piano sample from Miles Davis and Charlie Parker. The piano is accompanied by a lecture, the theme is that there are those who survive epidemics and there are those who thrive in hard times. At this rate, there's no doubt these two will thrive through thick and thin together. Only time will tell if Nehru will be idolized or just a pair of idle eyes.
Highlights: "Great Things," "OM"
Words by David Zimmerman