We Give a Shave: An Interview with the Founders of Harry's
Between futuristic power razors and cheaply-made disposables, shaving can often be a tricky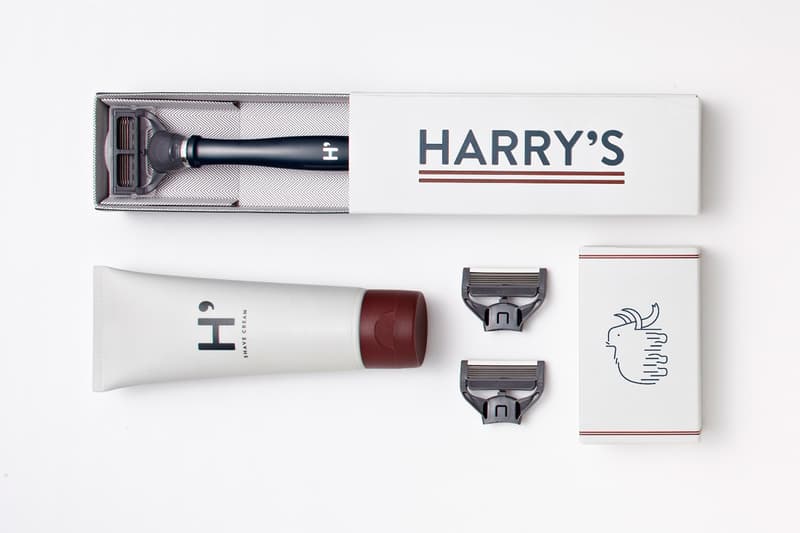 Between futuristic power razors and cheaply-made disposables, shaving can often be a tricky proposition for the modern man. Andy Katz-Mayfield and Jeffrey Raider — one of the original founders of Warby Parker — offer a simpler solution with the launch of Harry's, a new line of shaving products for men. Delivering an exceptional shave at a fair price, the label's razors and creams use only the finest materials — blades are German-engineered, while handles and shave creams are made in the USA — along with streamlined designs and exacting construction. And, like Warby Parker, Harry's sells directly to consumers through an online boutique, allowing the brand to offer high-quality products at affordable prices. Both Katz-Mayfield and Raider recently took some time from their busy schedules to chat with us here on shaving, selling direct-to-consumer and what it means to "give a shave" about the community.
Why shaving products?
Andy: Harry's was sparked by an experience of mine. I went to a drugstore, waited 10 minutes for someone to unlock the case where the razors were being held, and bought a four-pack of blades and some shaving cream. It wasn't the best purchase experience to say the least. And then I walked out and looked into my bag and I had a receipt for over $20 for products that didn't really speak to me. I just felt like there had to be a better way.
I called Jeff and we started talking about building a new shaving brand. The more we talked, the more strongly we felt that there was a need for a brand built on high quality product and clean design, sold at fair prices with a commitment to social good.
Jeff: At some point, we got so excited that we stopped sleeping (wish we were kidding). So we dropped everything to start Harry's.
How did your respective experiences come into play when conceiving of Harry's?
Andy: So pretty quickly, we became obsessed with shaving. We talked about it with just about everyone we came into contact with. We noticed that none of our friends could remember the last time they had an awesome shaving experience (only remembered bad ones), which got us pretty excited.
Jeff: My experience starting Warby Parker made me appreciate the challenges and benefits of making products that are truly different from what's already out there. We knew we couldn't rush to build our first Harry's line. We had to take the time to get it right. In the end, it's been worth it to create something that we think is special and hope people will really enjoy using.
Second, it's been amazing to bring lots of the Warby Parker family together to help build Harry's. Harry's is a separate company and brand – but so many people on our Warby Parker team, and especially my co-founders, have been pretty closely involved. Their advice and ideas have been invaluable – we wouldn't be here without them.
Harry's follows the direct-to-consumer model established by Warby Parker. What, in your experience, are the benefits and drawbacks of this setup?
Andy: The biggest benefit is definitely being able to build personal relationships with our customers. We want to respect our customers and give them what they actually need, rather than what we think they need. We think the best way to do that is by getting to know them.
Jeff: I was seriously messing with the idea of putting my cell phone on the site. My wife talked me out of it.
Andy: The other thing is that selling direct allows us to deliver really high quality products at a great value. It makes us a lot more streamlined as a company. We do see opportunity to expand to retail over time, but our website is our flagship store.
In terms of drawbacks, the biggest challenge is probably building awareness without the visibility that comes from being in every store in America. That said, we created Harry's because we weren't happy about how shaving products were being sold, so that's a challenge we're ready to take on.
For every pack of blades purchased, you donate one blade (or the equivalent dollar value) to an organization that supports your mission of helping people look and feel their best. How did that idea come about, and was it a carry-over from what you've always set out to do in business?
Jeff: The short answer is, yes.
Much like with Warby Parker, we want Harry's to stand for something more than simply selling a lot of razors. We want our customers to look and feel good; it's why we've gone to great lengths to make really high-quality shaving products for them. From the beginning, we have had this mantra: "We Give A Shave." It's a statement that embodies us caring about every last detail of what we do and extends to caring about our customers and the community around us. As part of that, we partner with amazing organizations that share that sentiment – starting with The Mission Continues.
What is The Mission Continues and how are you currently working with that organization?
Andy: From the moment that we were introduced to the folks at The Mission Continues, they and their broader mission inspired us. The Mission Continues is an amazing organization that helps veterans who've returned from recent wars reintegrate at home through continued service. They provide six-month fellowships for veterans to serve at non-profit organizations, renew their own sense of purpose, and better the community.
We're excited to help tell the story of The Mission Continues fellows. We really believe that the more people know about these incredible veterans, the more they'll want to get involved. We're especially excited to be volunteering alongside them this May at their New York orientation.
What are your own shaving routines?
Jeff: It's probably not the everyman's shaving experience. Our bathrooms have essentially become shaving labs over the past year. We're always trying different products and techniques to see what works best for us.
Andy: I start with a nice hot shower. Then I take awhile to massage in shaving cream to create a nice lather. We both agree that a shaving cream with a nice lather is a key factor to a great shave, so we formulated the Harry's Shave Cream to do just that while also protecting the skin during and after the shave. I always shave with the grain first, then go back lightly against to get it super close. I finish off with a splash of cold water and pat dry.
Jeff: Pretty much the same thing. I don't usually go back against the grain (our blades get pretty close the first time). I tend to use more shaving cream than Andy. Yup, we've compared.
Finally, what is one mistake most guys are making when it comes to shaving?
Jeff: Not shaving with grain always and everywhere. I used to get razor burn, until I went to a barber for a shave and asked him about it. He showed me that my hair was growing in different directions in different places on my face and I wasn't following the grain. Changing that completely changed my shaving experience for the better.
Andy: A lot of guys neglect the pre-shave ritual. But it's easier than you'd think. First, I find that a hot shower softens my beard. And then, spending a little extra time working the lather into your beard moisturizes your face and raises the hairs up so they're easier to cut. Taking an extra 60 seconds makes a world of difference.