Neil Maloney of Marshall Artist Talks About The Current Menswear Movement
Founded back in 2001 in the London, Marshall Artist has made inroads in recent times and represents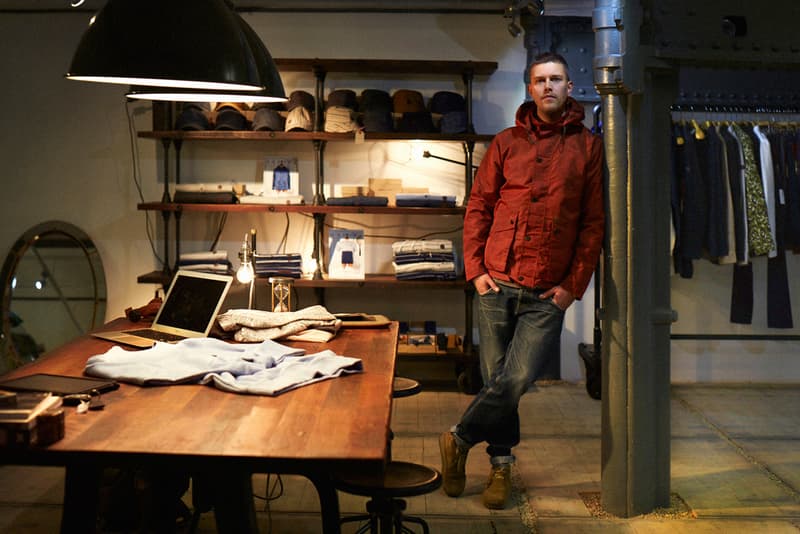 Founded back in 2001 in the London, Marshall Artist has made inroads in recent times and represents one of the UK's most interesting brands to watch. Its distinct modern British tailoring has clothed the likes of Jude Law, the Gallagher brothers and David Beckham to name a few and has brought the brand global acclaim with its collections now appearing in premium retail locations around the world. We recently had the chance to sit down with Marshall Artist's Neil Maloney to share his thoughts on the menswear market today.
Can you introduce yourself and your role at Marshall Artist?
Neil Maloney – Creative Director and Brand Partner.
What's the history behind the brand and its inception?
Marshall Artist was born in East London 2001 by my business partner Paul who at the time worked for Hardy Blechman's Maharishi label. Paul now owns the manufacturing facility in Vietnam that develop most of our MA collections. I was appointed 4 or so years ago to breathe fresh life into the brand. Prior to Marshall Artist I worked for 10 years as an Art Director & Fashion Designer in London and Sydney with clients including Levis, Nike, Adidas, Sony, MTV, Harrods and Polo Ralph Lauren.
How has the brand developed over the last few years? How has the aesthetic been modified?
Since my appointment the collections have become more UK centric and less streetwear inspired. Times have changed and so too has the Marshall Artist brand, in essence we've grown up. Fabric technology and classic styling are at the core of our thinking – I am a huge fan of Massimo Osti and that whole culture his work has given us.
I would say over the past 18 months I have worked on simplifying the brand's aesthetic to let the products true values shine through – to let people appreciate the process and execution of creating outstanding fabrications and classic fits. Detailing has always been very important to me but now it's more subtle and more functional: In the words of Charles Eames "The details are not the details – they make the design."
How does the brand's popularity vary from country to country? (i.e. which styles are popular where?)
Our biggest markets are the UK and the US, with Asia creeping up. In the UK our outerwear and our core products are very popular and make up a huge amount of sales. Proper dependable outerwear like our Technical Rain Mac's and our Beeswax Parka's mixed with clean, classic styles like our knitted long sleeve polo's, classic oxfords and crewneck and stovepipe jeans are our staples for the UK market.
In the US we have much broader sales across the entire collection. Outerwear is an obvious strength and what we are now know for. Our core line works very well in the US partly due to the key price points we hit. The middle section of our line which is predominantly more fashion focused also gets a lot of attention and tends to attract stores that strive for something different – progressive fabrications, technically advanced garments, interesting detailing. I love the fact that each of our US accounts can buy differently across the line to what their competitors are buying if they choose to.
Colourways are always an interesting one. US – always want black. UK – always want navy. US will always experiment with colour. UK always keep it super simple.
Our Asian accounts are very exciting to me as they see different aspects of the line and curate the collection in a very interesting way. Their MA buys tend to be quite eclectic.
What are your thoughts on the current menswear movement and how men are approaching fashion?
I don't follow movements as such but there are obvious trends that bob in and out that you find yourself drawn to. At the moment the super stealth approach that's apparent in the US is crossing over into the UK market. For the first time in a long time I'm seeing really interesting synergies between the 2 markets – not necessarily in certain brands being prolific in both markets but more an attitude amongst switched-on consumers. There have been so many trends/movements over recent years I believe now lads have a better understanding of what's out there and how to put things together themselves rather than being put in neat little boxes.
What are some of the ongoing references or inspirations within the brand?
I like to constantly evolve my work rather than reinvent the wheel each season so the success I see with certain MA styles and looks is an ongoing inspiration – to keep improving those ideas consistently. My life in the UK is a constant reference point and inspiration – people and places. As a British lad what we call casual culture here is important to me and my works progression.
With the brand's roots in the UK, how would you describe its style and potentially its change or transition
As I mentioned, the casual scene in the UK is an ongoing style reference in recent years for MA. I love how our look is embraced and morphed into what's happening in the US and Asia for example. I travel a lot with Marshall Artist so it's always great to see how MA is perceived in other countries – I like having certain little reference points in the collections I've picked up on my travels.
We are essentially striving to create socially relevant menswear that showcases our British roots without being overwhelming. My philosophy is simple – modern tailoring for modern people. Yes we are British and the brand looks inherently so, but for me it's not about where you're from, it's where you're at.
What are things you anticipate happening with the brand in the future? Are there any big plans in the pipeline?
We launched our online store  in November and the reaction has been absolutely incredible. We've got some amazing limited edition pieces on there. A huge move for MA in 2013 has been setting up a new sales and distribution operation in the UK which is now in full swing and has been very positively received. We continually work on improving what we do as a brand – with our other business interests we are a vertically integrated operation: From design, to manufacturing, to retail. Going forward we intend to keep growing confidently with our partners in our existing territories as well as moving into a handful of new territories next year. To keep believing in what we are doing – no egos, no bullshit, just good gear.