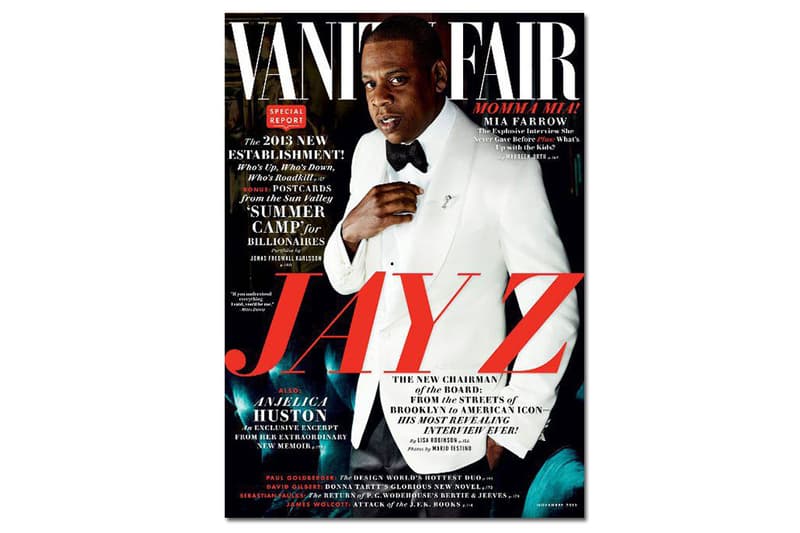 Jay Z Covers Vanity Fair's 2013 November Issue
Vanity Fair follows up its Kate Upton-covered 100th anniversary issue with a cover story on none
---
Vanity Fair follows up its Kate Upton-covered 100th anniversary issue with a cover story on none other than Shawn Corey Carter himself. Billed as "his most revealing interview ever," the piece sees Hov touch on the likes of his drug-dealing youth, the 2008 election of President Barack Obama, his relationship with Beyonce, daughter Blue Ivy, and much more. Check out some choice excerpts below and be sure to catch the full cover story here. Vanity Fair's November 2013 issue is set to hit newsstands later this month.
On drug dealing:
I know about budgets. I was a drug dealer. To be in a drug deal, you need to know what you can spend, what you need to re-up. Or if you want to start some sort of barbershop or car wash—those were the businesses back then. Things you can get in easily to get out of [that] life. At some point, you have to have an exit strategy, because your window is very small; you're going to get locked up or you're going to die.

On Beyonce:
She was a good girl 'til she knew me. She's gangsta now.

On Blue Ivy's music tastes:
She watches [Beyoncé's concerts] on the computer every night. But my album came out and I don't know if Blue ever heard any of my music prior to this album—she's only 18 months old and I don't play my music around the house. But this album was new, so we played it. And she loves all the songs.

She's my biggest fan. If no one bought the Magna Carta [album], the fact that she loves it so much, it gives me the greatest joy. And that's not like a cliché. I'm really serious.