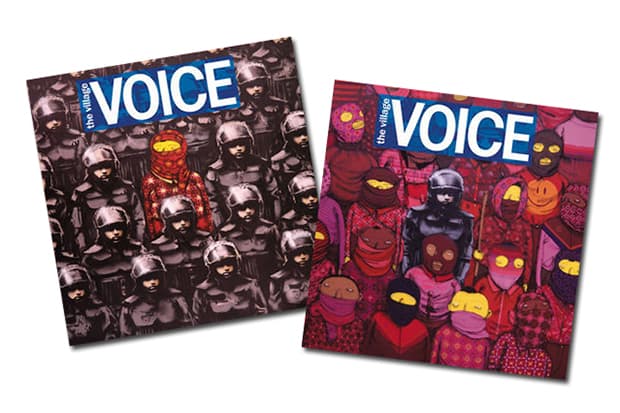 Banksy and OSGEMEOS Take Over Cover of Village Voice
Ahead of their upcoming showing.
---
Feeling an affinity for people who "provide quality content for free on street corners," cult street art icon Banksy has chosen New York's Village Voice as a platform of expression, teaming up with Os Gemeos to overhaul the cover. The cover sees two different variations; one of Banksy's riot police accompanied by a cohort of Os Gemeos' trademark yellow characters, while the other sees the yellow figure submerged amid a riot police army. The feature extends to an exclusive interview with the ever-elusive artist, who breaks down the fundamentals behind his NYC visits for the "Better Out Than In" artist residency, examining each installation and the message they behold. Furthermore, Banksy discusses matters on the ongoing struggles in balancing commercial success with artistic integrity, making references to the law, creative freedom, and the notion of "selling out." Head over to Village Voice to read the full article.