Jay-Z & Beyoncé Raise $4 Million for Barack Obama in Fundraiser
Last week we shared the news of Jay-Z and Beyoncé holding a fundraiser in support of Barack Obama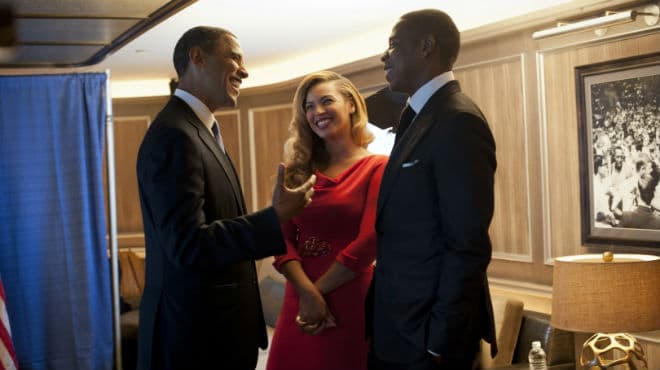 Last week we shared the news of Jay-Z and Beyoncé holding a fundraiser in support of Barack Obama and his reelection campaign. The two went on to host the event at Jay-Z's 40/40 club in New York this past Tuesday night, with entrance to the party running with a stiff price tag of $40,000 for the 100 people in attendance. Obama lightened things up at the gathering explaining how he and Hov have very similar qualities, going on to say:
Jay-Z now knows, you know, what my life is like. We both have daughters. And our wives are more popular than we are… So we've got a little bond there. It's hard, but it's okay.
The POTUS also went on to acknowledge Beyoncé, noting her as being a positive role model for his own daughters. Jay and Bey have been longtime supporters of the President, going as far as playing at a tribute concert for Obama in 2008 before he took his oath of office, and most recently the President appearing in a video clip to open Jay-Z's Made In America festival in Philadelphia, urging people to vote. No cameras or microphones were allowed into the exclusive event, but the President went on to share the included photo via his Twitter account.