oki-ni: Sir Paul Smith on Fashion
With many designers spending the summer hard at work preparing for London Fashion week in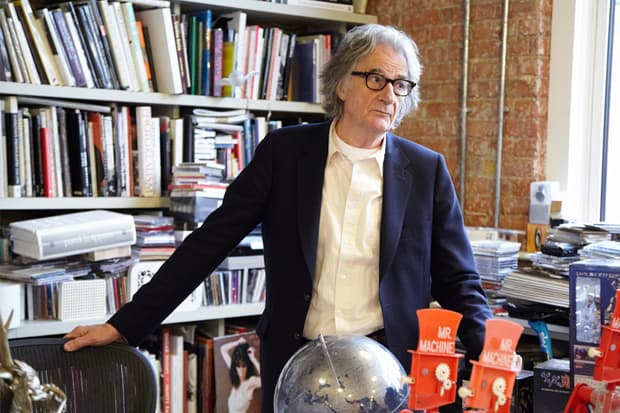 With many designers spending the summer hard at work preparing for London Fashion week in September, oki-ni recently had a chance to catch up with famed British designer Sir Paul Smith and gather some unique insight into the world of fashion. Smith also weighs in on ego, spontaneity, patience, and what it means to be "British." Below are some of the interview's choice quotes. You can read the interview in its entirety here.
PAUL SMITH ON CURIOSITY
"I'm interested in life and I'm interested in people. I still have a very childlike approach to life. This room is full of things: things that cost nothing, things that really cost quite a lot of money, things which are beautiful, things which are kitsch. So, I'm very curious and being childlike is vital in our industry"

PAUL SMITH ON EGO
"I've been fortunate enough to not get seduced into thinking that because you've got pages in a posh magazine or you get on the telly that that pays the rent. It's about keeping your feet on the ground, remembering that fashion is about today and tomorrow, and that nobody cares how good you used to be."

PAUL SMITH ON SPONTANEITY
"One of the points about fashion is that it should really be instinctive and very spontaneous. Real spontaneity can't be accomplished if there is too much to consider – what about brand image? What about the corporate strategy? Going back to my shop in Los Angeles, that is the opposite to a lot of my other shops, but because I am independent I could just go: 'let's make a pink box'. That's it!"

PAUL SMITH ON BUSINESS
"As a creative person in reality you need to know a bit about business today. If you design the best dress or the best suit that's ever been in the world, but there's one ever so similar at half the price, or that's distributed far more than yours, or that's by a designer label that's going to get more attention than yours, then yours, unfortunately, will probably fail."

PAUL SMITH ON PATIENCE
"I met Pauline [Paul's wife and business partner] when I was 21. We never wanted a yacht, or a private plane, or a chauffeur driven car, so it all just gradually, naturally grew. Unfortunately most people want to fast-track everything now, they want a short-cut to success and that is difficult."

PAUL SMITH ON AURA
"It's not just about your actual job it's about the stuff that surrounds it. It's about the aura that is around what you do. You've got to have more than just the clothes because there are a lot of good clothes out there."

PAUL SMITH ON BRITISHNESS
"I think that if you could put Britishness in a jar it would be just a sort of inventiveness, a creativeness, and a quirkiness that is all embracing. I think that British Fashion Week is a goldmine of talent and openness – I think we just shoot from the hip and all sorts of stuff comes out"

PAUL SMITH ON PERSONALITY
"You've got to understand that nobody needs another fashion designer, so you've got to have a point of view. You've got to have things that people go away with and remember."

PAUL SMITH ON SUCCESS
"If you're in the world of magazines, or television, or whatever, just live it. Live it, enjoy it, and embrace it. A lot of people live it for two or three years and then either get a bit complacent or take their eye off the ball and all those things, unfortunately, don't add up to long-term success."
Join Our Discussions on Discord
The HYPEBEAST Discord Server is a community where conversations on cultural topics can be taken further.