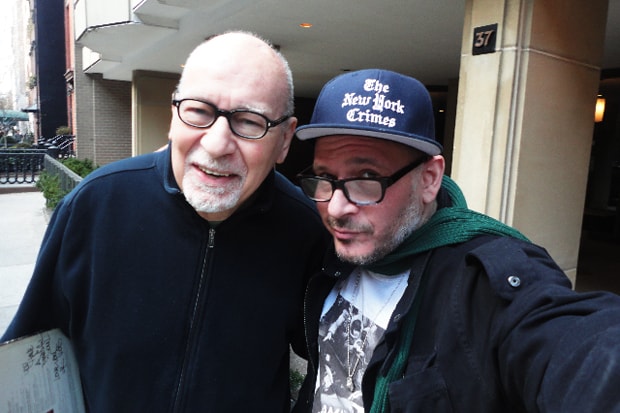 PAPERMAG: George Lois Chats with Ricky Powell
PAPERMAG with the help of legendary New York street photographer Ricky Powell linked up with a
---
PAPERMAG with the help of legendary New York street photographer Ricky Powell linked up with a fellow heavyweight in his own right, George Lois, for an extensive interview. No shortage of words, the transcription spanned a staggering 62 pages. While Lois's best work is a few generations behind, he clearly cemented himself with a slew of Esquire front covers as well as the very development and launch of MTV. Below are some choice excerpts from the two outspoken individuals which hinges on Lois's new book, Damn Good Advice (For People with Talent!). A longer version can be seen at PAPERMAG.
I've been tearing this book apart, dude. I'm all up in this book.
Oh yeah? Good. Keep it clean.
Alright, I will. Yo, let me just tell you, everywhere I go I've been busting your book out and people are just bugging. This book, to me, is a blueprint for success on and off the court. How did you set about writing it?
I get a phone call from an editor in England and she says, 'I'm very excited to talk to you.' I said, 'Yeah?' She said, 'Did you ever see a book that we did called It's Not How Good You Are, It's How Good You Want to Be?' I said, 'Yeah?' It was written by the creative director of one of those English fucking agencies, you know, the art collector? What's his name?
Saatchi?
Yeah, Saatchi & Saatchi ad agency. I said, 'Yeah, that was a terrible book.' She's like, 'Well, what do you mean? We sold almost two million copies.' I said, 'I don't give a shit if you sold ten million, the advice that bum gave basically teaches kids how to be phonies.'
Oh, shit!
I mean, if you read it, there's about ten things there that make you want to punch the guy out for telling kids. Stuff like, 'Hey do you want to get along in this world? Make sure you have a card that makes you important.' There's also points like, 'When you create work, never do your best effort. Show something that's good, but not that great, because if they turn it down you're dead.'
That's bullshit.
Anyway, so I said to this woman on the phone, 'It's disgraceful. I'm embarrassed to be talking to you.' And she said, 'Stop! I'm calling because we wanted you to do a book like that, but your way.' At that point I said, 'That's interesting. If you can keep it down to ten dollars a book we'll sell 2 million of them.' It's not only that it's great stuff, but every kid in the world, instead of eating a fucking Big Mac that day, they can buy a book.
Source: Frank151