Lavenham x Casely-Hayford x H by Harris Interview
As unlikely as the combination of British labels Lavenham, H by Harris and Casely-Hayford may seem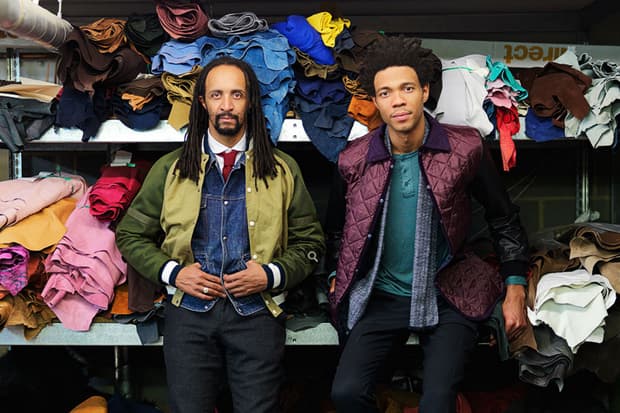 As unlikely as the combination of British labels Lavenham, H by Harris and Casely-Hayford may seem on the surface, the trio's work on a number of updated classics makes perfect sense in many ways. Appropriated by everyone from jockeys to British "rude boys," Lavenham's iconic outerwear reflects a convergence of worlds, a notion that well-suits Casely-Hayford's affinity for juxtapositions and Harris Elliott's own penchant for quilting. The focus of the recent joint effort was Lavenham's classic quilted styles, jackets with equestrian roots that in Casely-Hayford's hands were given black leather sleeves, while Harris updated the classic varsity with military mesh sleeves. The duo recently sat down with Port Magazine's David Hellqvist to discuss the unlikely partnership with Lavenham, touching on a number of topics including the origins of the collaboration, their thoughts on the historic British label, as well as the design process behind the new jackets.
Photography: Nikolas Ventourakis
David: How and why did you hook up with Lavenham?

Charlie: We were interested in the cultural significance of the Lavenham jacket, specifically on the streets of London. It has this old world refinement; it's worn as a staple of the countryside uniform, even in city. But it has also been adopted by London 'rude boys' as a style statement of a subculture worn with their sportswear, and that juxtaposition is a perfect combination for the Casely-Hayford House.

.Harris: H by Harris and Lavenham both make specialist quilted products here in the UK. Their quilting capabilities are off the hook, so it was a no-brainer that we should unite and work on a project. Steve [from Sane PR] suggested I meet with Nicky at Lavenham; there was mutual appreciation from the get-go and with that the H x L collab was born.

David: What is it about Lavenham that you like?

Charlie: It's totally purist. Although they now have a full collection, I love brands that do one thing and do it better than anyone else.

Harris: Lavenham are unique as they are genuinely one of a few brand-manufacturers that make everything in their factory in the UK. That in itself, in this day and age, is amazing; their state-of-the-art machines are brilliant to work with.

David: What was your starting point for the jackets?

Charlie: We wanted to combine the classic Lavenham jacket with a streetwear bomber jacket to accentuate its cultural significance within the London style scene. The final piece for us is a simple concept that for us brings both worlds together.

Harris: The collection is called Urban Cowboy. Lavenham's heritage is creating blankets for horses. My brief to myself was to highlight their equestrian sensibilities while introducing a contemporary twist, by combining a jockey style fused with an urban aesthetic.

David: Describe your jackets…

Charlie: The jacket has an exclusive Casely-Hayford black watch lining that is a continuation from the mainline collection. We combined the classic Lavenham design with black leather sleeves and a rib cuff to bring the country and the city together.

Harris: The varsity jacket is the obvious standout piece that definitely turns heads. Military mesh sleeves, that allows you to see the colour of your under garment – and you can feel the breeze, which is perfect for a summer collection. As both brands are known for a certain quilt signature but I wanted to create something unexpected without the external use of quilt – otherwise it would have been too predictable. All the jackets have either detachable quilt liners or quilt detailing in the pockets. You have to look inside to find the quilt detailing. I was able to create a 3D quilt, which makes the pattern come to life.
The interview in its entirety can be read here.