Recording Artists React to Obama's Re-Election
Congratulations goes out to President Obama, who early this morning found out that he would indeed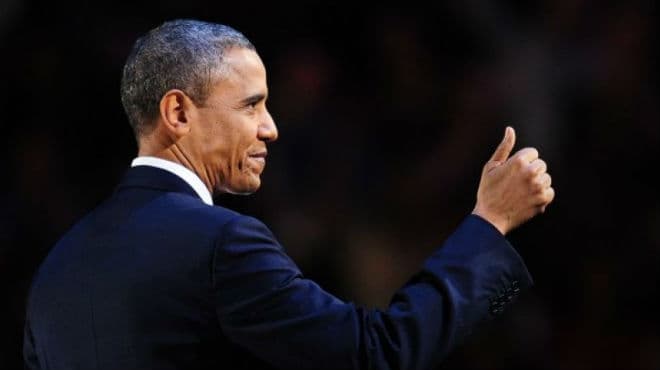 Congratulations goes out to President Obama, who early this morning found out that he would indeed be enjoying four more years in The White House. Of course endorsed by a large part of the hip-hop community, below we have an onslaught of coinciding tweets from notable individuals within the hip-hop world, who took to Twitter to show their excitement for Obama's re-election. See below:
Rihanna: Put one in da air for the Prez!!!! Our dear Obama!

will.i.am: Thank you america…we are still on our path.

Mary J. Blige: Congratulations Mr.President!!!! I was never worried and i never doubted you!!! God bless you!!! 4 more years!!!

LeToya Luckett: U SEE IT!!!!!! *Drops mic walks OFF stage* MY PRAYERS WERE ANSWERED…AGAIN!!!

Diddy: It feels even better the secoond time around!!!! #obama2012

Lil' Kim: We Did it !!!!!!!!!! TEAM OBAMA !!!!! YES!!!!! Thank u to all who supported ! Xoxo

Meek Mill: S/o 2 #obama the only man that made me believe anything is possible…. Gave me hope!

Timbaland: congrats 2 president Obama

Justin Bieber: alot of emotions right now. congrats President Obama…Im Canadian. Im good. #FreeHealthcare :)

Teyana Taylor: Our president is black!!!!! My vote counted!!!!!!!!!! Everybody's vote counted!!!!!! TURN UP!!!!!

Young Jeezy: Yeahhhhhhh! WE DONE IT AGAIN! Shout out @BarackObama!!!

LL Cool J: Don't call it a comeback he's been here 4 years.

Game: #OBAMA 2012-2016 is yours.

Ciara: YES!God Bless America! We Will Get Better!I BELIEVE!The Economy WILL GET BETTER!WATCH! Historical Moments Dont Happen Like This 4 No Reason!

Fat Joe: Congratulations to President OBAMA !!!! #TeamObama

Snoop Dogg: My president is black

Janelle Monáe: Tears of joy. President Obama has 4 more years. America has spoken. We believe in @BarackObama.

Solange: Yes. We. Can. Yes. We. Did. Obama 2012.

Cassie: Yessssssssssss!!!!! Give 'em 4 more!!!!

Dawn Richard: This was beautiful to see so many of us fighting for a cause! Observe what we can do when we love and agree! #Forward

Bruno Mars: YES!

Diggy: I can't even believe I'm watching this man….. #History

Jennifer Hudson: It's a new day!!!!!!! Come on!!!

Melody Thornton: Congrats @BarackObama sleep well tonight and lets do everything possible to make this the best 4 years this country has seen!!

Keri Hilson: America, you have spoken…YES!!!!!!!! OBAMA!!!!!!!!! 4 MORE YEARS!!!!! THIS IS THE NEW AMERICA!!!!!! PROUD TO BE AN AMERICAN!!!

Mariah Carey: Congratulations to our beloved President Barack Obama, our spectacular First Lady Michelle Obama & the adorable Malia & Sasha. We love you!

Ashanti: Congratulations MR. PRESIDENT!!!!

Pusha T: Another 4 in the black house! YEAH VA!!

Eve: Amazing!!!! God Bless our President Barack Obama, our 1st Lady Michelle and his two beautiful children. #proud of #america

Lauryn Hill: YES!!!!!!! -MLH

Kelly Rowland: Congratulations to President Barack Obama on his historical election win tonight! We proved to the world tonight that Americans are moving forward and will continue to be a great nation. Yes we can. Yes we did. #FORWARD

Waka Flocka Flame: OBAMA SQUAD!!!! 4 mo yrs! Lehgooooo!!!!

Jordin Sparks: Congrats 2 our President! What a race! Lets unite, work together & be one again! No matter who is President, Jesus is King! #Titus31&2

Big Sean: Today was a GOOD day! #Obama

Wiz Khalifa: Four more years brahh
Source: Rap-Up
Join Our Discussions on Discord
The HYPEBEAST Discord Server is a community where conversations on cultural topics can be taken further.