Rihanna Covers Vogue
After being previously featured on the cover of Vogue in April 2011, Vogue UK November 2011 as well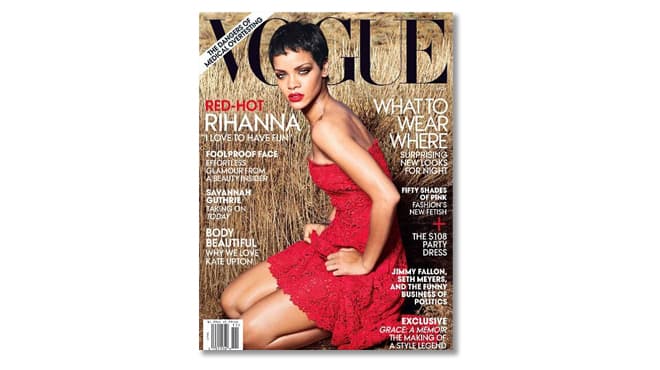 After being previously featured on the cover of Vogue in April 2011, Vogue UK November 2011 as well as Vogue Italia in September 2009, Rihanna graces the cover of Vogue U.S. for the second time. Last time the world saw her covering the esteemed fashion publication, the Caribbean beauty boasted flaming red hair. This time, however, the cover finds her sporting her new cropped black 'do with a red dress. A few weeks back Rih tweeted about shooting the new feature and she revealed the cover for the November cover via Instagram this weekend. She tweeted early Saturday morning (October 13), to her millions of followers:
"Mama I made it! Here's #2,"
The November cover is definitely a hitting marketing strategy as it coincides with the upcoming November 19 release of her seventh album Unapologetic. Rihanna shared the album artwork earlier this week, displaying her posing topless, happily showing off her new Isis chest tattoo that caused such a stir when she first revealed it. In regards of the cover art and title and of her new album, Rihanna said:
"#UNAPLOGETIC #phuckyoapologies.
Stay tuned for the full Vogue feature to hit newsstands real soon.