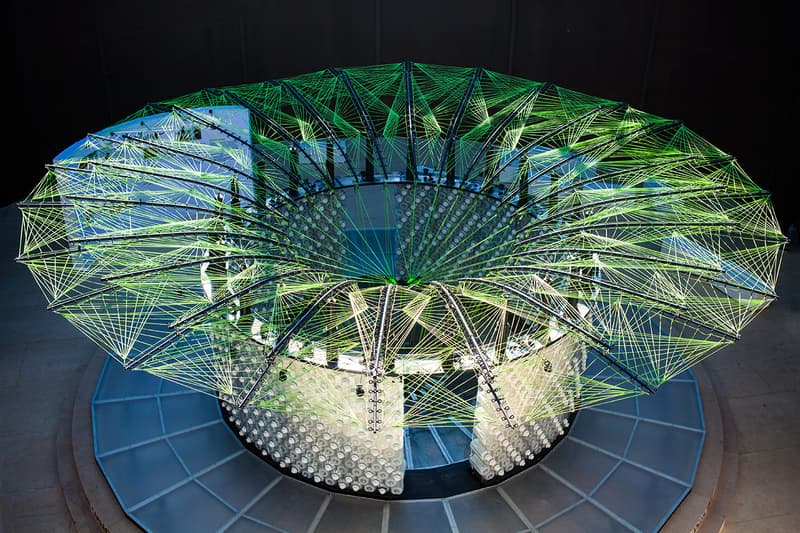 1 of 14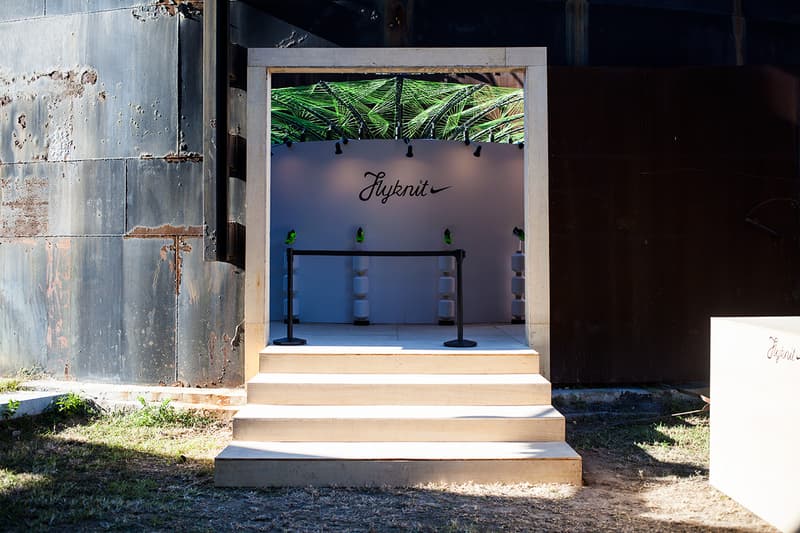 2 of 14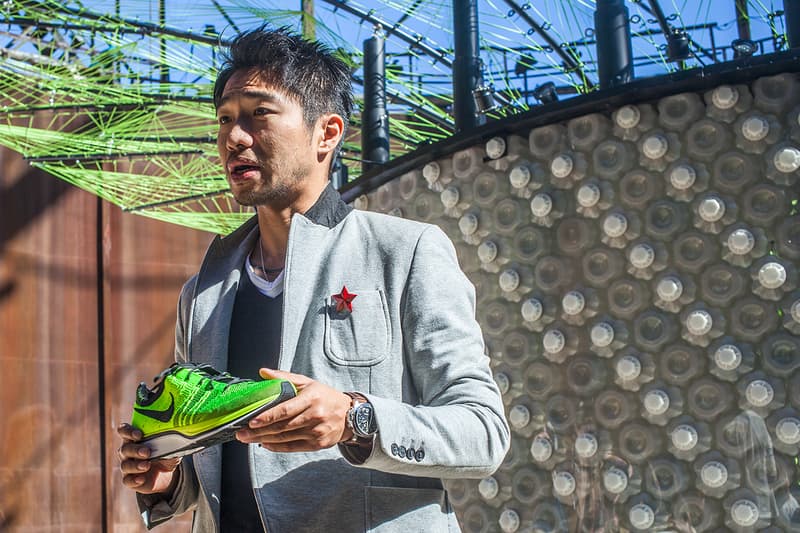 3 of 14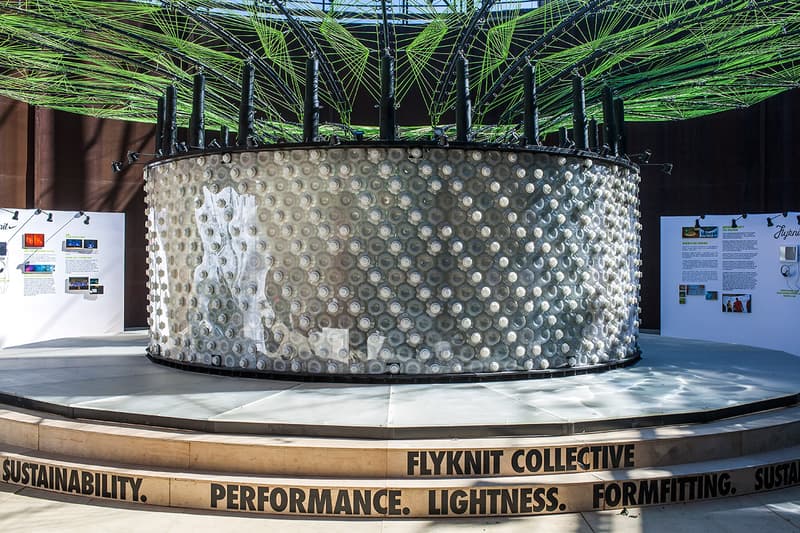 4 of 14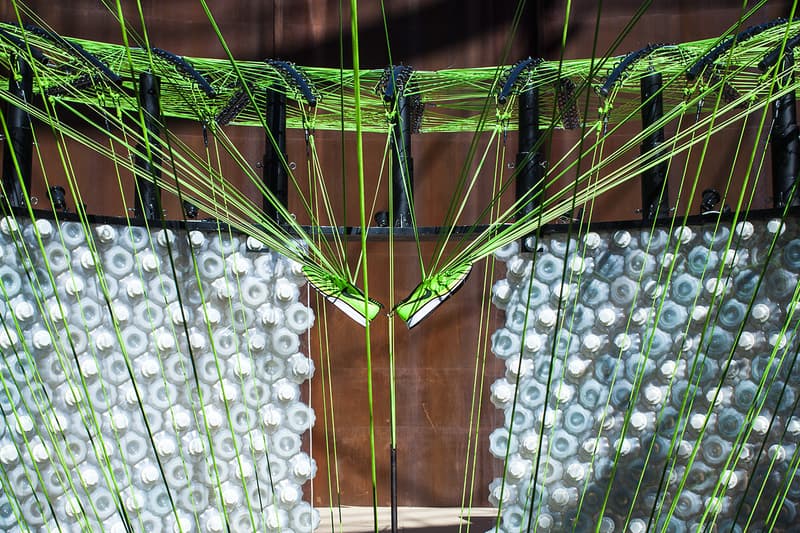 5 of 14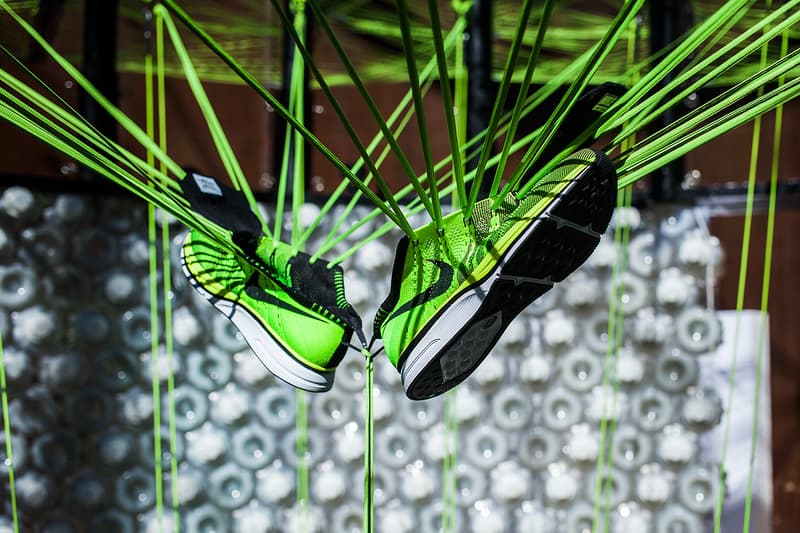 6 of 14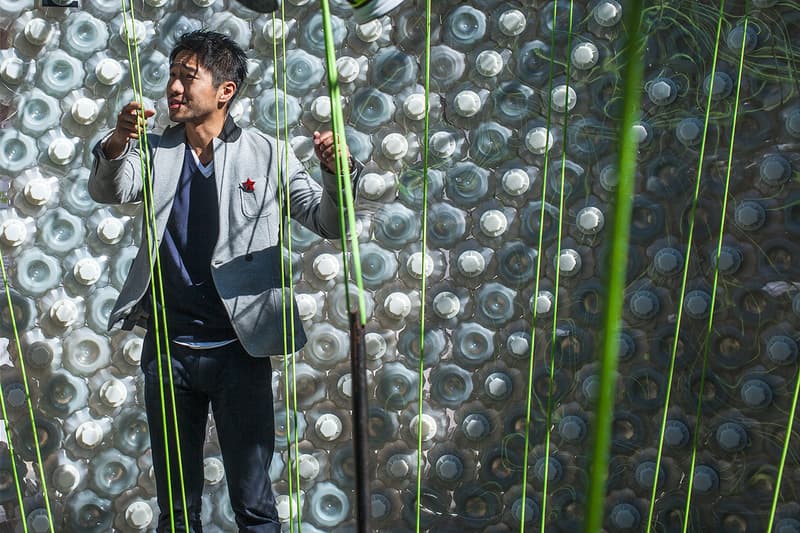 7 of 14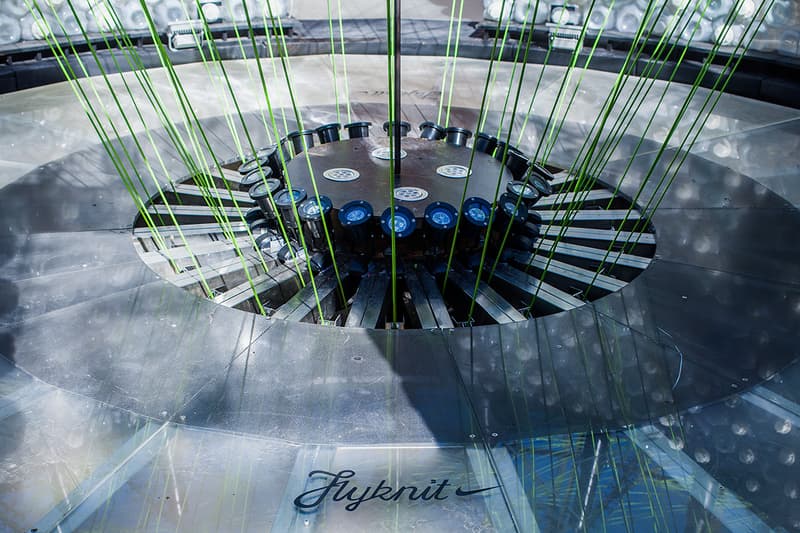 8 of 14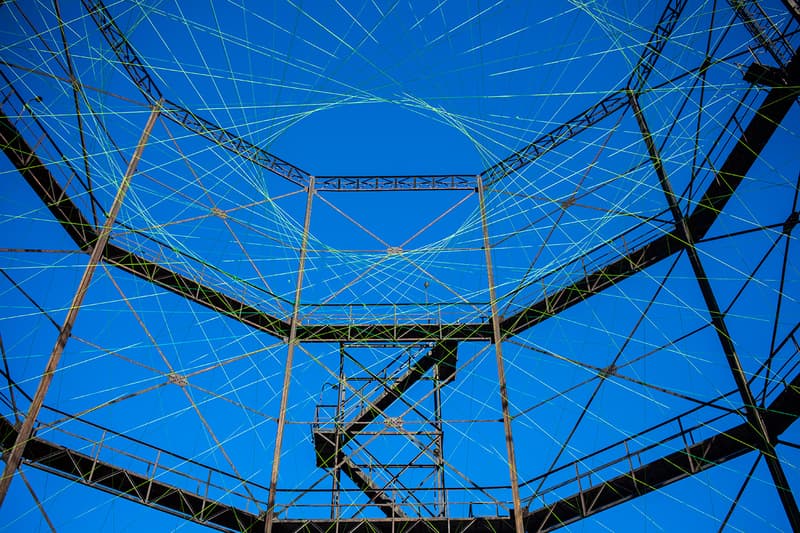 9 of 14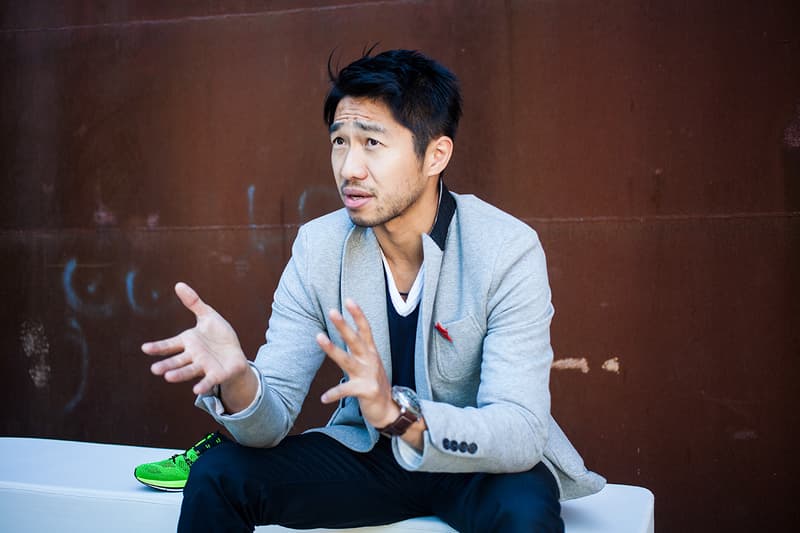 10 of 14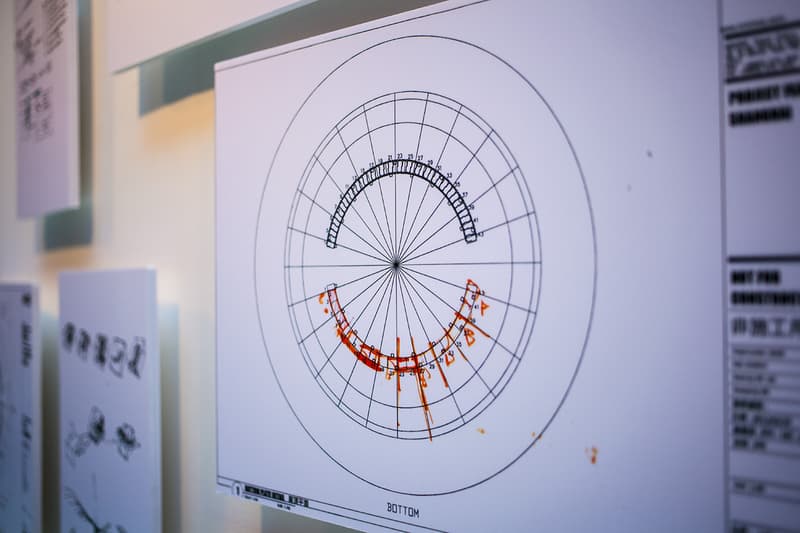 11 of 14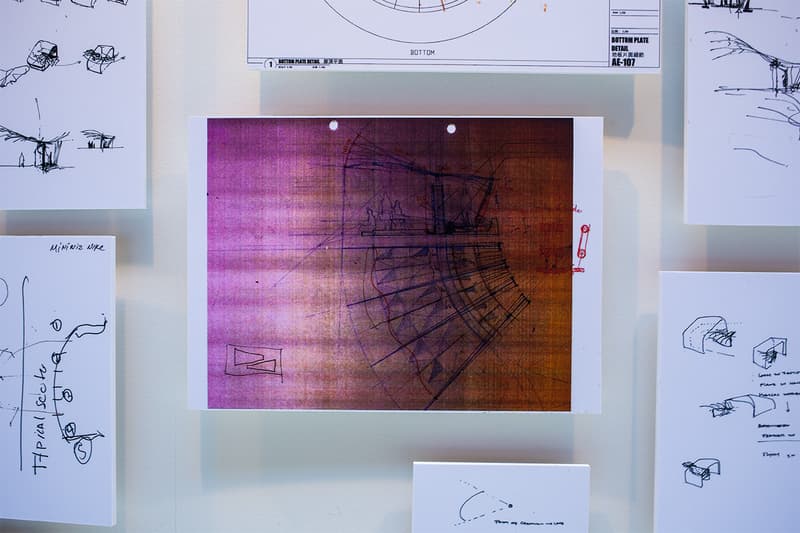 12 of 14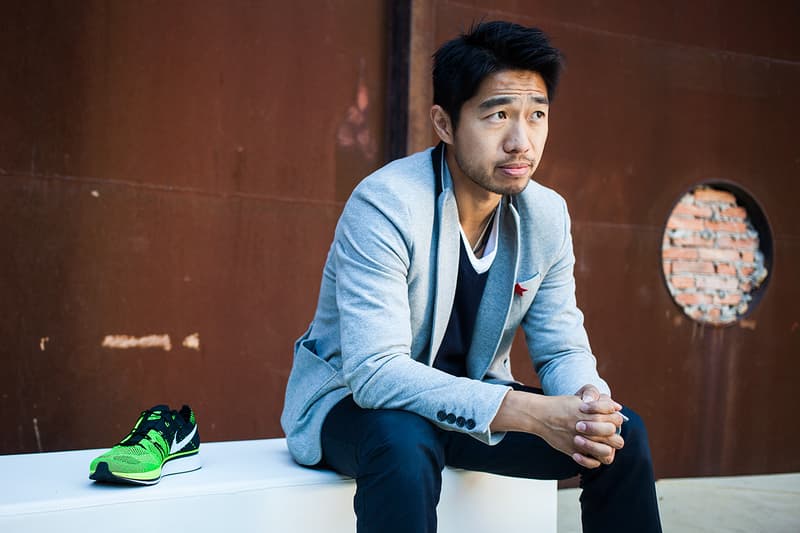 13 of 14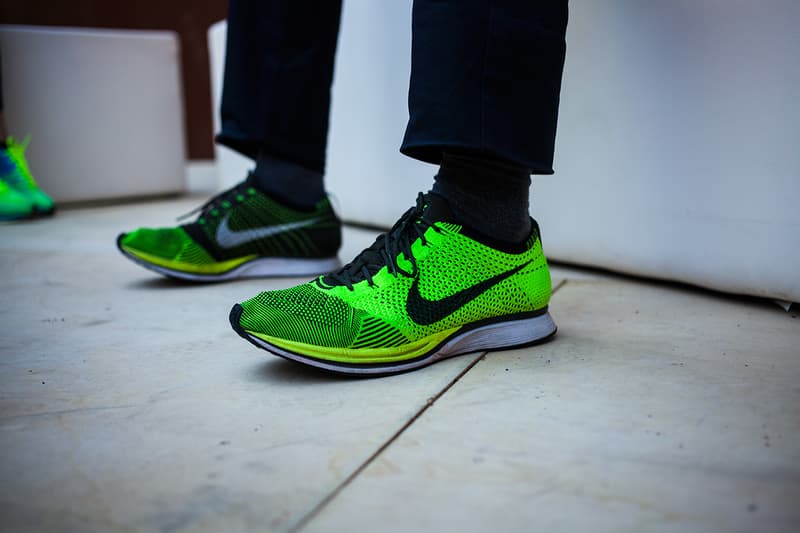 14 of 14
Nike Flyknit Collective Beijing Feather Pavilion - An Interview with Designer Arthur Huang
After witnessing the Feather Pavilion firsthand — as part of Nike's global Flyknit collective
---
After witnessing the Feather Pavilion firsthand — as part of Nike's global Flyknit collective project — we sat down with none other than head designer of the project, Arthur Huang, to discuss the inspiration behind the concept. While learning about the adversities his team faced when designing the installation themed off of the revolutionary Flyknit, we quickly learned about his involvement in upcycling trash and his long-time passion for sustainability. Graduating from Cornell University with a B.A. in architecture, and later from Harvard GSD with a concentration in sustainability development, Huang's work has steadily been gaining recognition, even much so after the consummation of the EcoARK — the world's first fully functional, public structure made from 1.5 million recycled PET bottles. In the interview, Huang goes on to explain the driving force behind his pioneering works, his thoughts on adidas adopting 'knit' technology, and why he along with his co-founded MINIWIZ team must continue to trick us into eating our own 'shit.'
After reading up on the Beijing Feather Pavilion, you can head over to Nike's Flyknit Collective microsite to get a full rundown of the global Flyknit initiative.
Could you please introduce yourself along with your role in working with the Flyknit Collective?
My name is Arthur Huang and my role here was to work with Nike to create the "feather" pavilion for Shanghai, Beijing and Taipei. The feather is a demonstration of the Flyknit technology amplified architecturally in the form of an installation. The installation is basically about tension and compression — just like the shoe itself. It's about how the shoe holds the athlete's foot securely during motion.
What are the mechanics behind the "Feather" installation? How does it work?
The contraption allows people to go into its circular piano-like structure and basically jump around or do exercises on it, creating different spatial sensation that moves through cables.
How did this project come about? Was this something Nike had been planning for a while with you?
I was actually approached by Nike because of the high-profile projects my team and I have been involved with during the past five years. One of those projects got the attention of CNN, Time and The Economist. It was called the EcoARK and it was the first building ever 100% made out of recycled PET (polyethylene terephthalate) and everything about the building was created using post consumer trash. We took trash and turned it into a building spectacle. It created such a buzz from publications that more and more people wanted to know why it was built the way it was, what type of material was used, etc. Once they found out the whole idea behind it, we got more projects and more R&D opportunities. That's when Nike came to us thinking we might be a good fit for innovating with their Flyknit technology.
Could you tell us more about your design firm MINIWIZ and its efforts in sustainability?
MINIWIZ basically tries to make trash sexy. We develop trash upcycle technology and innovative materials. The MINI in MINIWIZ actually stands for 'minimize.' We are striving to minimize the carbon footprint by tricking the consumer to basically 'eat their own shit.' That's exactly what we are doing. You are eating your own regurgitation for all the stuff you don't want. We recycle in three major categories: first, the stuff you eat. The packaging of the food; rice has husks, beer barley has husks — it's all waste material and we take it and make things out of it. Second, the stuff you drink. Water bottles, milk cartons, basically drinking container. Third is pretty much everything you use, or more precisely, things that modern people use in an urban setting. It can be computers, cell phones, MP3 players… anything like that.
We take that waste material and turn it into something you want. Sunglasses, phone cases, material for shoes. Our real profit comes from selling materials to architects and designers. Most new designers do not have the capacity to make materials, just like how artists buy paint and canvas from somebody. We help to design that paint and canvas.
For this project you obviously had some shared interest in the sustainability of the technology and being involved in athletics as well. What were some of the specific things that pulled you towards this project and made you want to be a part of it?
It's funny, I've never worked with Nike before and I found them to be quite chaotic, but in a good way. One day I got a call from them in my office saying "can we buy you a ticket and fly you over to Portland?" That was the first time. Then when I arrived, they didn't throw me to the marketing people, they threw me to engineers. I was thinking like, "What the hell, there's no schedule or anything!" Then it got amazing. Everything they were tinkering with, all the materials they were working with was just like how MINWIZ was playing with its materials. There were applications for everything. A guy would take a material and apply it to a shoe so specific to a sport or athlete, whereas we are more general, taking trash and turning it into something for general use. So this became a multifaceted collaboration right away.
So in terms of how the Flyknit changed the manufacturing process in footwear, what do you now see in the future? Do you think this reduction in waste material will be adopted in the industry, as well as others?
This shoe is revolutionary. This is key. What my company tries to do is to make stuff that's revolutionary, and what we see from Nike and the shoes is nothing short of revolutionary. You aren't just talking about the design, but the whole manufacturing process. Now some guy can make this pair of shoes in London, the most expensive area for labor force, just by pressing a button. Twenty minutes and you got a pair of shoes, and that shoe is better than the shoe with all that labor involved. It's just unprecedented.
That brings up an interesting question — as you know adidas launched a trainer quite similar and were met with legal issues. With this kind of technology that betters the word in reducing waste and carbon, should it only be kept to one company? Should one company be allowed to control this revolutionary process?
I think with today's modern capitalistic society, this is not an issue. You can copy all day long, but what you should be doing is taking it one step further. Then people will want to work with you. Not one step behind… this is the key. That's why I hate a lot of the Chinese and Taiwanese manufacturers… hmmm hate is a strong word. Not hate, but it's like when they see one guy making money, they just want to copy him and make profit just like him. Instead, they should be trying to make money in different areas so that the technology gets better and better. That is healthy competition, not a 'I had this first, you copied me' type of argument.
If I was adidas, I wouldn't try and claim the technology, I'd take it to the next step and want them to look to me next time they want to go further. They should actually try and jump ahead. We still haven't solved a big issue: The sole is not recyclable. No one has solved that yet! Let Nike have the Knit, and develop a new sole. I mean Germany is the birthplace for automobiles for crying out loud, I think they can do better than this. Don't get me wrong, I love both companies very much, I just think adidas could have gone about it in a better way.
What was it like working on the installation? Were there any concerns when first given the task to create a pavilion with Flyknit technology incorporated in the medium?
Getting it structured was quite easy. Performing the way we want… now that's a different story. It's the moving part that was tricky. We went through tons of calculations that worked on paper, but failed in real life. Here's a little secret – it didn't work until a few hours before its Beijing unveiling. There was a lot of crying and fighting in my office. My team thought I was an asshole, but overall everyone grew from this. We were all so emotionally invested in this project that when it started moving, people on the team cried — yes that's right, a bunch of grown men crying. Keep that in there. No pain no gain.
For four months it did not move, but for for months we told Nike it was moving haha. For young designers, these types of projects are highly beneficial. For example, making a T-shirt is simple, but what if you had to make one using the Flyknit technology? It's the technique that's a challenge. Before you exhaust all options, you cannot tell me you tried. Let me tell you, no one in the industry thought any of our projects would work. None. Look at us now. It's all based on this whole asshole-ness. I think this is the reason why Americans tend to lead in terms of innovations. Keep driving, persisting and exhaust all options.
Don't take the easy way because the easy way is never the most sustainable way. The easy way would be to just say so and so copied you, but the hard way would be to reinvent yourself.
How do you view the future of sustainability and what sort of motions need to be made to move towards the direction of being more environmentally conscious?
As it stands right now, there are almost no products that are made from 100% recycled materials. We want to move in that direction and then take it even further by making sure everything is re-recycled — effectively giving things a potentially endless life cycle. The way most of us consume is purely out of personal desire. It's a human desire to buy things and embellish themselves. But, the question is, can you fill that desire and satisfy that desire to consume using trash? That's why we have to make trash sexy.
Every time you use a 100% recycled product, you're already saving at least 80% of energy consumption and carbon footprint. So essentially, if we can learn to satisfy those human desires using only 20% of our energy consumption, that is the first step towards moving positively into a more sustainable society. Reduce, reuse and minimize consumption.
How does this project live up to this ethos of reduce and reuse?
For the installation we only used 100% recycled products to create this. Every element is amplifying the concept of sustainability.
How do you personally help the development of a sustainable society?
Firstly, I like to observe how people consume. How do people eat? What are their habits? This helps me understand how modern people are functioning. For me and my company, we try to make everything ourselves as opposed to just buying things and consuming. We make our own T-shirts and jacket, and they're all made from our own textiles and cloth which is 100% from trash. I drive a diesel car, as opposed to a hybrid — diesel actually uses less energy. It's important to observe and do your research, sure solar panels sound good, but do you know how much energy goes into making them? — Read behind the labels and find out the truth.
What are some of the challenges in knowing what you want to do in your head, but then having to deciphering it so that your team is on the same page?
It's all about having inspiring work. Choosing inspiring clients like Nike was important. You need to keep our current generation interested. People are like wow Nike is fun, but Arthur is an ass, but they continue to stick with it because it is exciting. It's hard to manage creative individuals unless there is a cohesive end goal or objective, otherwise people have too many personal interests and distractions.
Personal freedom is very important, but when it comes down to making it real, it takes a lot of sacrifices and convincing. Your team needs to believe in you.
Do you have any suggestions for young designers trying to make it in the industry?
Well I think I am going to have to criticize my generation first. They are not challenging themselves enough. It's always the easy way out. I know this guy, I know that guy. Think about doing things differently and creating value for existing things. Go out there trying to make a difference.
Photography: HYPEBEAST