Mick Boogie x StyleCaster - Sounds from the Front Row Interview
There is no doubt that there is a close relationship between fashion and music. As a platform that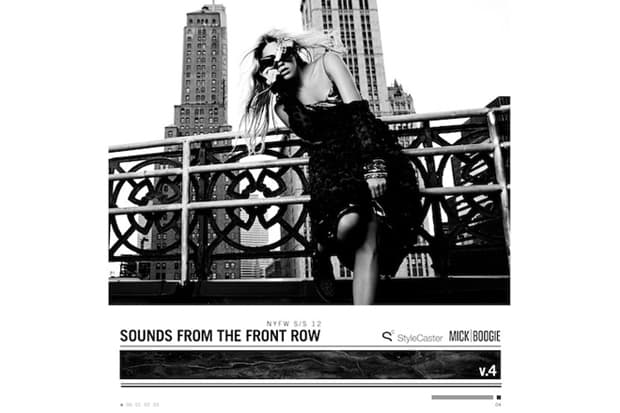 There is no doubt that there is a close relationship between fashion and music. As a platform that creates and curates fashion and lifestyle events, StyleCaster has found a way to merge the best of both worlds with their Sounds from the Front Row series. These music mixes are the result of CEO Ari Goldberg and fellow Cleveland native DJ Mick Boogie's idea to bring the front row experience of New York Fashion Week to the masses. Sounds from the Front Row is the musical collaboration that Mick creates every NYFW to echo the hits that rock the runway. His fourth volume – which launched on September 8 – is now available on StyleCaster. We talked to both men and spoke with them about their project, their thoughts on music and fashion, and much more.
Ari, how did you meet Mick?
Mick and I are both from Cleveland. We met when I was working for LeBron James and Mick DJ'ed a lot of the events we did with him. We both moved to New York at the same time. Now we're just two Cleveland kids trying to make it big in the Big City.
What types of things does StyleCaster have going on during fashion week this year?
We're throwing a big event on Wednesday at NYC hotspot SL, and on Thursday we're co-hosting an event at Lavo, which will be headlined by ATrack. You can actually join our party on Wednesday through a Turntable.fm room that we'll tweet via @StyleCaster. On StyleCaster.com, you can also check out what goes on behind the scenes at Fashion Week, with our video series presented by Starbucks.
Why is Mick Boogie the ideal candidate to create Sounds from the Front Row?
Mick is one of the best musical talents out there right now. As a DJ and producer, he has a fundamental understanding of music. Not only is he a passionate music fan, but he's also an experienced expert who understands music's place in the cultural conversation.
What's your favorite part about fashion week?
Having the opportunity to bring "style to the people" firsthand at a time when the entire world is focused on the fashion industry. I love attending the Porter Grey and Tibi shows every year, and especially enjoy having all of our friends come out to party at at our events.
How is music important to fashion week?
Music and fashion are like the brother and sister of pop culture. They're always entwined, setting our trends, conversation and cultural conciseness.
Why is StyleCaster the ideal partner for a mix like Sounds from the Front Row?
Mick is a reflection of those who we associate with the StyleCaster brand. We're all about working with the people who are experts at what they do and are committed to empowering those around them with their art. Mick is one of the rising starts in music. The fact that we're both from Cleveland is the icing on the cake.
Mick, Spring 2012 Fashion Week has launched in New York today which means that you have a new Sounds from the Front Row mix on StyleCaster. Can you tell us a little bit about your latest piece of work?
It's the latest in an ongoing series that StyleCaster and myself collaborate on. It started as something Ari and I thought would be fun to do for their website… and it has become this organic brand of its own with fans all around the world. The new one continues the same formula I started with the first… but it always evolves into newer genres and styles that fit into the fashion community.
Compared to your previous releases, how do you think Volume 4 differs from the others?
Musically, this one has more dub-step than the previous ones. This one also, to me, has happier songs. Whatever that means. Ha.
The mix intends to bring people from around the world into the center of the fashion scene, so that they can basically feel right at the center of the fashion pulse. How do you succeed in conveying this feeling to a listener who is based thousands of miles away from the Lincoln Center?
Honestly, good music just conveys emotion, no matter where you are. You have songs you listen to when you're mad, when you're sad, when you're working out, etc. What I try to do is play songs I imagine designers are listening to while they are creating, what models are listening to when they are walking the runway, and obviously, what deejays are playing when they are doing these events.
Do you know how designers choose the music for their fashion shows? And how do you evaluate their selection as a music industry insider?
I think some designers have awesome taste and set trends. Others are, shall we say, lame. The music you choose needs to reflect your brand and your seasonal collection. But I think more designers are outsourcing their music to qualified deejays, which is great.
How did you first hook up with StyleCaster and how did it come about that you offer some sort of the official soundtrack for the NYC Fashion Week?
Ari and I both have an Ohio connection before we were New Yorkers… and we have several mutual friends. One day we finally met and from that moment, the brainstorming began. Obviously, we would never say it's the "official soundtrack" but truthfully, from the amazing feedback we are fortunate to receive every time, it might as well be.
Any specific brands you're planning to check out during the next days? Where will you spin throughout the week?
Definitely Jill Stuart and Pamella Roland, as my wife Rana is helping out with their shows. It's obviously a very hectic week for us. I'm deejaying Fashion's Night Out for Karen Millen, a really cool performance event Friday called Thrashin' Fashion, and the show for Sherri Hill next week. Plus a whole bunch of parties and clubs, too. You can check out the full schedule on my website if you're interested. (link to mickboogie.com)
You have been enjoying quite some success recently. Each volume is becoming bigger and bigger and you have recently appeared in a Bing commercial that aired during this year's VMAs. Any future projects coming from you that people should be on the lookout for?
Yes, life is super blessed right now. Lots of deejaying… lots, lots, lots. I helped score the music for an adidas commercial recently… and Terry Urban and myself were just in the Bing ad. Both of those situations are leading to so many more opportunities, both deejaying and beyond. I co-own a streetwear boutique in Ann Arbor, Michigan called Motivation (www.mtvtn.com) which does really well. I just invested in a new talent agency called One Twenty Two, and I'm doing some consulting for them as well. In addition, we just launched a new music website called Mixstream.com. It's a design-friendly, well-curated mixtape site, which is much needed in the online world.
Do you have any involvements outside the music and fashion industry?
At this point, I am fortunate to have so much going on in those two industries that I don't have time for much else. Between that and my wife (and our two cats… lol), the plate is quite full.
Any final words?
Thanks for taking the time to do this. Both HYPEBEAST and Hypetrak are invaluable resources to the music and fashion communities, and we appreciate you noticing what we are doing over here.