A Conversation with Andrew Chen
Our latest A Conversation with… feature gives us an opportunity to chat with Andrew Chen, one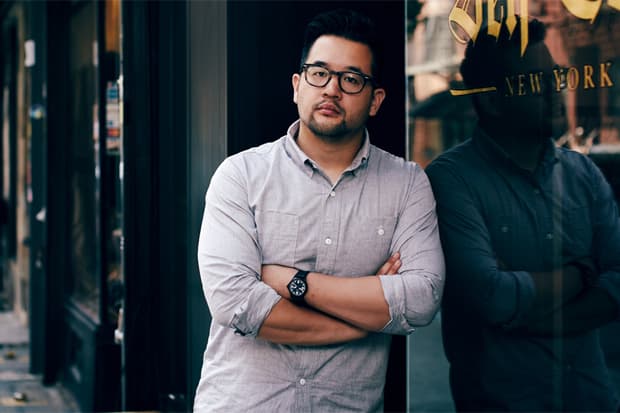 Our latest A Conversation with… feature gives us an opportunity to chat with Andrew Chen, one half of contemporary brand 3sixteen and co-owner of Self Edge Los Angeles & New York. With nothing too formal in mind, we allow Andrew to discuss various facets of his brand, life and store, with insights into his professional experiences and more personal topics, ranging from quality production to the international market to family life. Read below.
Brand visuals are… something that we're passionate about. Making good clothing is only half the battle; we're thankful for friends like Kellen, Dan, Sarah and Hilton who have continually given their talents to help tell the visual story of our brand through videos and photos. They help our customers see the collections the way we intended them to be seen, and get to know us as people and designers better.
Adapting to a changing fanbase… is a challenge we've really enjoyed taking on, but it wasn't one that we anticipated facing. When Johan and I grew the brand from T-shirts and fleece to a full collection in 2008, we tried to design items that we were proud of even though the fabric and construction we chose caused our line to be costlier than many of our contemporaries. We didn't intend to price ourselves out the boutiques that we had been selling to, but higher costs coupled with the recession caused an 80% drop in retailers by Spring 2009. It took time, but we're glad that our brand has found a home with stores and customers that understand what we do and are willing to support us. And honestly, it's not a completely new fanbase; we've got quite a few patrons who've stuck with us along the way. We are thankful for them.
Producing quality… garments is not an easy thing to do. There are too many opportunities for brands to cut corners and too few honest manufacturers who can be trusted. Not everything that brands tell their customers is true. And not all manufacturing houses can be trusted to deliver well-made, consistent goods on schedule. We've gone through some trying times with both domestic and international manufacturers over the years. This is not an easy business to be in.
To me, success is measured by… how much you learn and grow from any given situation. There are many great designers that never made it because they were ahead of their time, and even more brands that took a dreadful trend and ran with it all the way to the bank. Thus, you can't look at financial gain and industry recognition as markers for success. I have to remind myself of this often: whether 3sixteen succeeds or fails from an outsider's perspective, it's undeniable that we've already learned a lot and had a good time along the way. My friend and business partner Kiya said that once you're not having fun running your business anymore, it's time to stop. I couldn't agree with that more.
I like to… spend Tuesdays, aka man time, with my son Logan. He's only 5 months old so it's mostly a day for me to run errands and watch him, but I really enjoy getting to spend more time with my son during his early, formative months. It's also an ongoing reminder that work is not the most important thing in my life. I am looking forward to the coming years when we can go to museums, zoos and movies together. Becoming a father has been an amazing experience for me and I'm grateful to have a job that allows for a flexible schedule – this is one of the major perks of being your own boss.
The international market… is the next major growth target for 3sixteen. We feel pretty comfortable with our brand presence in the U.S., but know that there's a lot of room to expand in Europe and Asia. The ultimate test for us is to see whether we can find a home for our jeans in Japan's top-tier stores. To succeed as an international company in a country that domestically produces the best jeans in the world would be pretty amazing.
The mid-2000s… will always be memorable for me because I decided to leave the financial security of my day job in IT consulting to pursue 3sixteen full time. Looking back, I realize how crazy that decision was and how little I knew about what I was getting myself into. The company has been met with so much uncertainty along the way but we're thankful to still be here. No matter what happens in the future, I'm glad I made the jump because it taught me to trust God more.
NYC is like no other city because… of its diversity, especially with regard to cuisine. When friends visit, I don't take them shopping or sightseeing; I take them to my favorite restaurants. We live in Queens – it's not as glamorous as Manhattan or Brooklyn, but I daresay the authenticity and breadth of ethnic food options bests any other locale in the world.
3sixteen will always… be about more than the product we make. Johan and I strive to be good at what we do – that is, make clothes that fit well, wear well and last long – but what's even more important to us is that we do our best to be upfront and honest with everyone we meet. We named the company "3sixteen" after John 3:16 to remind us of the faith that guides us every day: the way we run the company, the way we interact with others, the way we design our product. To us, if our beliefs don't affect our entire lives, they're not worth holding onto. We know that what we believe in is not for everyone, but it's always been our intention to show that it's possible to pursue excellence in whatever you choose to do and not leave your faith behind. We are thankful that people have chosen to support our brand whether they stand by our beliefs or not. We would rather be remembered for being positive and uplifting people to deal with than for simply making good clothes.
2012… will be spent learning how to be the best possible father to my son and husband to my wife. The rest will fall into place.
Photography: Adam Krause