A Conversation with Nikolaj Nielsen of Won Hundred
Having quit school at the age of 16 to begin a career in the fashion industry, Nikolaj Nielsen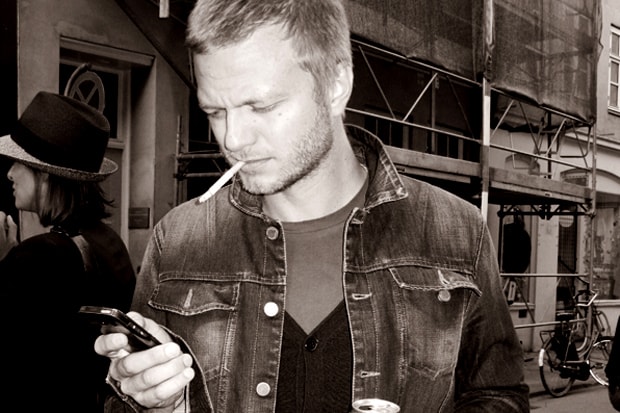 Having quit school at the age of 16 to begin a career in the fashion industry, Nikolaj Nielsen spent years learning about the design business while working for denim companies like Diesel and Miss Sixty. In 2005, the industry veteran felt a need to express his own creative vision by launching his own clothing brand called Won Hundred. Rooted in classical menswear and traditional formal wear, the Copenhagen-based label's extensive ready-to-wear collection is comprised of pieces ranging from denim and T-shirts, to heavy outerwear and suits. We caught up with Nielsen to discuss the label's design aesthetic and talk about the upcoming collection.
Tell us a little about the upcoming collection for Spring/Summer 2012. What was the basis or inspiration behind it?
Action wear and body movement are the inspiration for our Spring 2012 menswear collection. Classic jersey materials are combined with minimalistic tailoring. V-necks also make a comeback in waffle knit cotton and mercerized cotton jersey. Technical sportswear is a big influence on our minimalistic outerwear which comes in pop colors such as blue and red.
You previously served time working for Diesel and the Sixty Group before launching Won Hundred. What was it that finally motivated you to start your own label? Was there anything in particular that you felt was missing from those larger companies?
Well Danish and Italian design are very different. Italian design can be a bit too overdone. I missed the "less is more" approach to design. I also missed the personality, intimacy, and close relationships I had with clients and staff. It's always been a dream of mine to start up my own label. The experience I gained from working at Diesel and Sixty Group gave me confidence to do so.

Having grown from a small denim brand into a larger contemporary label, what have you learned about the business and about your customer that you think has helped contribute to Won Hundred's success?
Well the key is having loyal hardworking employees. It's really important to work as a team and support each other, otherwise you'll get really confused about all the things going on in the industry. And you also have to go with your gut even in tough times. Our customers are much smarter today. Their way of dressing is so much more individualized today than when we started. Today it's not enough to have a cool pair of jeans – you have to have the whole package!
Won Hundred is highly respected for maintaining its own unique aesthetic each season, regardless of the current fads and trends. How do you manage to develop your own design sensibility without being influenced too much by what else is happening in the market?
It's important to stay focused and accept who you are. For instance we are not a heritage brand, which is a big trend right now, but we don't want to be either. We want to stick to our vision of designing with simplicity and detail in mind. Our simple shirts with a small pocket on the sleeve are amazing and so are our materials.
In addition to Won Hundred, there seem to be an increasing number of promising menswear talents emerging out of Denmark (i.e. Norse Project, Wood Wood and Mismo to name a few). What is it about Scandinavian design that you feel makes it more unique or special?
Particularly Danish designers have a way of not taking themselves too serious. Maybe it's the jante-lov, which means you're not better than other people. So we create cool things but we don't make a big fuss about it. I think people like that! It also comes down to personality. For our lookbooks, we street-cast then interview our subjects. For the Spring 2012 lookbook, the focus was Copenhagen and favorite places. We want to give you a small part of us every time we do something new.
What plans are in store for the label over the coming months?
Wow. On August 1st, a new menswear designer will be starting with us. And we're really excited about it! Before we only had one designer doing both collections so now there'll be someone to focus on 100% on men's and 100% on women's – in my mind, we can't go wrong! Then we are doing collaboration with Cooperative Designs that will be showcased during London Fashion Week. We've never showed at LFW so that's going be fun. We're also doing an event in London in an art gallery that will announce the AW11 collection in stores.