Gastown F.C. x Reigning Champ Interview with Owen Parrott
Vancouver-based Reigning Champ recently got to work on a small capsule collection for their friends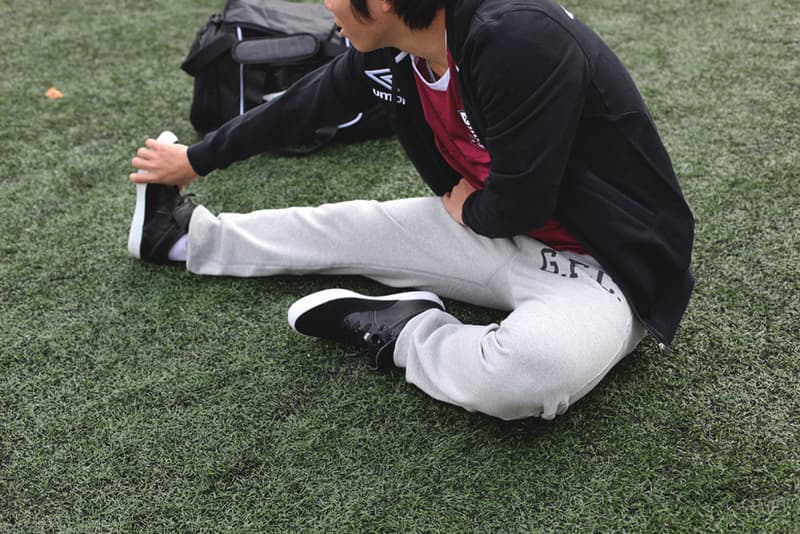 1 of 5
2 of 5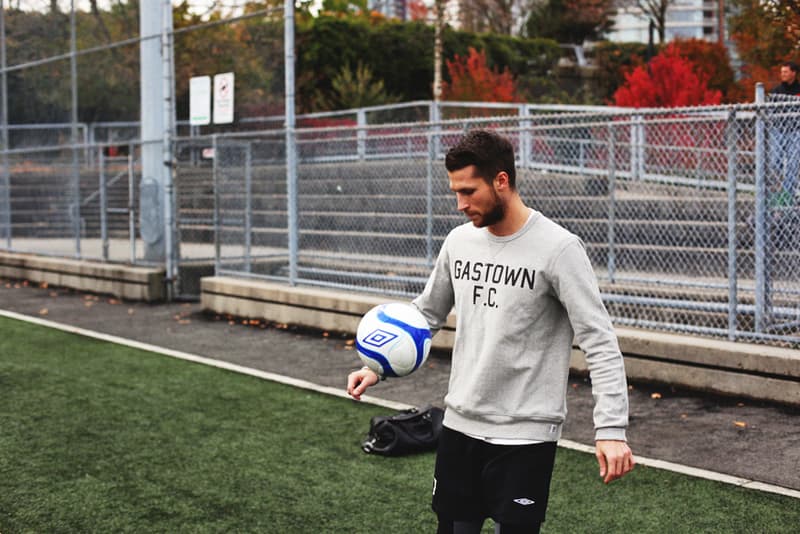 3 of 5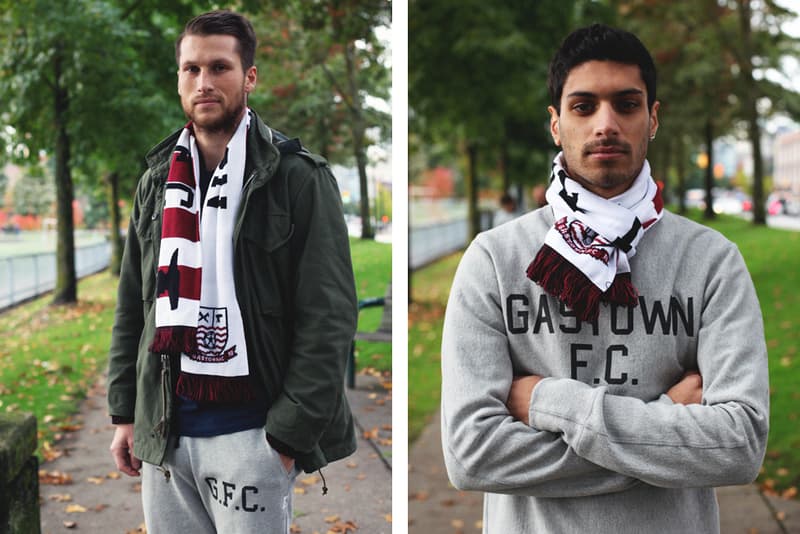 4 of 5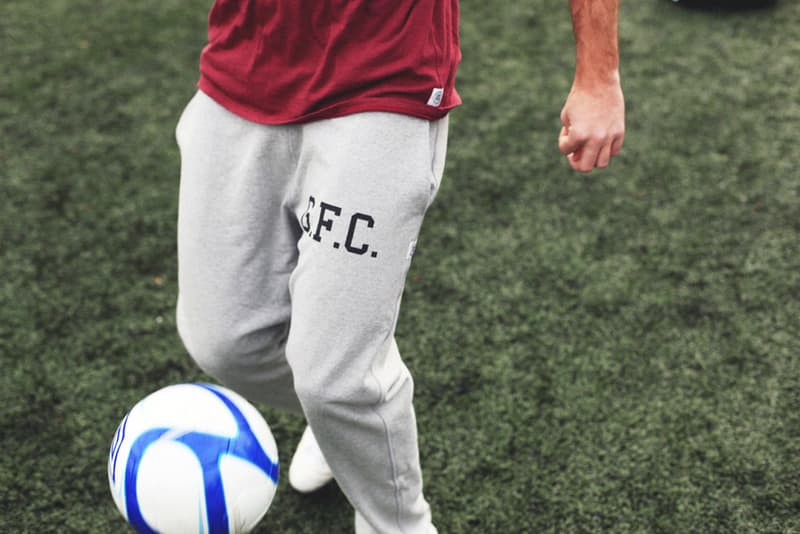 5 of 5
Vancouver-based Reigning Champ recently got to work on a small capsule collection for their friends at Gastown F.C. An expected selection of quality fleece items was included in the collaboration as well as a pair of light scarves bearing Gastown F.C. insignias. Each item is intended to reflect functionality and the importance of good design; illustrated by the simple typography adorning the included crewneck sweater and sweatpants. Owen Parrott – a founder of the team and one of the minds behind Inventory Magazine alongside Ryan Willms – discusses politic-free soccer, his opinions on apparel being integrated with sports culture, and what the future could hold for the team.
Could you give us a run down of Gastown FC and how it all started?
Gastown F.C. is the football (soccer) team that Ryan and I started about a year ago now. We started it originally so we could play the game at a more competitive level in an organized setting. We grew up playing the game as kids and through high school, then we started a team in university a few years back. That team died out as we got older and moved away though and we found ourselves playing on various teams as individuals. It's kind of hard to break into real proper clubs when you've only been playing recreationally though and we didn't really want to have to deal with coaches and team politics so we started our own team. All along, the idea of creating a club was appealing too because it opens up the doors to do things like the Reigning Champ collaboration where we can combine our interests and make products that we love and use and have fun with things off the pitch.
Where do you "scout" your players?
Players come from all over… The spine of the team is close friends and family. We found and signed our goalkeeper with a couple of tweets. Craigslist netted us a couple of defenders and we picked up our first foreign players, a couple of swashbuckling Japanese, off the sidelines at one of our games. Word of mouth has helped too. Admittedly we're not the best at organizing training so we haven't really had the chance to open the doors to everyone but we'll hopefully have some open sessions in the future where we can build the player pool.
Do you feel that sports have become an increasingly bigger part of creative culture?
I don't think they've become a bigger no, but perhaps more visible. People have been active forever and everyone has their past-times and hobbies but for whatever reason these things become 'cool', I'm thinking something like track bikes, surfing or whatever is of the moment right now. I don't really know why that is, but I don't think it's a become a bigger part of culture than in the past; especially in Vancouver where being active is just a way of life.
What's it like having somebody like Reigning Champ in your backyard?
It's been good. We're pretty used to working with people all over via email, phone, skype, twitter or whatever so it's been nice to be able to just drive over to sit down and work things out in person and in the same time zone. Kenta and the rest of the team over there have made it easy for us too and it's a solid local partnership that will hopefully continue.
Despite the game of soccer growing increasingly technical by the kit, ball and boot release, what does it mean to eschew that in favor of something that is a throwback to the old days before the prevalence of gear laced with hydrophobic materials?
I don't think it means anything really as I wouldn't say we were turning our backs to technology and technical garments exactly. We wanted to make products that were actually more for wearing to and from games but could also be incorporated into your everyday wear. They're athletically inspired but they're not meant to be performance gear, it's more along the lines of vintage Champion or Russell Athletic. With that, you can't beat the comfort and feel of cotton and Reigning Champ make some of the best heavy weight terry out there.
The whole collection seems rather straight forward with scarves, sweat suits and T-shirts but was there a particular reason there wasn't a snood included in the line?
Well the tube scarf can just as easily be worn as a neck warmer that's similar to a snood… But we didn't do a snood proper the first time out of the gates because personally I think they're pretty terrible looking things and I'd never wear one. They've been banned in the Premier League this year too so I'm definitely not the only one. Ryan on the other hand doesn't mind them I don't think so maybe he'll sneak a G.F.C. version in at some point.
Based on the simplicity of the design, typography plays a big role. What were you aiming to achieve on this front?
Just that, simplicity. For us, the best products are very simple, subtle and functional and comes from a genuine reference point. Crewneck sweatshirts are pretty ubiquitous, but the simple type is more subtle than any graphic and the typeface gives it a collegiate or military reference which is completely digestible for pretty much everyone without being completely contrived. Essentially it's something that literally anyone can wear and easily incorporate into their existing wardrobe and it will look good.
Is typography growing increasingly important in the visual world? Do you associate this with any particular movement (i.e. Apple)?
Again, I don't think it's really growing no. Typography has always been critical to good design and is always evolving. Perhaps the success and popularity of Apple has helped people become more aware of 'good design' in general but for the most part I'd think that typography is still pretty much taken for granted by the general public. I mean I'd probably have a really hard time differentiating between Akzidenz-Grotesk and Univers, and most people probably don't even know what I'm talking about.
What's next for GFC? Any thoughts of hosting a "Creatives" World Cup with the likes of Chinatown Soccer Club etc?
Well hopefully promotion. We're a brand new team to the Vancouver Metro Soccer League we've had to start at the bottom of the pyramid. We're top right now and we're hoping to hang on. We'd also love to lock down a proper shirt sponsor as our kits would look that much better with one. We've reached out to a handful of brands and businesses but I guess not too many see things the way we do. As for a Creatives World Cup, I'd love to see something like the AdiCup being held every year and to be invited would be great. I don't think we'd have much luck hosting anything in Vancouver though as travel costs might be a bit of an inhibition. Maybe us and the Ringleaders in Montreal will each take big road trips and meet halfway in Winnipeg one summer.