The Berrics: Javier Nunez for HBO's 'How to Make It in America' Interview
The Berrics sat down with Javier Nunez to catch up. Having been a familiar face in the NYC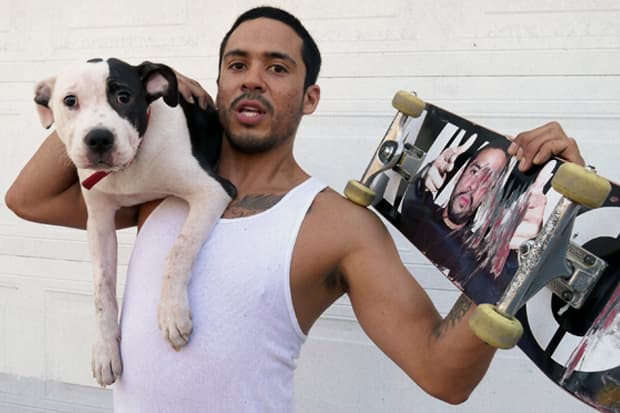 The Berrics sat down with Javier Nunez to catch up. Having been a familiar face in the NYC skateboard scene from a young age, Javier is back in the spotlight with his role as legendary NYC skater, Wilfredo Gomez on HBO's How to Make It in America. Javier got his start in the acting industry by being cast in the gritty classic film, Kids. After a few minor commercial roles, he relocated to California in hopes to take his skateboarding career to the next level. His sponsors folded, which led to him taking a gig at Supreme LA and upon choice meeting, he was cast into the new series. You can catch the entire interview here while excerpts are seen below.
You're from New Jersey, how did you get started skating originally?
My older brother skated, I got into it pretty much through him. He was the guy that motivated me to jump on a skateboard. I stole his skateboard. I want to say I was probably about eight years old when I did my first ollie on the Have You Seen Them board – the Missing Children board, what was that H-Street?
It was Think.
Yeah Think – exactly.
Karl Watson, Sam Smyth…
Yeah, Nick Lockman, all those fools, that was the first board that I ever set foot on and it was my brother's board. I pretty much jacked my brother for his board and then when I came home later that night he yelled at me, but I remember doing my first ollie when I was eight years old.
You had a 411 Wheels Of Fortune skating the Brooklyn Banks at eleven, which is pretty impressive being that you were so young. That was just three years after you started skating, how did that work out?
I was lucky enough to come into the city and get accepted into the crew. You know how it is, if you're an out of towner and you come into the city, you're gonna get checked or regulated. I was lucky enough to be around people that took me under their wing. That first year that I started going into the city, which was like '93, that's how I came up on 411. I was just skating and the dude, I believe his name was Dave Schubert – he filmed a lot with Pepe Martinez, both of those guys were up in New York from D.C. and they were like "dude, you wanna film a 411?" I was like "sure, let's do it" and pretty much filmed all of those tricks in like ten minutes.
Who were some of the guys that were skating downtown that were sponsored when you were a little kid?
I would see Huf, I would see Huf shredding it. I would see Harold (Hunter), Steven Cales, Jeff Pang, just the old Zoo crew. I would see them skating through the city and like I said, I was lucky enough for them to accept me into their crew and they took me under their wing. But yeah, those were the guys. My first pro was Fred Gall, he was the first pro that I ever saw at Brick Town Skate Park in New Jersey. Before I was even going to New York, I remember going to Brick Town and Fred Gall was there, I remember fanning out on him.
How Did sponsorship come into play, who was your first sponsor and how did that work out?
It started off with me getting sponsored at this Flushing contest that Dead End put on… remember Dead End?
Yeah
Vinny Raffa, big up to Vinny Raffa – he threw a skate contest at Flushing Meadow park in maybe like '93. Vinny Ponte was already on Dead End, but me and Supa were skating the contest over the grate. I was doing my tricks, Supa was doing his tricks; we were skating so good that Vinny Raffa was like "you guys are on the team!" Me and Supa got on Dead End on the same day. That was awesome cause Vinny used to take us in this crazy old school Cadillac to D.C. and Philly, we did some ghetto ass tours with Vinny. I give him repect, he took us out and pretty much showed us a good time when it came to skateboarding and being sponsored.