Fafi x MAC Cosmetics Figures
The artist Fafi has teamed up with M.A.C. Cosmetics to produce 3 figures for the launch of M.A.C. Cosmetics' new Fafi product line. The three figures include: "Monoka is mad about Tokyo and loves to sing 50 cent tracks in Shibuya's karaokes, Ermine is a fan of the NYC graffiti scene and travels in the City all day long to photograph them, Eriko loves Paris, it's markets and gastronomy, you won't compete with her about a french recipe!" Along with the collection and exclusive to the M.A.C. stores, we've teamed up with Medicom to get you a fantastic toy of Eriko, available in 3 colors." The figures will cost $9 USD and can be purchased through the MAC/Fafi Website. Source: Toysrevil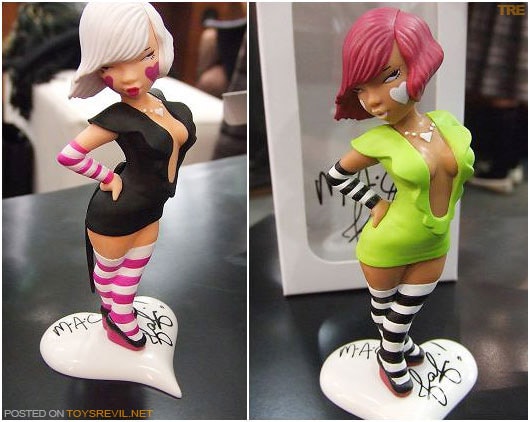 The artist Fafi has teamed up with M.A.C. Cosmetics to produce 3 figures for the launch of M.A.C. Cosmetics' new Fafi product line. The three figures include:
"Monoka is mad about Tokyo and loves to sing 50 cent tracks in Shibuya's karaokes, Ermine is a fan of the NYC graffiti scene and travels in the City all day long to photograph them, Eriko loves Paris, it's markets and gastronomy, you won't compete with her about a french recipe!"
Along with the collection and exclusive to the M.A.C. stores, we've teamed up with Medicom to get you a fantastic toy of Eriko, available in 3 colors."
The figures will cost $9 USD and can be purchased through the MAC/Fafi Website.
Source: Toysrevil