Gushers' Black Voices Create Spotlights Emerging Gen Z Designers at HBX New York
A panel discussion featuring Sainabou Lowe, Dale Horton and Camryn McClain will explore the inspirations behind each designer's respective Black Voices Create fashion capsule.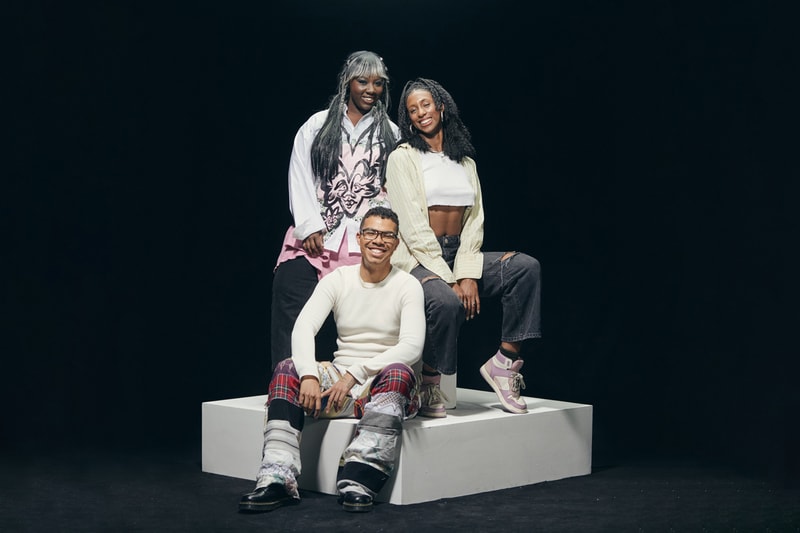 Since 2020, Gushers' Black Voices Create platform has amplified the work of young Black creators while celebrating inclusive access to the arts. The program aims to platform Black creators in social, digital, fashion and other creative disciplines by providing access, exposure and financial compensation, closing the value gap for emerging contributors in the space. In the age of social media, creators are empowered to share their unique perspectives through their brands and personal lives — and Gen Z has plenty to say.
Gushers this year spotlights rising designers Sainabou Lowe of SAIbysai, Dale Horton of Expired Citizens and Camryn McClain of RENÉE. Each of them created two fashion pieces celebrating their distinctive brand ethos and approach to design. Their apparel pieces are presented in a custom lookbook, brought together in collaboration with fashion model Victor Kunda, photographer Nayquan Shuler and fashion stylist Justin Boone. On September 14, HBX New York will showcase their respective collections during an event party and panel discussion, titled "Fashioning Change," moderated by Hypebeast Copywriter Shaun Harris.
During the event, a panel discussion will provide an opportunity to dive deeper into the inspirations and stories embedded in each collection while spotlighting the designers' experiences as emerging creators in the fashion space. A party will follow featuring custom installs displaying their work and live tunes courtesy of DJ Keyanna Harris.
If SAIbysai, Expired Citizens and RENÉE haven't hit your TikTok "FYP" just yet, here's a primer on Gen Z's next generation of independent designers. Sainabou Lowe is at the helm of SAIbysai, an apparel brand known for its hand-painted garments. The "SAI face," an original abstract artwork embodying Lowe's mischievous spirit, adorns the brand's punk-inspired plaid mini skirts, parachute pants, leather moto jackets and vests. For Gushers, the designer pairs relaxed parachute pants with a knitted pullover featuring '70s-style bell sleeves and multicolored fringe decorating the hem.
Dale Horton, the creator behind Expired Citizens, was taught by his grandmother how to sew at a young age. After years of thrifting and DIY tailoring, he developed a signature patchwork technique of his own. Horton upcycles garments using deadstock textiles, vintage tablecloths and recycled materials to create one-of-a-kind, Y2K-inspired silhouettes. His featured Gushers capsule presents cut-and-sewn denim with all-over graphic overlays and a camouflage messenger bag.
Maryland native Camryn McClain founded RENÉE, a sustainable fashion brand known for its sculptural outerwear, namely McClain's braided jackets, which draw inspiration from natural, afro-textured hairstyles. The brand's braid motif revisits McClain's thesis project, "Braided Heritage," created while studying at the Fashion Institute of Technology. The intersection of fashion and hair is an integral part of her brand identity, where she explores texture, color and form in a deconstructed manner. In this same spirit, McClain's capsule for Gushers introduces a two-piece ensemble: a monochromatic vest with vibrant orange piping at the hem that transforms into a bag and a denim jacket featuring her signature braid motif woven atop the garment.
Additionally, Gushers' partnership with the NAACP Youth & College Division heightens awareness of issues pertinent to Black youth. The brand's financial commitment to the NAACP helps fund campaigns that promote education, equality and safety, and programs that increase leadership development and recruitment.
To attend the event and get a first look at the designers' collections, RSVP here. Learn more about Gushers' Black Voices Create platform by visiting the brand's website, and read more about each designer here.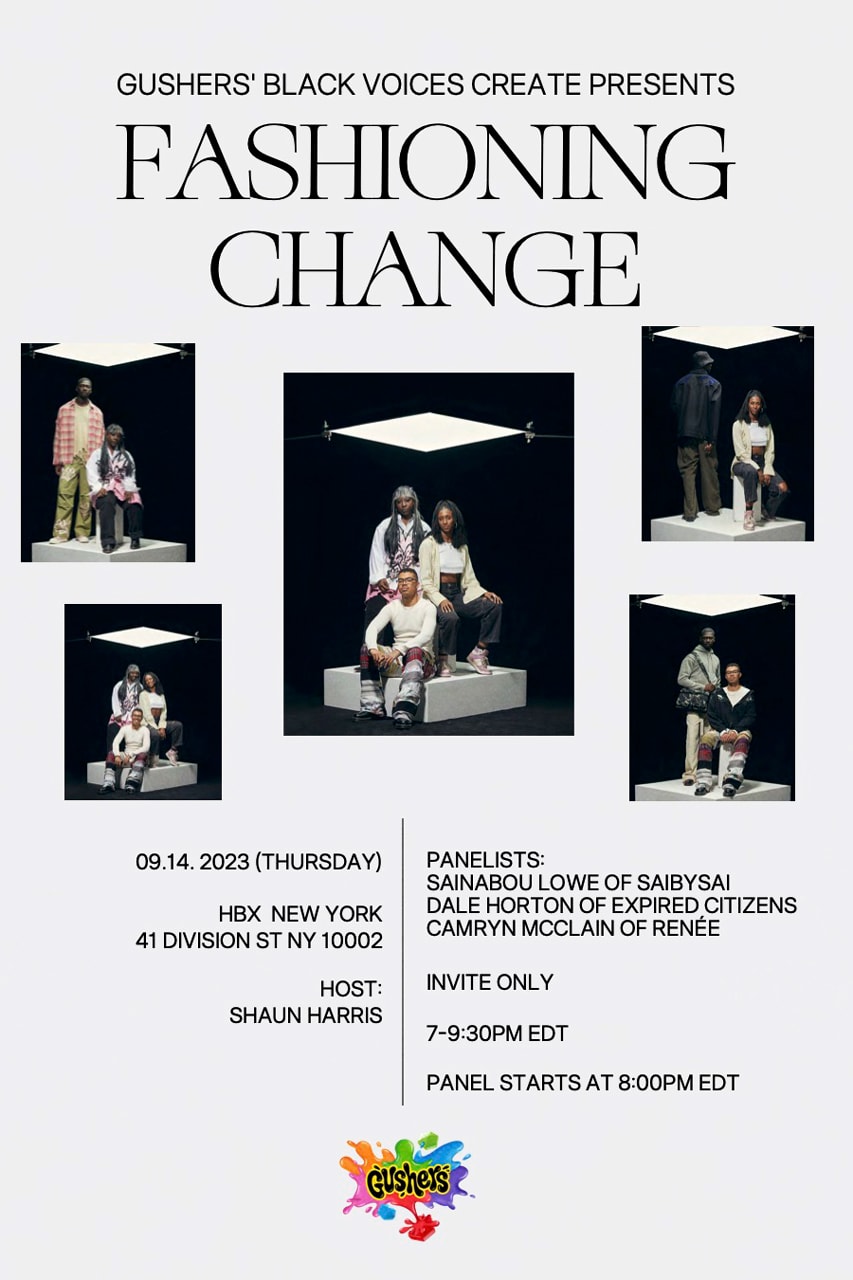 HBX New York
Location: 41 Division St, New York, NY 10002
Date: September 14
Time: 7:00 p.m. – 9:30 p.m. EDT