'The Flash' Collectible Figurine Shows the Speedster in Action
Featuring multiple options for display and personalization.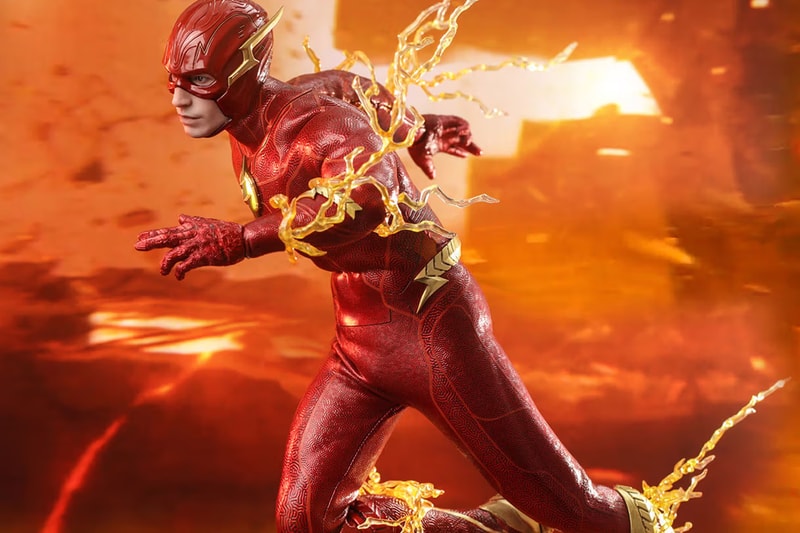 Hot Toys is continuing to ready fans for the upcoming premiere of The Flash on June 16. Last week, the toy company unveiled a Batman and Batcycle collectible set, and now, it has returned with a figurine of the film's titular character.
The sixth scale figure replicates the likeness of actor Ezra Miller in The Flash, featuring both a Barry Allen head sculpt and a second The Flash cowled head. Both have a rolling eyeball system and the cowled head comes with three different interchangeable faces.
Throughout the body are 30 different points of articulation, along with multiple gloved hand gestures, including fists, open hands and hands in a running position.
Moving on to his uniform, the metallic, screen-accurate suit and boots come in red, accented with reflective patterns. On the figurine's chest, an emblem can be lit up thanks to a power-operated LED light.
Owners can additionally customize their collectible with lightning effects for its arms and legs and two helmets, one of which has a translucent visor.
The Flash Sixth Scale Collectible Figure is available to pre-order for $290 USD now and is expected to ship between July and December 2024.
In other toy news, here are 5 things you might not know about LEGO.