How d4vd Went From Making Gaming Montages to Chart-Topping Tracks
From recording "Romantic Homicide" out of his sister's closet less than a year ago to now touring the world.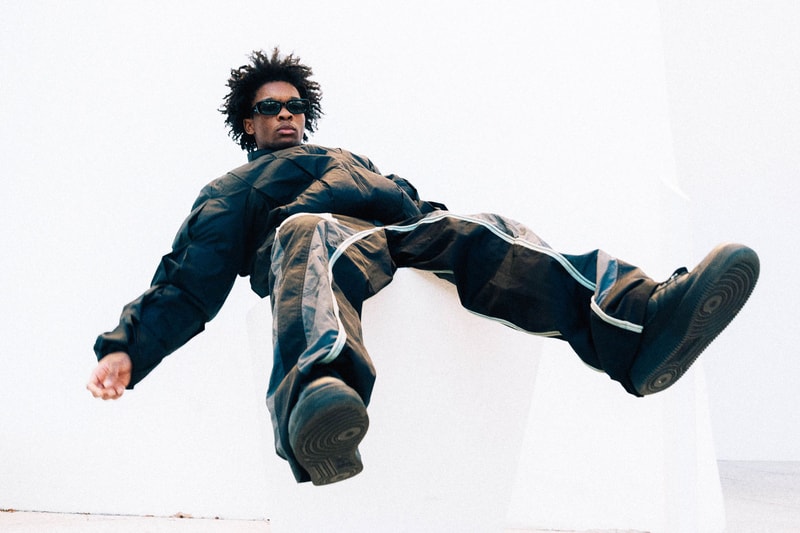 If you've scrolled through TikTok or Instagram Reels, you're bound to have listened to one of d4vd's dreamy tunes such as his breakout track "Romantic Homicide" or "Here With Me," which between the two, now have over 780 million cumulative plays on Spotify alone. Named one of Zane Lowe and Amazon Music's artists to watch for 2023, the 17-year-old artist is primed to be one the biggest breakout acts this year as he sets off on his first tour taking him around the world from London and Paris to Toronto and Sydney.
d4vd never planned to make music. Growing up wanting to be a pro video game player, he spent much of his free time on Fortnite and would make gaming montages. After facing copyright strikes on his gaming YouTube channel for the background music he used, he decided to make his own tracks. Turning his sister's closet into a makeshift studio, all the tools d4vd would need to produce the now-global hits such as "Romantic Homicide" were the free mobile app BandLab and Apple Earbuds to record with. Fast forward to today, d4vd is now signed to Interscope Records' Darkroom, currently home to Billie Eilish, as he looks to continue his forward momentum with chart-topping tracks.
Just ahead of his tour, we had the chance to catch up with d4vd for an exclusive interview. While enthusiastically wearing a pair of big red Astroboy boots sent over by MSCHF, he walks us through his unique path, touching upon the unexpected start to his music career, growing up on gospel, favorite animes, big plans for the future, and more.
Was just listening to your latest single "Placebo Effect." Can you speak on the story behind the track?
I made it right after "Romantic Homicide" and after writing a story about the loss of love and not mourning it, I decided to write about my chronic overthinking where I tend to believe I have stuff I don't have and am never gonna get. So it was just expressing the feeling of knowing that you don't have something but trying to convince yourself you do. Hence the title "Placebo Effect." It happens a lot with love — thinking that person's feelings are reciprocated when they don't even remotely like you at all.
How does it feel to be going on your first headline tour?
It's going to be so fire, I don't think anyone's going to expect what I'm going to do. I just want to jump and put some energy out. The thing is when I'm doing these acoustic shoots for YouTube and stuff and I'm by myself I can get in my own head but when people are vibing and singing along with me, I don't overthink it.
Where do you get the ideas for your songs? Is it mostly from personal experiences?
It's everything. Like, every walk of life. With people that I see on the street, I'll sometimes plan out their entire lives for them and try to include a piece of myself in every song. So let's say I'm writing about the movie Up because that was the inspiration for "Here With Me," I'll put my own experiences into it but then have the foundation be the relationship between Carl Fredricksen and Elle.
One day as I was watching the sun rise along the coast, I remembered when they were watching the sunrise at that picnic, and I just had to write about it while not finishing the story when Elle dies per se, but having them grow old together and just experience life together. That was the whole meaning behind that track.
I imagine you don't record on the iPhone much anymore?
I still do! I went to the studio seven times total and I only came out of it with three songs. I go to the studio and I record on my phone. I'm weird like that. I'm trying to acclimate and get adjusted to it [the studio] because I feel like that's going to be the move after this first project I'm working on which was exclusively made on my phone — just taking the art to a whole new level and evolving with it and getting better production and everything.
Do you still use the same app as before as well?
Yeah, still Bandlab and these headphones (Apple wired earbuds).
Your start kind of reminds me of Shiloh Dynasty.
And Steve Lacey yeah, they really paved the way.
What are some artists that you've been listening to growing up and recently?
Growing up, it was strictly gospel till I was 13 so I had limited exposure to what music actually sounded like outside of that. I was a bit of a classical and jazzhead too. Right now, the biggest inspirations are Laufey, Paramore and Deftones. It's like all I'm listening to at the moment but when I really found music for the first time was Lil Pump's "Gucci Gang" I heard on a school bus going to school. I downloaded the song so fast.
Then I found Smokepurpp, XXXTentacion, Ski Mask, and The Neighbourhood from the Fortnite community on Twitter. Somebody had a montage with "Sweater Weather." I was like 'what is that guitar with all these 808s!' which made me want to get into indie. So I got into indie and started listening to Dylan Minnette, Wallows, Mac DeMarco — all the GOATs.
When it came time for me to start doing it for Fortnite, my mom was like 'just pick up your phone and do it you're getting copyright strikes' and that's exactly the sound I went for. I had experience with piano before too. My mom forced me to learn piano so the first track I ever made was "Runaway" which is a piano track and the second one was in a Fortnite montage, "You and I," an indie track.
Are you looking to play with other genres?
Trust me I've already done so much. I'm ready to go and it's going to go crazy. I don't want to box myself in and I want to do everything. It's just about finding the right way to do it because I want it to sonically be like 'Okay, that's d4vd,' but I also want people to go 'that's the same kid that made that?' So that's one of the only goals I have with this music thing, to just blow minds and expectations. I got four albums in the bag right now with an exclusive jazz album inspired by Laufey. 
Is there a collaboration that you really want to do?
At the moment, no, but in the future, what I keep saying is Clairo! But I'm going solo for right now.
Are you still on the gaming wave?
Oh, trust me, I'm live-streaming tomorrow. I was out of town for a little bit, but I'm hopping back on Fortnite and Call of Duty and I'm looking to go Pro.
We see you post about anime quite a lot. What are your favorites right now?
Attack on Titan, the manga, is peak. The last part of the anime comes out next month and I have no idea how they're going to adapt that. So AoT, Demon Slayer, Tokyo Ghoul, Dragon Ball Z, Kill la Kill, Assassination Classroom, and Jujutsu Kaisen are my top right now. A lot of shonen.
Can you talk about your experience coming up? It felt almost overnight.
It was so wild. People think it was a six-month kind of journey and it technically was, because I started making music in November 2021 and I got a little bit of traction from January til May, but it really wasn't until June. TikTok was such an instrumental part of the process because of the reachability I had. Especially being genreless because people were hearing a new thing from me every day. I was just trying out what worked. With "Romantic Homicide," I posted a snippet with the Alvin and the Chipmunks gimmick that I used to do, and it blew up overnight. So it really was a three-day journey since my career started in June.
Coming from Fortnite, I was focused on making gaming montages and wasn't looking to make music to release at all. The music was to score the montages like a Hans Zimmer movie score type beat. Then I headed on Soundcloud and Twitter, and was like, maybe I should keep making music why not. I moved onto TikTok and it was just going crazy. I was being so consistent, just posting anything I could and making covers. I was doing everything and then I made "Romantic Homicide."
I didn't even want to drop it but I put it on TikTok to see what they would think because if I don't like it, maybe they will. It's been amazing — all the interactions and comments, good or bad. I just liked seeing the feedback. I don't even think there's really such thing as a bad comment because it's all to better the craft anyways, so it's all super helpful.
View this post on Instagram
Are you looking to focus on your music now or are you looking to go back to school?
I've been homeschooled since I was in seventh or eighth grade and I recently graduated last year in December. I might go to trade school and get a certification to be honest with you because the common theme with these artists that get traction young is they drop. I want to get something to my name where it says I finished my education that's more than my GED so I might go study computer science or something.
Have you been getting into fashion as well? We see you elevating your fits.
You already know. I'm trying to delve into it crazy. I want to wear clothes that everyone else looks goofy in, but I can rock. I feel like Carti is doing it to the fullest right now. So if I could do that, it'd be sick.
Anything you want to say to the fans?
New and better music coming soon. Thank you guys for the support. It means the world to me.