"If People Don't Like the Future, They are Stupid": Gaetano Pesce on his Enduring Need to Look Ahead
On the occasion of his new solo show in LA, Hypebeast speaks to Pesce about popularity, politics, and preparing for the future.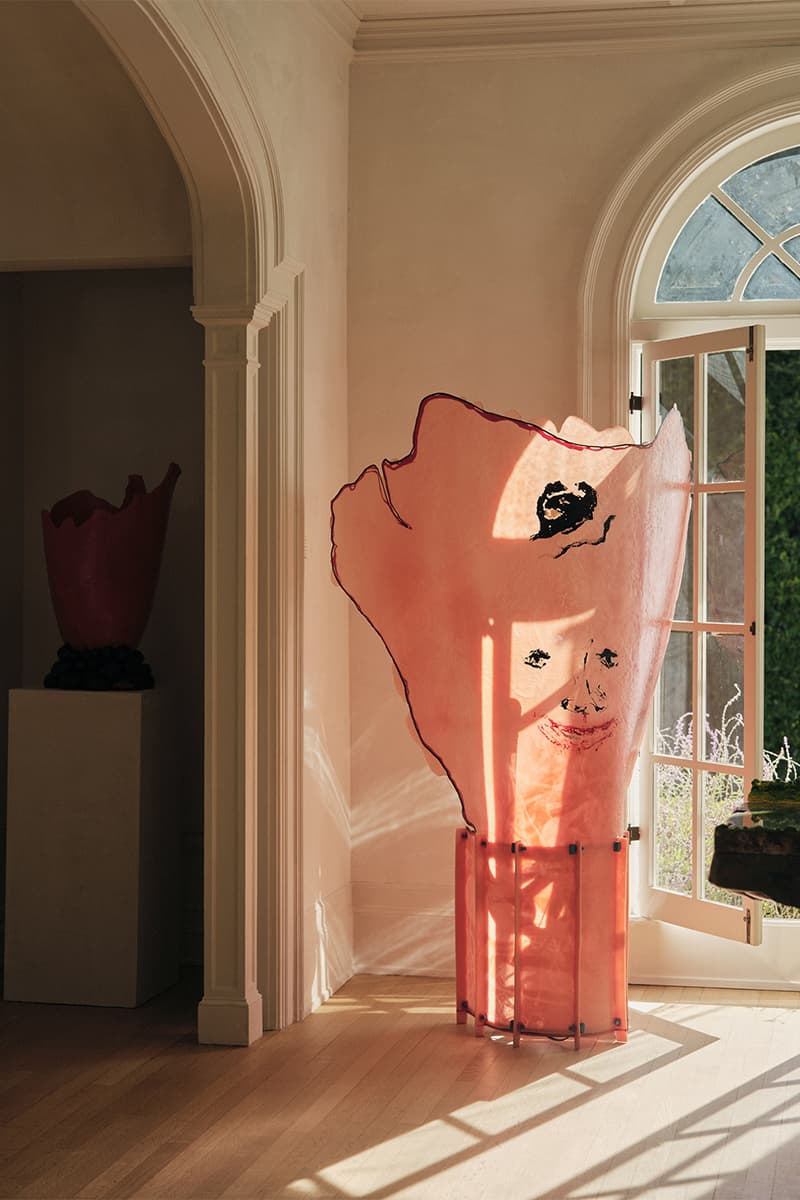 "If People Don't Like the Future, They are Stupid": Gaetano Pesce on his Enduring Need to Look Ahead
On the occasion of his new solo show in LA, Hypebeast speaks to Pesce about popularity, politics, and preparing for the future.
Gaetano Pesce's outlook is eternally youthful. The Italian designer, architect, and overall artistic icon, who celebrated his 83rd birthday last year, has spent his career looking to the future – in turn developing a reputation for an aesthetic that is difficult to attach to any period of time.
Now, an exhibition at The Future Perfect's Los Angeles gallery is presenting a timeline of his work – from classic pieces such as his Up chair to new works created specifically for the show. Its title, "Dear Future", Pesce says, was born out of his preference to look forward, rather than back. "I always enjoy the future, as I am bored with the present," he says, speaking from his studio in Brooklyn's Navy Yard. "The past teaches us what might happen in the future, but the future is my goal. If people don't like the future, they are stupid." An unexpected take, perhaps, from someone who has so much past behind them. But it certainly explains the way in which he has continuously pushed boundaries of what is expected from him.
"My career is not monolithic, but fragmentary"
Born in La Spezia, Italy in 1939, Pesce entered the world at a time of conflict. Just months before his November birthday, Germany had invaded Poland, signaling the beginning of World War II. Even now, when in conversation with Pesce, the topic of politics is everpresent, and it doesn't take long for an answer to a simple question about his work to circle back to a wider societal context.
"The world has been homogenized because of dictators, and it has lost many values tied to cultures and places," he says. "With my work, people can understand what the disappearance of these unique values means, and try to find the importance in the diversity of locations and people." He adds: "the environment uniquely influences its habitant. If [Jorge Luis] Borges had not written from Bueno Aires but instead was writing in Stockholm would his stories be different?"
Being eternally abreast of the times has contributed to Pesce's Midas touch. He has historically loathed the version of modernity that produces cookie-cutter results in architecture, and as a young man sensed there was more to be learned. Eventually, he embarked on his varied creative journey with a degree in architecture at the University of Venice – but credits his desire to make it his life's work to a woman named Milene Vittore.
The pair met when commuting from their home city of Padua to their respective schools. At the time, Gaetano was studying architecture, and Vittore was a student at an Italian school of design that was considered to be innovative and forward-thinking. "Because I didn't want to pay for the ticket, I was traveling on the net where you would put the bags, and she joined me," he says.
Throughout their journeys, Pesce says he discovered a new meaning of design through her descriptions. They would muse over their interpretations of the practice, putting together thoughts and ideas for projects that exemplified a new era of design objects. "At that time, design was about form following function," he says. "For us, this wasn't acceptable – we thought, 'we are young, and we want to see design as an expression'. The idea was that design is always very practical: if you design a chair, for example, it needs to be comfortable, but in the meantime, the chair can express meaning. This is the new design, the design of the future."
Putting this into practice, Pesce spent the years between 1958 and 1963 partic­i­pating in the design collective "Gruppo N." He quickly became aligned with the Radical Design movement, joining a generation of Italian architects revolting against the functionalist nature of 20th-century Modernism – made commonplace during a period of social and economical instability across the country. "If Modernist architecture and design disregarded the individual and attempted to standardize the human spirit, Pesce's lifework has been to upend prescriptive modes of thinking — a form of counter-design that favors incoherence, unpredictability, eccentricity, and originality," says Future Perfect Gallery Founder David Alhadeff. "His future is not one of myth — it is an attainable reality free of war, inequality, and uniformity, where human individualism is expressed in objects and style."
Pesce's career to date has seen him create buildings across the world, and collections with the world's biggest brands. Stylistically, the creative polymath has become known for his experimental use of color, shape, and material, be it across a furniture design or a residential building. His "Up Chair," – affectionately known as "Mamma" thanks to its womanly form – was designed for B&B Italia in 1969 and combines voluptuous shapes to create an enveloping seat, complete with a ball-shaped ottoman playfully attached via a cord. His "Organic Building" in Osaka, completed in 1993, has been described as a precursor to the now-commonplace living walls, thanks to its ceramic facade panels that each have room to hold a green plant.
But despite being created decades earlier, his designs have arguably never had as much of a moment as they are having right now.
In a piece for Curbed, writer Matthew Schneier declared that 2021 was the year that the world had "finally caught up" with Pesce. "No rapper has yet name-checked their Pesce in a verse, though if you know what to look for, you'll have noticed that KAWS has a Pesce, as does Urs Fischer, as does Selling Sunset's Christine Quinn, and that one of his armchairs recently made a cameo on the new Gossip Girl," he added. It's fair to say Schneier's observation was correct, as 2022 became a bumper year for the designer too, from new collaborations with Cassina to creating the set and furniture for Bottega Veneta's Spring/Summer 2023 show. "My career is not monolithic but is fragmentary," Pesce says, of his multidisciplinary nature.
This unsystematic oeuvre is evident in "Dear Future." Inside Goldwyn House, pieces are dotted around the domestic setting – being both at one with their surroundings, while also starkly in contrast all at the same time.
Many of his preconceptions, conceptual obsessions, and lifelong interrogations are made clear. For instance, his commitment to creating "mass-produced originals," defined by collections each containing the human touch, can be seen in the "Nobody's Perfect" series (2002/2019-present). For the exhibition, he has created two new editions for the series, both in a vibrant, translucent, free-poured resin. The human relationship with nature spans water and land through works elsewhere, from the River Table (2012), a rare work from his series, Six Tables on Water, to a new series of multicolored resin Rock Lamps (2022), cast from stones collected by Pesce himself.
The overwhelming takeaway from the show is a story of originality – a special kind of originality that only occurs every so often, and even less so in the midst of an image-saturated digital landscape. To replicate this would be impossible, a lesson Pesce has been imparting to his students for decades.
"When I was teaching, I would say to the students 'try to be different – don't do what I do'," he says, as a final thought. "Find your vocabulary, find your language, because each of us inside has a lot to discover."
Dear Future is on show through March 31, at The Future Perfect's LA outpost, and is open by appointment.
The Future Perfect
Goldwyn House
1800 Camino Palmero St
Los Angeles, US