Brain Dead and Kerbi Urbanowski Are Back Together for a Stained Glass Desk Light Collection
No two lamps are the same.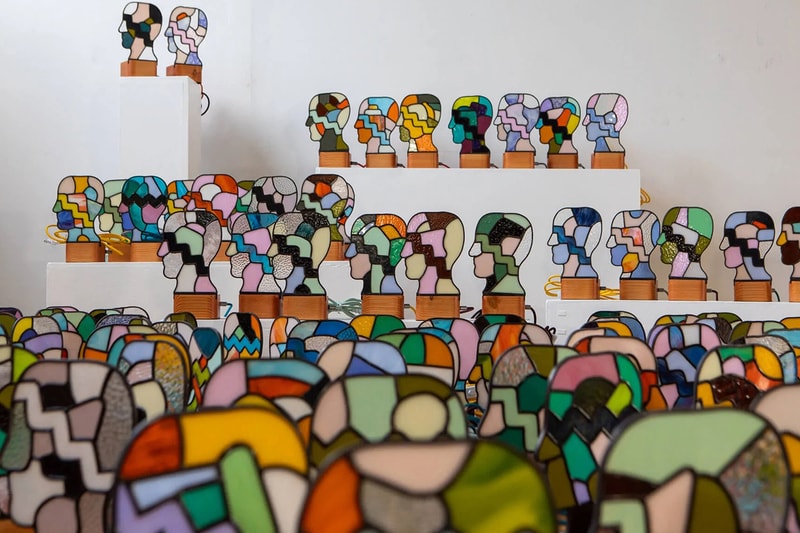 Brain Dead's range of homeware is kitsch, obscure and always on brand, and now the Kyle Ng-helmed label is back with Kerbi Urbanowski for a line of stained glass desk lights.
Following up on the duo's release in 2021, the new iteration of lamps continues in the former drop's footsteps by presenting themselves as all one-of-a-kinds. This is because the mixture of palettes, shapes, and textures are mixed-and-matched from one lamp to the next, meaning no two are the same.
Despite the variety of examples on offer, what brings them all together is the familiar Brain Dead face logo — secured using metal lines that shape the glass screen. This is complete with a wooden base varnished in a mid-century-modern shade of orange (which is burnt on the bottom with Urbanowski's signature), as well as a power cord in hues of red, blue, black, orange, yellow and more.
Speaking on her work, Urbanowski said, "Over the past few years I've dedicated the majority of my time to studying the foundational history of stained glass. I've honed my skills to become clean and precise. This is where I part ways with traditionalists, embracing craftsmanship and technique while leaving behind templates, prefab designs, and old-school aesthetics."
Brain Dead's range of Kerbi Urbanowski stained glass desk lights drop at Brain Dead Studios Fairfax and Sunset, as well as online at 10 a.m PT on January 3. No price has been confirmed, but expect it to be around $450 USD in line with the previous drop.
In other news, Justin Reed has offered a closer look at a rare Chrome Hearts-customized Rogue weight bench.