CORPUS Curates Hardcore and Rap Musicians for IN BROAD DAYLIGHT Festival
The NYC-based label and studio supports its community with a bi-coastal event.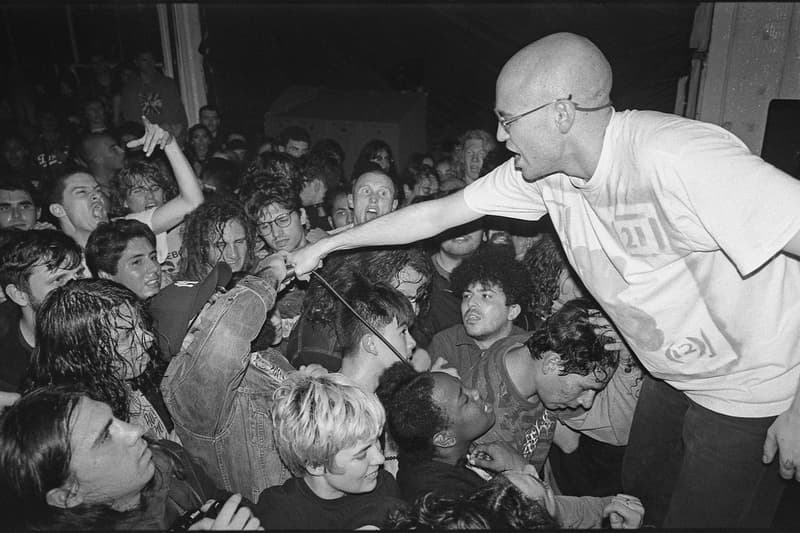 1 of 4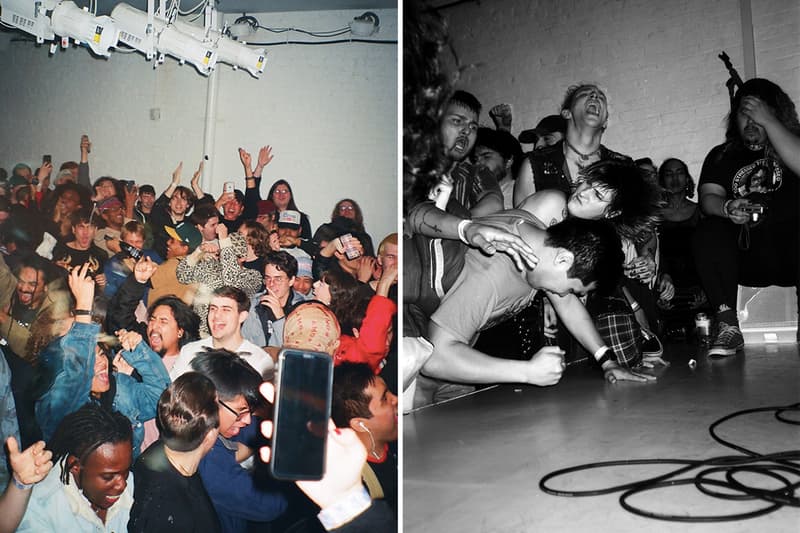 2 of 4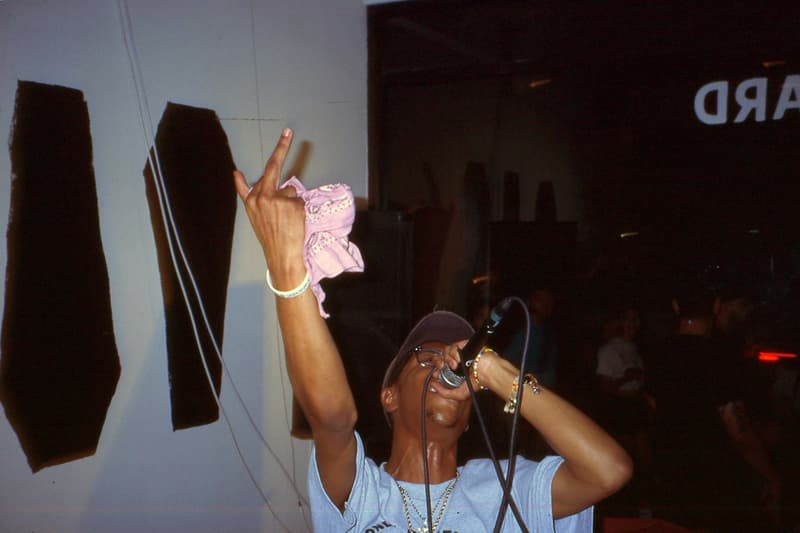 3 of 4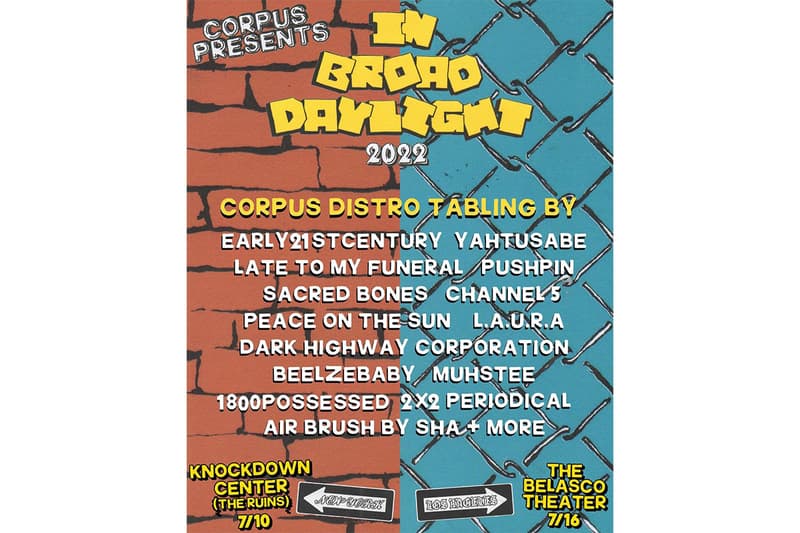 4 of 4
Designed for fans of underground music from a variety of genres, CORPUS NYC has organized its inaugural music festival, IN BROAD DAYLIGHT. Taking place in New York on July 10 and Los Angeles on July 16, the festival's programming includes headlining performers like NYC hardcore band Show Me The Body, Shawny BinLaden and ZelooperZ; DJ sets curated by CORPUS Public Radio; and the third rendition of the CORPUS Distro, where local vendors, designers, community groups and printers table to sell merchandise.
Founded by Show Me The Body and its creative collaborators, CORPUS functions as a music label and studio that empowers its greater community. Noble Spell, who frequently emcees shows, appreciates how they're able to "make shows for us, things that we like, things that we know our friends like, and we get to bust our ass to make that happen for everyone." The festival's bi-coastal programming is curated to "speak to each city's freaks… and different people who put on for their city in either place." SMTB also shares that they're excited to share the stage and also kick off their coast-to-coast "Half-a-USA" tour with support from festival headliners SoulGlo and WiFiGawd.
The full lineups for both show dates can be found at the flyers below. "You might not know who everyone on the bill is right now, but it's a bill for the history books," says Noble. For the NY line-up, he's looking forward to Detroit rapper ZeLooperZ because he always brings the energy, and catching punk bands like Symbiote and Buggin. For LA, he's excited to see La Pregunta, the internet viral RXK Nephew and California-based rapper HOOK. CORPUS Radio and Friends will also present some of Noble's favorite artists like Hi-C and Tripp Jones.
1 of 3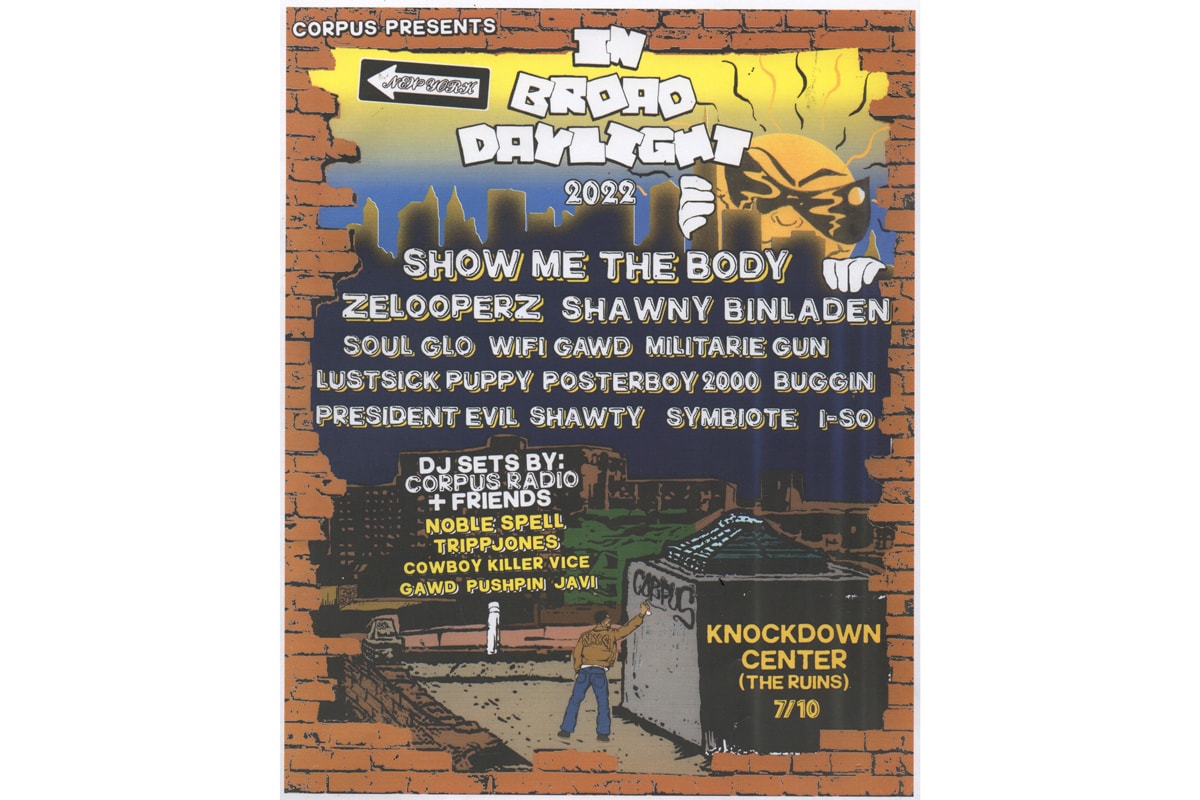 2 of 3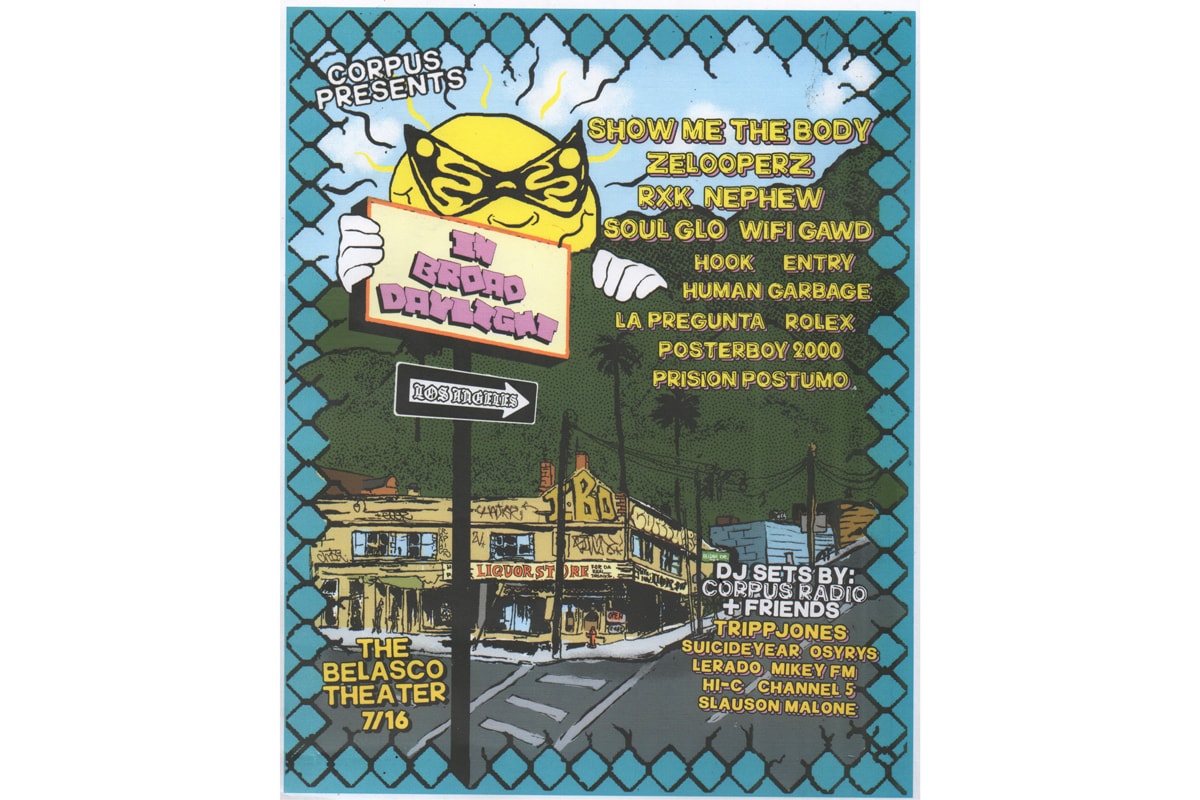 3 of 3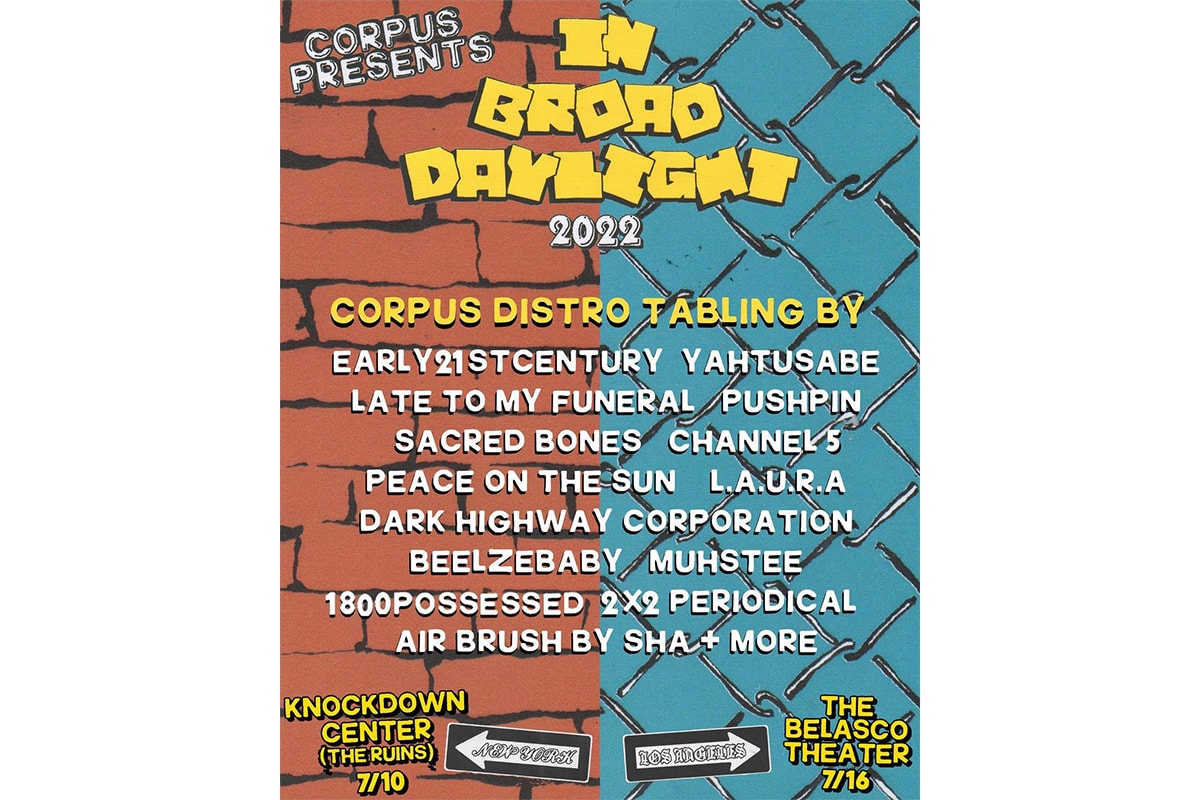 While CORPUS has previously united their ever-growing family through music compilation tapes and community organizing, this is one of their largest live shows to date. Sharing a strong passion for "creative work, truth and soul," members of CORPUS and SMTB are introducing their multifaceted approach to music and community in a short interview with HYPEBEAST.
HYPEBEAST: CORPUS is known for mixing musical genres in its programming, how did you first think of that idea?
Show Me The Body: When I was growing up in NY, everybody listened to Big L and I thought Big L was like Drake, everyone listened to him everywhere. When we left the city for the first tour and other people didn't know who Big L was, it threw my vibe off. Hip-hop has always been a part of our lives and what we do. Before music I was writing graffiti. I got into hardcore through graffiti, so hip-hop was already part of my life before hardcore and punk.
Flyers are an essential part of the underground scene. Who did the artwork for the IN BROAD DAYLIGHT flyers?
Elijah Maura and Jason Fox both did it. Elijah is the illest and it's a collaboration with Jason Fox, who's sick. Elijah is also Asha's brother. We pride ourselves on CORPUS being a family affair and we work with Elijah a lot and he's an amazing artist. He's the creative director of CORPUS.
How does the energy compare at CORPUS shows in New York versus LA?
Noble Spell: Even though they might look different, they're the same energy for us when it comes to shows. Different faces and different scenes, but same energy. Same melting pot of scenes, sub-cultures and movements. People know they're gonna get moved, to take care of each other in the pit, to come to get crazy, and also listen to music and be around freaks. With how long [CORPUS has] been doing shows, both feel like home field. Obviously NY is our home, but LA is just as diverse. There's also a strong Mexican/Latinx punk scene out there that shows us mad love. New York n****s got more style though.
What's your favorite part about working, playing and organizing live shows with the CORPUS family?
With Show Me the Body, the whole goal of a live set is to create a ceremony and create something that feels less like a sport or art thing and more of an experience we can all have together. It only feels like a more powerful ceremony when we do it with CORPUS and it's a true family affair.
Can you tell us about some of the vendors, designers and community groups who will be present at the festival?
For New York, it'll be a lot of friends of ours who are local artists, designers who make zines and clothes. Also, Don't Forget the Streets will be there which is a really sick harm reduction initiative. In Los Angeles, we'll have the dudes from Channel 5 and L.A.U.R.A. and more. It's a real amalgam of the current culture that I'm very excited about.
Show Me The Body and CORPUS have both grown a lot since 2016, what are some of your main goals right now?
In 2016, Asha joined us and it became more of an official organization that does community initiatives rather than a bunch of kids at shows or getting in fights and doing graffiti. I think our only goal with SMTB and CORPUS is to bring shelter to kids who need it, and to the freakazoids in NY or other cities who feel like they're searching for something. Maybe they can find good feelings or camaraderie, solidarity within CORPUS and SMTB. That's our only goal: to expand our shelter.
Thanks CORPUS, Show Me The Body and Noble Spell. 
View this post on Instagram
Tickets for IN BROAD DAYLIGHT in New York on July 10 and Los Angeles on July 16 are still available, and there will be a limited amount of tickets available at the door. While new episodes of CORPUS Radio will be streaming on NTS this summer, the collective is also dropping several new projects with the artists on the festival's lineups. To keep up with the latest news and to learn more information on CORPUS' community initiatives, follow @corpus.nyc on Instagram.