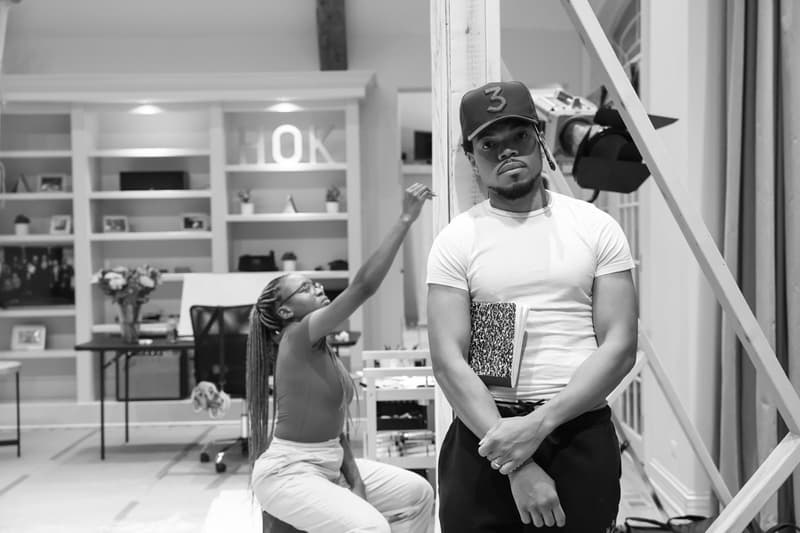 Chance the Rapper and Painter Naïla Opiangah Take Musical Art Experience "Child of God" to EXPO CHICAGO
The project is currently on view at the international exposition.
---
Chance the Rapper's single and art experience "Child of God" with Gabonese painter Naïla Opiangah is being showcased this week at EXPO CHICAGO, The International Exposition of Contemporary & Modern Art. The multi-faceted project, which initially debuted at Chicago's Museum of Contemporary Art in May, explores the relationships between music, contemporary art and film.
In the music video for Chance's "Child of God" featuring Moses Sumney, Opiangah creates a live painting as he poetically raps about the weight of shouldering several responsibilities. Ahead of its making, Chance and Opiangah discussed the parallels of exploitation in the music and art industries and struggles associated with working as independent artists.
""Child of God" is a candid representation of the exchanges between two creatives of different artistic backgrounds, mediums and platforms," a description for the project's exhibition reads. "The piece values its process as much as its finished product. It's a visualization of their mirrored experience as well as a thesis on what the liberation of artists could look like."
"Child of God" is on view at EXPO CHICAGO from April 7 to 10.
In other art news, viewers can enter Steve McQueen's immersive installation "Sunshine State."
EXPO CHICAGO at Navy Pier,
600 E Grand Ave
Chicago, IL 60611