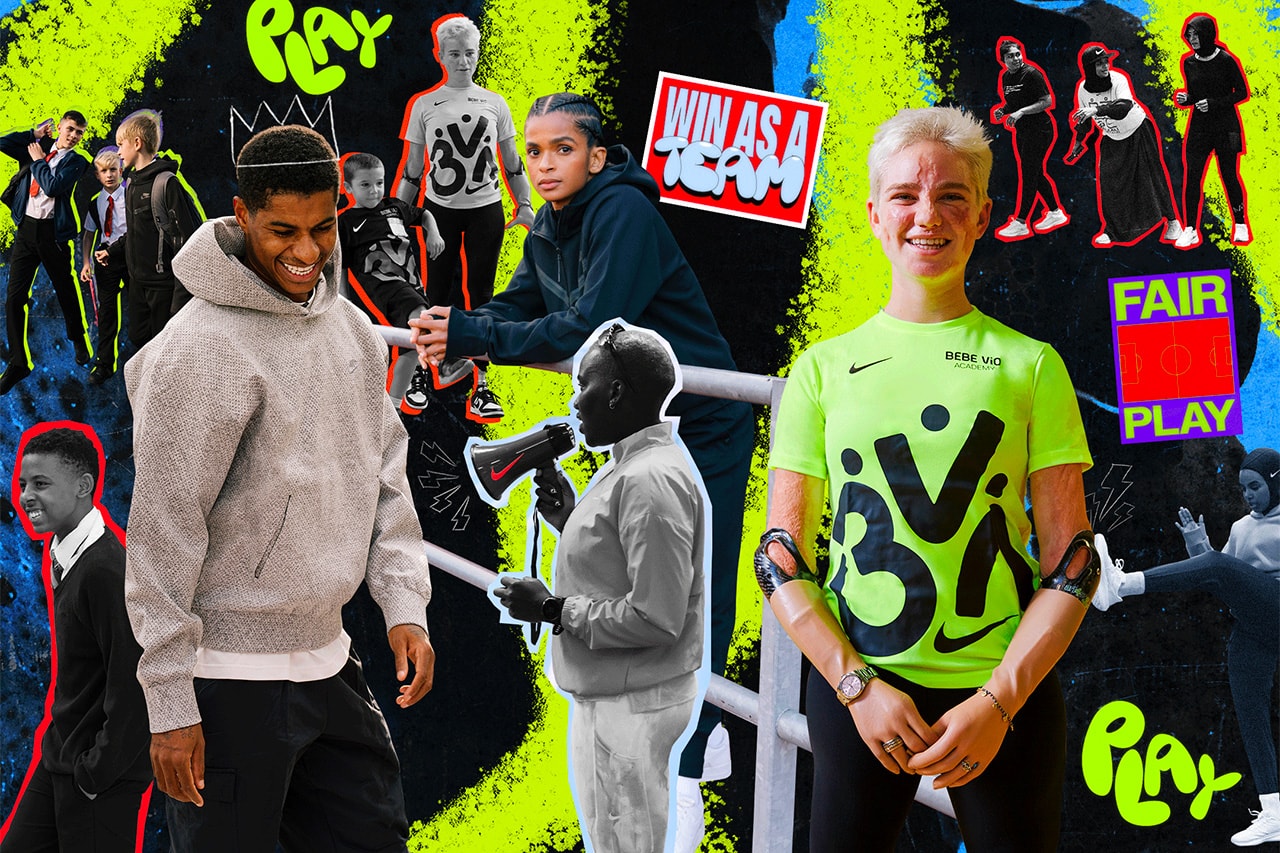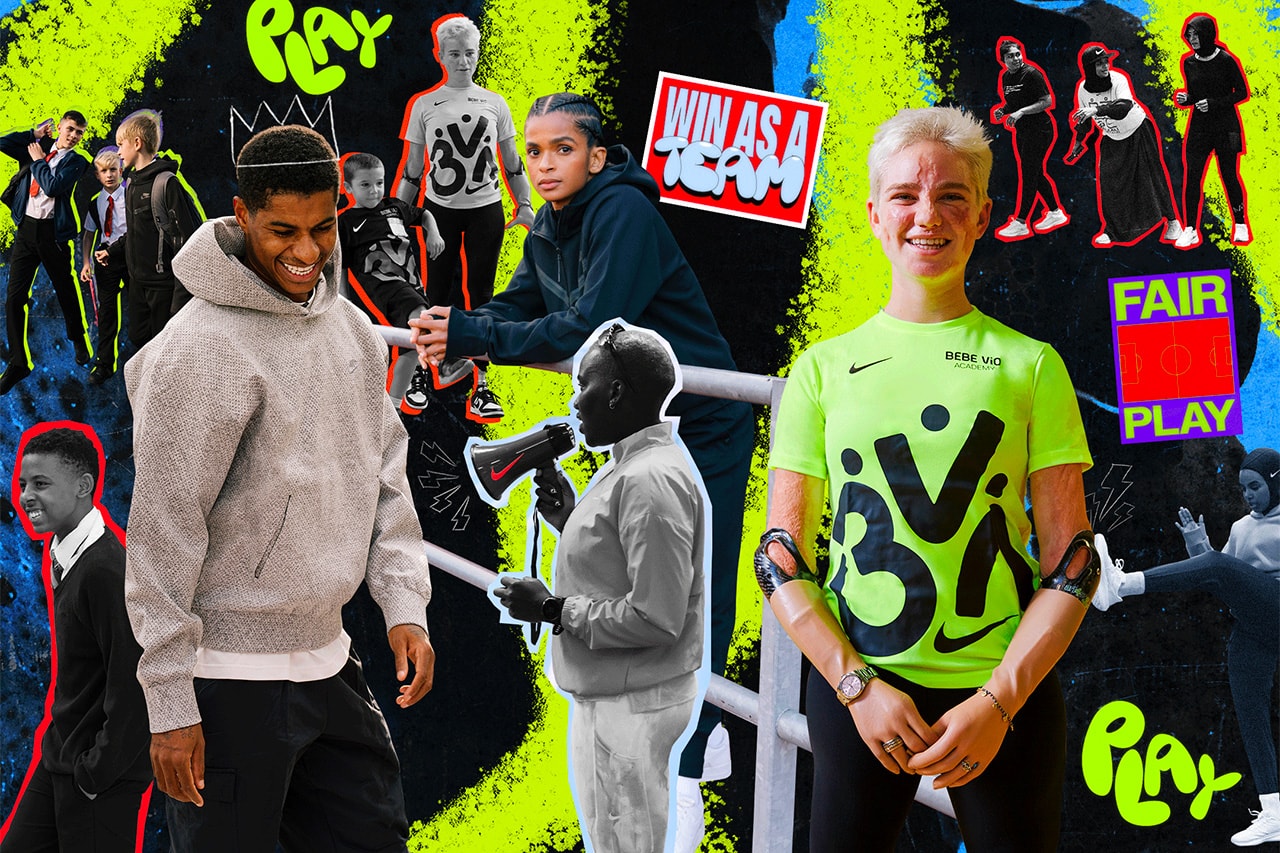 Nike's Athlete Partnerships Are Making a Change for the Better
Football Beyond Borders, Ramla Ali and Bebe Vio discuss the impact of their programs.
Presented by Nike
Through its extensive athlete partnerships, Nike continues to champion global sports stars who are making a positive impact in their communities.
From Marcus Rashford's partnership with Football Beyond Borders, Ramla Ali's Sisters Club, and the Bebe Vio academy, the brand aims to bring the athletes' vision of an inclusive future to life. Hypebeast caught up with some of the stars that are making a change for the better to discuss their journeys and inspiring initiatives.
Holding importance to both sport and education, Football Beyond Borders was launched in 2014 with the mission to support young people on their transition from school to adulthood. "Football truly is a universal language which can bridge social, cultural and any other boundaries," says Ciaran Baxendale, senior practitioner at Football Beyond Borders. Aiming to level the playing field, the initiative "works with young people from areas of socio-economic disadvantage who are passionate about football, but disengaged at school." Through various curriculum-focused programs, the initiative teaches students valuable life skills, broadening their scope and providing them with lasting opportunities.
Offering alternative, positive routes, for its students is just as important to having skills on the pitch. "FBB has built a curriculum that puts young people's passions at the heart of their learning, improving their attitude to education," Baxendale explains. "Introducing young people to new horizons so that they will form their own aspirations." Driving engagement through the power of sport as well as the influence of contemporary culture, FBB "uses real-life examples, from sport and wider society, to enforce important life lessons from people who are at the forefront of the media," bringing a sense of modernity to teaching.
"Education is a lifelong process and it is essential that young people have positive role models."
Community is a key part of Nike's athlete partnerships and it's also core to FBB's holistic outlook. "As part of our Football Beyond Borders program curriculum, we look specifically at what community means," Baxendale says. "Exploring this is useful for [students] to realize who they can turn to in times of difficulty."
Being active across the U.K., Nike connected Marcus Rashford with the program earlier this year to launch a new branch of the program. Since then, the football star has been supporting the Manchester faction of the initiative. Speaking on the impact of FBB Baxendale says, "This program has given young people a strong sense of belonging in school." Whether it's students at risk of exclusion or instilling confidence in introverted young people, FBB has provided support across the board through long-term programs "built around relationships and young people's passions."
Having first got into boxing during her teenage years as a means to get fit, Ramla Ali has since become one of the leading figures in the sport. "Boxing helped me gain self-confidence. It gave me purpose and allowed me to connect with individuals that I wouldn't necessarily have done outside of the gym," she says. But from the time Ali first stepped into a gym, one thing she noticed was a lack of representation, "Not only were there not a lot of girls that looked like me, but there weren't a lot of women in the gym full stop," she recalls.
"Only 0.0001% of the world's population can call themselves an Olympian, that's something I'll forever be proud of," Ali says of being called up for Tokyo 2020. Already holding the accolade of first Muslim woman to win a British boxing title, she was the first boxer to represent Somalia at the Olympics — ever. "It was an incredible feeling because I've always said that representation is important. You can't be what you can't see. It inspires a whole new wave of young girls, proving that you can be anything you want to be."
"The moment I picked up my first set of boxing gloves, I was hooked."
Despite this historic milestone, inclusivity within the sport was still scarce. Witnessing her older sister's struggle to find a hijab-friendly space in London where she could comfortably train at influenced her decision to launch Sisters Club in 2018. "What I initially thought would be a three-month project, turned into this massive initiative that has attracted so many women from different backgrounds."
With an ethos transcending cultures or religions, Sisters Club quickly evolved from a safe space catering to hijabis into a movement that extends beyond exclusively Muslim women. "We found more women from various ethnic and religious minorities, women who have suffered from domestic violence and women from low-income families were all drawn to this initiative," she explains. "Sisters Club is open to everyone."
In launching Sisters Club, Ali's goal was to make women feel safe both in and out of the gym, "The mission was to have this class so women can learn to box and defend themselves properly," she says. "Someone said to me that they felt safe walking alone at night, that's the aim."
"I'm showing that the hijab is not an oppressive tool. A lot of women choose to wear it, which is beautiful."
Hypebeast visited a Sisters Club event at Lee Valley Athletics Centre to catch up with Ali and see the initiative in full effect. "35 women signed up to take in a sprinting competition," she says of the event led by Nike running coach Dora Atim. "They know that Lee Valley isn't closed off to the public, some of them will be running with their abayas and some in full niqabs." It's through this visibility that Ali is trying to redefine the narrative for Muslim women, "Showing people that wearing the hijab is not an oppressive tool and it's not an obstacle to getting access to sport."
Currently based in four locations across London with a membership of 500 women and counting, Sisters Club has gone above and beyond its initial intention. Ali honors the help of others in taking it to the next level, "If it wasn't for the community, we wouldn't have been able to open up the other locations — I would still have to teach the classes myself." Not only growth, Ali praises activation days which give the members the ability to trial various sports, beyond boxing, "The activation days have opened the eyes of the Sisters to other sports. On a Sunday it's just boxing, but other days we're able to try different sports."
Looking to the future, Ali hopes to expand the Sisters Club reach to all corners of the world. "Vulnerable women aren't just in London, they exist everywhere," she explains. "If the sky was the limit, I want to see Sisters Club present in underprivileged communities worldwide. That would be the dream."
Progression in sport cannot be achieved without inclusivity.
For Paralympic fencer Bebe Vio, that's the core message behind her eponymous academy. After becoming an amputee at 11 years old, Vio was eager to return to the gym but grew increasingly frustrated with the lack of resources available to do so. "It was very hard for me and my family to find a way to back to the fencing gyms. Even to find a specific wheelchair or prosthetic arm. It didn't exist then," she explains. When starting out in Paralympic sports in 2007, not only was Vio the only female athlete on the team but also the youngest, so representation, visibility and inclusivity are all important to her academy.
"We want to create this new culture of disability. We want to create a new normality."
It's her own experiences merged with her passion of bringing people together which informs the academy's ethos. Wanting to normalize playing with a disability and providing a place where both abled and disabled young people can compete together was one of her main goals. "We just let them play. We put a ball on the floor and want to see how they react. The only important thing for them is to find a way to play together."
The academy itself provides young people access to several sports, an element that training centers weren't offering at the time Vio was growing up. "In Milan and Rome it's very difficult to find a place where you can really try five sports in one space," she says.
"I believe in the fact that alone, I could have never done this by myself," Vio explains. To her, the feeling of togetherness in the community is the most important factor in her journey. Whether it's working as part of a team to achieve goals or helping young people find their own direction, the academy nurtures the next generation of sports stars, not through the lens of Olympians or Paralympians exclusively, but normalizing them both occupying the same spaces together.
For more information on Nike's full athlete partnerships, you can visit the brand's website.