Yelp Is Launching Rainbow-Colored Map Pins To Highlight LGBTQ+ Businesses
Making it easier for consumers to support businesses that align with their values.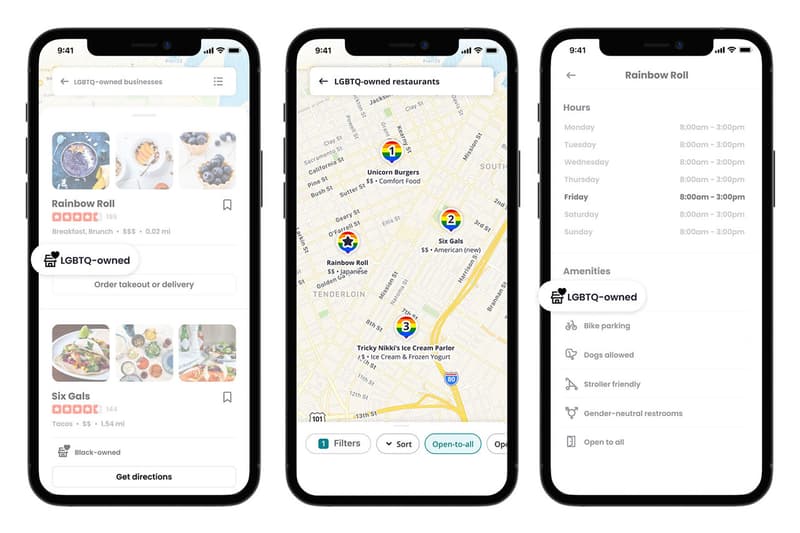 Yelp is highlighting LGBTQ+ owned businesses with the launch of its new business attribute in celebration of Pride Month.
The new feature allows businesses to self-identify as LGBTQ+ owned and Open to All — an initiative that allows businesses to pledge to be a safe space for all customers, regardless of race, religion, sexual orientation and more. These restaurant, food and nightlife businesses will be spotlighted on Yelp with rainbow-colored pins for the entire month of June.
"Yelp is making it easier than ever for consumers to support businesses that align with their values, and find safe and welcoming places to enjoy Pride celebrations all month long," said Yelp Chief Diversity Officer Miriam Warren in a statement.
"It's clear that consumers are increasingly looking for businesses that are part of the LGBTQ+ community, as the rate of searches on Yelp for LGBTQ+ owned businesses in the U.S. increased by more than 150 percent in April compared to the same period the year prior," she added.
The opt-in service is free and allows consumers to see the LGBTQ+ attribute under the "more info" section of a business's page on Yelp's mobile app, or under the "amenities and more" portion of a business's page on the Yelp website. Beginning June 1, consumers can also directly search for LGBTQ+ businesses or Open to All locations on the Yelp homepage.
"We hope this new attribute empowers millions of LGBTQ+ owned businesses across the country and encourages consumers to drive more dollars directly to the bottom line of these businesses," Warren said.
Over 581,000 businesses have already indicated that they are Open to All on Yelp. The company says it will proactively monitor pages for hate speech and will remove any content that violates community guidelines.
The company has already launched several attributes to further its mission of inclusivity. In 2017, Yelp created a feature so businesses could publicize whether they offered gender-neutral bathrooms, and in 2019, Yelp joined the Business Coalition for the Equality Act from the Human Rights Campaign, a piece of legislation that provides widespread protections for members of the LGBTQ+ community.
Last month, Yelp introduced a similar tool to help support Asian-owned businesses in response to a rise in hate crimes against Asian-Americans.