Amazon Will Use an Algorithm To Shuffle Around Employees Doing Physical Labor
The company is rolling out a "job rotation program" this year.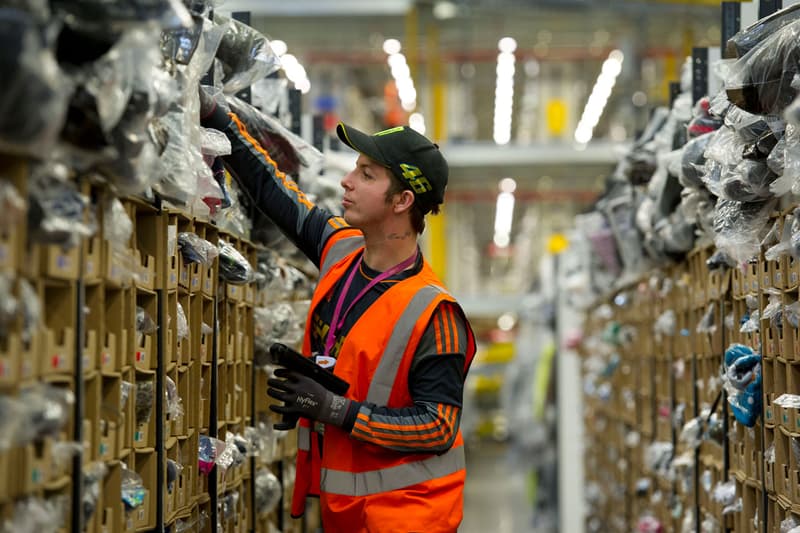 Amazon CEO Jeff Bezos has announced plans to rollout an algorithm that will shuffle employees among jobs that require physical exertion.
In a letter to shareholders posted on Thursday, the tech mogul said the company was working to address safety issues, including "sprains or strains that can be caused by repetitive motions."
Bezos said these types of musculoskeletal disorders (MSD) are "common in the type of work that we do," especially for new employees who may be engaging in continuous physical work the first time. To address these issues, he said the company was working on new technology to shuffle employees around different laborious jobs.
"We're developing new automated staffing schedules that use sophisticated algorithms to rotate employees among jobs that use different muscle-tendon groups to decrease repetitive motion and help protect employees from MSD risks," he wrote. "This new technology is central to a job rotation program that we're rolling out throughout 2021."
Bezos discussed the company's goal of becoming "Earth's Best Employer," saying it would continue to lead the industry on wages, benefits and learning opportunities. The billionaire also briefly addressed the failed attempt by warehouse workers in Bessemer, Alabama, to unionize, which Amazon had aggressively campaigned against.
"Does your Chair take comfort in the outcome of the recent union vote in Bessemer? No, he doesn't," Bezos said. "I think we need to do a better job for our employees."
Amazon has long been the subject of reports of inhumane work conditions at its facilities and faced increased scrutiny ahead of the recent union drive. Earlier this month, the company acknowledged that some of its delivery drivers have been forced to pee in bottles while on the road, calling it "a long-standing, industry-wide issue and is not specific to Amazon."