KAWS Found His Own Ways of Coping Through 2020
The artist remarks on his year, AR, Apple's latest drop and more in our exclusive interview.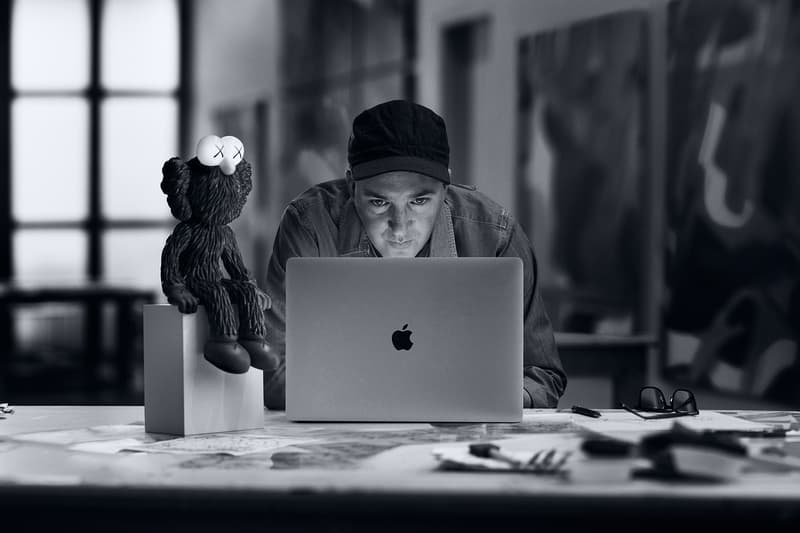 2020 was a struggle for all, with social distancing and quarantines dictating how we spend our time at work or with loved ones. For KAWS it was no exception, as the artist found the difficulties of the year as well. "It's been a pretty terrible year… it's just pretty bad across the board," he said when asked to comment on how the year was for him.
But the artist found ways of traversing the rough landscape and success in his accomplishments, the pieces he was able to still put out, charity work that felt "urgent" for the tough times, and more. He's even hopeful for his return to physical exhibitions with his WHAT PARTY survey in February.
In a rare conversation, KAWS was able to spare a few moments and chat with us over the phone, and spoke out about how he had to adapt to the times, what got him through, and the prospects for 2021.
"I've always found it sort of a big part of being an artist is figuring out how to get the things you want to make, done. And this year is no different."
On How 2020 Affected Him:
"I think what's difficult for me is what's difficult for everybody, not getting to see your friends. [Also] I raise two kids, and they're very young. So watching them kind of find their way through this is definitely not the best situation."
"I've always found it sort of a big part of being an artist is figuring out how to get the things you want to make, done. And this year is no different. It's just some of the rules sort of switch around and you just sort of react to them."
On His Work in 2020:
"You know, it is what it is and you just need to learn how to navigate around it. It's been a pretty terrible year… it's just pretty bad across the board. And you just work it out and kind of find your way around it."
"I did kind of social distancing for the last 20 years, so working alone is nothing new. But I do work with assistants. There were times during the lockdown where I didn't see them for whatever months, but I could still work from my house. You just find the projects that are possible and do the work on those. I've definitely had a lot of projects kind of fall through the cracks this year. But I definitely feel fortunate that I was able to bring a few really good ones to fruition."
"I have a lot of opportunity to do charity projects, which I tend to do most years, but I feel like this year there was… more of an urgency and on my part, more of an excitement to do them."
On the Acute Art App:
"I've been working with Acute now for almost, definitely over a year, almost two, but we launched with Apple, we had a private Apple event on March 12th. It was right as the world was collapsing we were launching, so for the six months prior to that, we were envisioning these large outdoor installations having groups of people in different countries simultaneously. And then we kind of quickly transitioned to doing pieces that are more adaptable to individuals having them in their homes."
"Acute was great the whole time when I was sort of in lockdown, I felt like I still had a lifeline out to the public and you can put these physical works that people can walk around and view through their iPhone. It was amazing to have that outlet."
"I think the first piece I did [on the Acute Art app] was "Companion Expanded", which is the floating version of Companion. I think that kind of came about because in realizing this is a new medium, I want to do something that I couldn't do with the physical, like with a bronze piece or vinyl toy. Originally I did a piece for the Macy's Thanksgiving Day Parade and since then I never really found another purpose for it. So it just seemed to be perfect for Acute."
"And then after that, it's just exploring different things like with space, getting to make a metallic surface work that responds to the environment you put it in was extremely challenging and fun. And also doing the drawings, like when I did the album with Travis Scott and we got to put our graphics that exist within a 3D space and play music while you're looking at it and recording it. It's basically just sitting around with the guys at Acute and figuring out fun challenges we can get into."
"And I love seeing [the results]. If you make something you want to disseminate to social media and online in different ways, that's great. I mean, definitely seeing people pairing up with locations that I was familiar with or even in a house just during lockdown. People are kind of having these works and getting to experience them."
On Working With Apple and the M1 Macbook Pro:
"They just sort of gave us a platform for the [Acute Art] launch, and honestly, when I'm thinking of how people are experiencing it, I'm imagining it through an iPhone or an iPad. And the way their technology works with our app is I think, perfect. So, it's just sort of getting feedback and maximizing what the abilities are."
"I've had the [new] 13-inch MacBook for the last week but it's great. I mean, honestly, all I ever used was Apple computers since I started. Especially with the type of work I do. I do a lot of different types of graphics, whether I'm involved in everything from the package design to big sculpture works."
"I use Illustrator for most graphic pieces and you can take a photo of a Sharpie drawing, email it to yourself and take it into Illustrator and work on it on the laptop and then email it off to wherever it needs to go. That could all happen like so fast. It's amazing. [Another] good thing about the new laptop is it just doesn't run out of energy, like the batteries are pretty great on it."
"That's what I've been fully working on every day. Recently, I was working on a new catalog with Phaidon and the exhibition layout, just thinking about kind of what loans can go into it… It's tricky and we have to like focus on shows and look forward. But here at the same time knowing that so much has changed and there's so many new things to consider with the flow of people in a space and sort of limited distancing that you need. And it really changes the way you approach an exhibition. And it kind of all happened halfway through it."
"There's not much I could divulge [for 2021]. Next year there's a lot of stuff. Hopefully the world will kind of reopen and things can happen again, but I had a few really large projects this year get pushed over. Like the public art pieces; it's a shame it couldn't happen, but we're aiming for next year."