Andy Warhol's 'Portraits of Athletes' Will Be Auctioned at Christie's This November
Featuring images of Muhammad Ali, O. J. Simpson and more.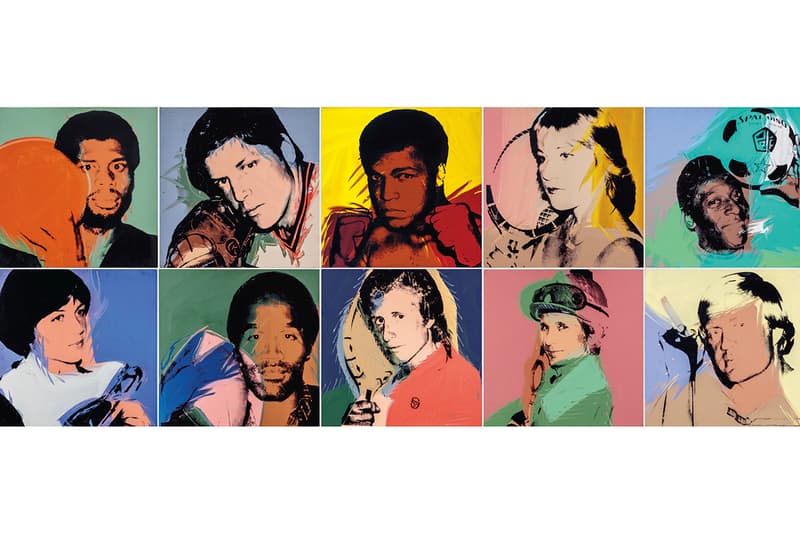 Andy Warhol's Portraits of Athletes, a series of 40 x 40-inch portraits of iconic sports figures portrayed in the artist's classic colorful acrylic and silkscreen on canvas style, will be sold individually in a series of auctions at Christie's auction house this November.
The series' heavy-hitter is a portrait of Muhammad Ali, which will go for an estimated $4 million to $6 million USD, while images of O. J. Simpson and figure skater Dorothy Hamill will likely go for between $250,000 to $350,000 USD. Portraits of Kareem Abdul-Jabbar, Pelé, and Chris Evert are also included in the series, which was fully completed between 1977 and 1979.
Many of the works for sale originally came from Warhol's Athletes series, which collector Richard L. Weisman commissioned himself. Besides the fact that it features some of the century's most famous and controversial athletes, the works are equally remembered by a bizarre event in 2009 when they were stolen from Weisman's home and then returned for a $1 million reward.
"Recognizing the growing commercialization of sports, it is through this series that Weisman challenged Warhol to embrace the changing nature of fame as athletes and sports stars rose to take center stage in American popular culture," says Sara Friedlander, Christie's head of postwar and contemporary art.
Fans can expect to see most of the works up for auction at Christie's Postwar and Contemporary Art Evening Sale on November 13.
Elsewhere in the art world, Maurizio Cattelan's $5 Million USD gold toilet was recently stolen.