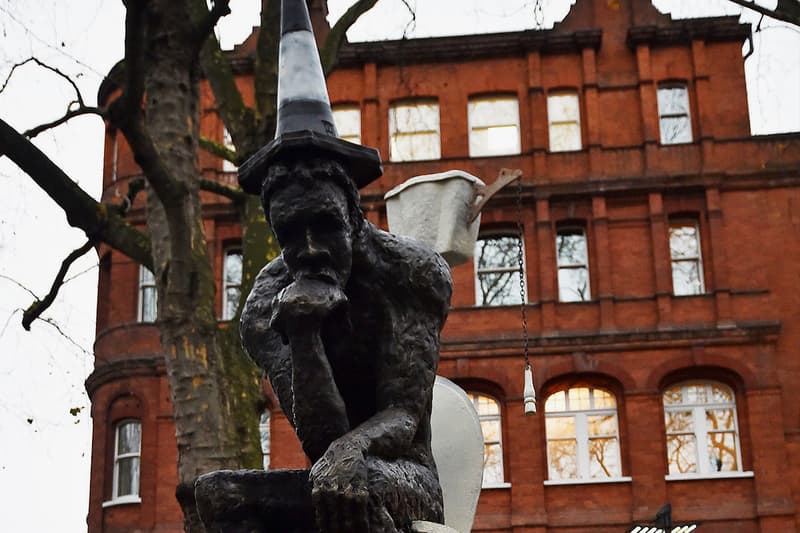 "Stolen" Banksy Sculpture Expected to Fetch $1.3M USD at Auction
'The Drinker' was "retrieved" from Andy Link's home.
---
One of Banksy's "stolen" artworks is currently listed for auction with an estimated sale price of £750,000 to £1 million GBP (approximately $970,000 to $1.29 million USD. Dubbed The Drinker, the item is also the most expensive in the sale.
Banksy's The Drinker was first illegally installed in a small square near London's Shaftesbury Avenue in March 2004, before Art Kieda leader, Andy Link (aka AK47), took the statue home. The Drinker, which is a satirical take on Rodin's The Thinker, disappeared from Link's home around three years later. After 12 years, the statue has now resurfaced via a Sotheby's auction.
Despite an ongoing feud over the rightful ownership of the piece, The Drinker's current owner remains a mystery. According to the Guardian, Link is claiming ownership of the work. Link argued that the statue was technically abandoned and that he had registered it with police. Furthermore, Banksy hadn't asked for the artwork back. "I did the right thing, and reported it to the police," he said. "I do not understand how Sotheby's can sell this when I have such proof."
Sothebys, on the other-hand, has stated the seller has the legal right to put the artwork up for auction. "We consulted both the Metropolitan Police and the Art Loss Register," they said. Sotheby's sale notes say the work was "retrieved" — suggesting it was taken from Link by Banksy or his associates. "The work was mysteriously retrieved from Art Kieda's lock-up in an anonymous heist which left AK47 [Link] with nothing but the abandoned traffic cone from atop The Drinker's head," the catalogue reads.
The Guardian went on to report Link can not afford to challenge the sale. "Lawyers are asking from £18,000 GBP up (approximately $23,300 USD) just to take the case on, and I'm a struggling artist, just a working-class bloke. The police should be looking into this," he told the publication.
For more art-related news, Daniel Arsham and Hajime Sorayama reveal collaborative artwork.
Pretty cool to see the kidnapped #Banksy reappear outside the office. 'The Drinker' is back with amends from AK47 pic.twitter.com/FgpTaBiuOL

— GoodFromYou (@goodfromyou) December 11, 2015