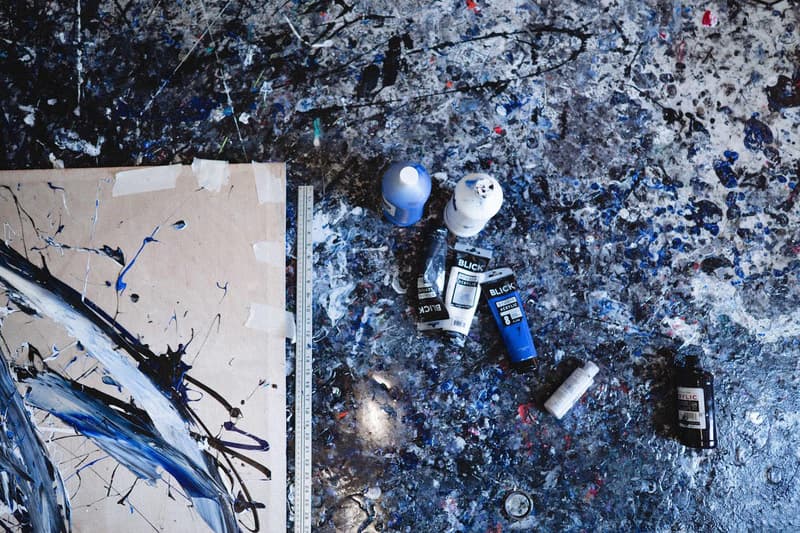 Best Art Drops This Week: "Kinetic" Prints, Twisted Clocks, 'Death Metal Hands' & More
Including new art merch by artist Adam Lucas.
---
When you hear the commonplace slang term "merch," you may presumably think we're talking about exclusive goods sold by musicians or bands. Now, more than ever, those guys aren't the only ones setting up stands and concept spaces to sell exclusive goods, but artists as well. It's all thanks to wearable art pioneers such as Keith Haring and Jean-Michel Basquiat who painted their signature motifs on denim jackets or other repurposed clothing back in the late 1970s and early 1980s. Not to mention, "merch" has encompassed more than just the sale of T-shirts, rather, more niche items such as incense holders or even pins.
For this week's best art drops, we've compiled a list of unique items up for grabs from acclaimed artists across the globe. View the pieces below and let us know your thoughts. In related stories, we recently sat down with Kaikai Kiki artist MADSAKI to discuss his new "COMBINATION PLATTER" exhibit in Bangkok, Thailand.
Meguru Yamaguchi & Yoon Hyup Team up on Collaborative Prints & Incense Holders
Release Date: 5/24
Release Price: Approximately $200-$250 USD
New York City-based artists Meguru Yamaguchi and Yoon Hyup are subjects of an upcoming gallery pop-up in Kinfolk's 90 space in Brooklyn entitled "Kinetic." The duo will purvey new original artworks alongside limited edition prints and ceramic incense holders. The prints will set you back approximately $250 USD each while the holders are priced at around $200 USD each. All pieces will be available for purchase in the space and Kinfolk's official website starting May 24.
Kinfolk 90
90 Wythe Ave
Brooklyn, NY 11211
Adam Lucas to Release Original "Neighborhood" Artworks & Merch
Release Date: Available soon at the "Neighborhood" pop-up
Release Price: TBC
Artist Adam Lucas joined forces with New York City's historic Nom Wah Tea Parlor on a new art show entitled "Neighborhood." The forthcoming event will display Lucas' new artworks inspired by neighborhoods of lower Manhattan. Accompanying the works is a selection of limited merchandise such as jackets, sweatshirts, short- and long-sleeve T-shirts, totes, and enamel pins. All items will be available later today at the "Neighborhood" pop-up.
"Neighborhood"
168 Bowery
New York, NY 10012
Artist Alex Chinneck Ties Grandfather Clock in a Knot
Release Date: Available in-store at Liberty London
Release Price: Approximately $70,000 USD
World-renowned for his mindbending installations, Alex Chinneck's latest artwork entitled Growing up gets me down transforms an antique grandfather clock into a contemporary sculpture. The unconventional piece sees the clock's oak frame whimsically tied into a knot. It's currently available for purchase at Liberty London.
Liberty London
Regent St, Carnaby
London W1B 5AH, UK
Fotografiska Launches The Eye Photography Book
Release Date: Available now at Fotografiska's online shop
Release Price: Approximately $57 USD
Stockholm-based Fotografiska is celebrating the launch of its new locations in London and New York with a limited edition book release. Entitled The Eye, the book features over 250 works of acclaimed photographers such as Anton Corbijn, Robbert Mapplethorpe, Martin Parr and Guy Bourdin alongside anecdotes and behind-the-scenes stories of past Fotografiska exhibitions. The Eye is available from the Fotografiska online shop now with a global release date following in June.
James Jirat's AXOM Paperback Boasts New Drawings & Sketches
Release Date: Available now at James Jirat's online shop
Release Price: Approximately $15 USD
Sydney-based visual artist James Jirat is known for his neon-colored illustrations that draw inspiration from 80s retro aesthetics, Japanese cult anime influences, and cyberpunk motifs. Jirat recently launched a new book dubbed AXOM that features 38 drawings from his ongoing Death Metal Hands series alongside others work-in-progress sketches. The paperback is sized at approximately six by nine inches.