Best New Tracks: Lil B, Tee Grizzley, Ugly God, Post Malone, 21 Savage, The Internet and More
Hot new records for your weekend playlists.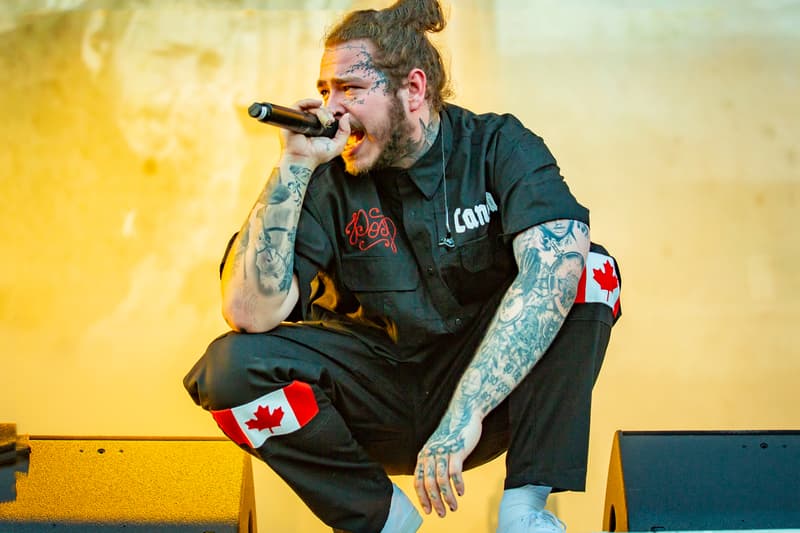 For the latest in our best new music roundup series, we look back at another stellar week of music that was not only stacked with big releases, but also filled with a number of unexpected headlines. Kanye West, who announced he's making more money off shoes that Michael Jordan this week, personally told Hot 97's Ebro Darden "I Love Donald Trump." From there, hoards of industry notables began unfollowing the rapper, from Drake, Justin Bieber and Kendrick Lamar, to his own label-mate Travis Scott. Some of them have even took to Twitter to express their concerns over Mr. West's Donald Trump tweets.
Meanwhile, back on the music side of things, we also debuted an incredible HYPEBEAST Mix from "God's Plan"-producer Cardo, who also announced that a new joint project with Lil Uzi Vert is on the way.
Post Malone – Beerbongs & Bentleys (Album)
Post Malone's sophomore album made its arrival this week after facing a series of setbacks and delays over the past two years. The 18-track project features guest appearances from 21 Savage, Nicki Minaj, YG, G-Eazy, Ty Dolla $ign and Swae Lee. On the production side Post enlists Frank Dukes, London On Da Track, Scott Storch, Louis Bell, Teddy Walton and Post Malone himself.
The Internet – "Roll (Burbank Funk)"
Over the years, The Internet have gone on to release solo efforts individually, but this week, the group finally reunited for new single. "Roll (Burbank Funk)" is a high production groove track with melodic harmonies in place for lyrics — for the most part.
Thundercat – "Final Fight"
Thundercat garnered a great deal of critical acclaim for his most recent studio album for Brainfeeder, Drunk. Since then, he's worked with Shabazz Palaces and promoted the aforementioned LP on late-night television. Now, with a major tour ahead of him, the multitalented musician serves up his latest solo composition, "Final Fight." It's the latest entry in the popular Adult Swim Singles Program, and as usual, Thundercat serves up a whirlwind of heavy psychedelic grooves and extraterrestrial funk.
Lil B – "Enter the Depths"
The Based God returned this week with an experimental new single and liberated a treasure trove of mixtapes for Spotify. As Spotify tweeted, over 30 of Lil B's past projects are now on the popular streaming service, in addition to his latest attempt at EDM, "Enter The Depths."
Clairo – "4EVER"
Clairo dropped her first solo track of 2018, titled "4EVER." Stepping away from the DIY aesthetic ("this isn't bedroom pop," she says on Twitter), the track is a funky beat unlike anything she has released before. "It's finally out," she said. "I can't begin to tell you guys how long I've been working on this song. Want to thank Ashwin Torke, Deaton Chris Anthony, and Burns Twins for sprinkling their magic on the song. This is everything I had hoped for and I hope you enjoy it!"
Ugly God – Just A Lil Something Before The Album (EP)
After promising fans back in February he would drop three new projects in 2018, the first one officially arrived this week. According to Ugly God himself, the project is said to be a compilation of country music songs to serve as an interlude for his upcoming sophomore album: "Not my album, but just an EP of a few country songs I made."
Lil Yachty & Tee Grizzley – "2 Vaults"
With his long-awaited debut album on the horizon, Tee Grizzley is continuing to rollout songs from Activated, and they seemingly just keep getting better. The track finds the rapper joining forces with Lil Yachty for a new Detroit-meets-Atlanta squad cut, aptly titled "2 Vaultz." As the song title suggests, the track finds the burgeoning rap duo exchanging braggadocios verses on how much money they've been acquiring.
PARTYNEXTDOOR, 21 Savage, Murda Beatz & Stargate – "1Night"
Norwegian producing and songwriting team Stargate are behind some of music's biggest hits, with a catalogue spanning well over 15 years that includes songs with Rihanna, Drake, Beyoncé, Wiz Khalifa, Sam Smith, Mariah Carey and Future, just to name a few. This week, they released a trap-infused collaboration, titled "1Night" and featuring PARTYNEXTDOOR, 21 Savage and Murda Beatz. Strangely enough, the track was said to be inspired by one-night stands.
Youngboy Never Broke Again – Until Death Call My Name (Album)
Youngboy Never Broke Again's long-anticipated debut album arrived this week despite his ongoing legal issues. The Baton Rouge rapper's 13-track project features Lil Baby, Birdman and Future, among others. On the production side, he teamed up with DJ Montay, DJ Swift and DMacTooBangin.
Be sure to check out our previous music roundups for the best drops of weeks past.