ALLBLACK, Nef the Pharaoh & Rexx Life Raj Deliver the Hardest-Hitting Funk on "Big Sh*t"
The Bay's next big star also gives us some game.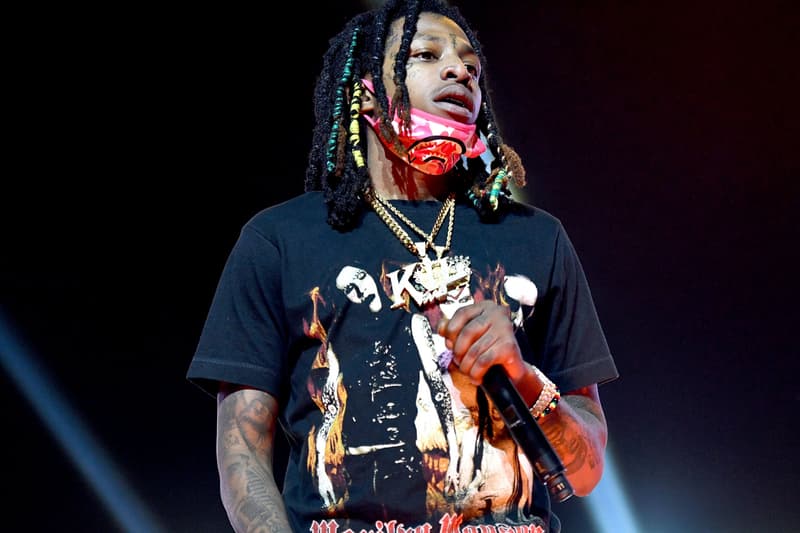 Oakland's ALLBLACK is on course to be his area's next star and critical darling: he just performed as direct support for regional heroes SOB X RBE during their biggest homecoming performance yet; has built a reputation as the face of the Bay Area's current street-rap scene; received co-signs from his area's most popular and influential artists; generated well over a million plays and listens in the past couple of months and worked his way into close connections with his coast's reigning new-school kings. ALLBLACK has proved himself by putting together a well-polished, fully-formed and gritty sound that provides a contemporary equivalent to the slick-talking pimp-rap and silver-tongued game-spitting that legends like E-40 and Suga Free turned into high art. From raw, grimy tales of long nights on the digital and physical blade to hard-hitting, neck-snapping sounds reminiscent of Detroit's ongoing renaissance, the Oakland native has made a career out of Jeezy-esque motivation music, tightly-written Backpage bars and moody, funky hustler grooves.
For the next stage of his career, ALLBLACK is planning to drop his strongest project yet: the fittingly-titled Outcalls EP. Structured like an actual, cohesive album, the project — produced entirely by DTB — delivers a masterclass in street rap, features agile displays of twist-laden storytelling – the worst possible "casual hook-up" scenario of "P's & Q's" — and unloads club- and car-ready salvos seeped thickly in Bay Area funk.
"Every artist that's on the project is one of my favorite artists," ALLBLACK explains to us, breaking down the motivations behind his next drop. "I don't do no features really, but I made sure I reached out to all the artists that I like and slap daily." Regarding the aforementioned collaborations, listeners can expect songs with Shoreline Mafia, 03 Greedo, the Stinc Team and more.
To support the effort ALLBLACK has debuted one of the project's biggest potential singles, "Big Shit," which features fellow Northern Californian talents Nef the Pharaoh and Rexx Life Raj. You can stream that track and check out a brief Q&A with ALLBLACK below. Outcalls is scheduled to arrive on April 20.
What was the process behind your new Outcalls project like?
We were just mobbing like that. Everyone that hopped on the project was in the studio. Nobody got an email sent to them, everybody was in the booth. I recorded it in Hollywood with DTB; I made probably 2-3 trips to LA and So Cal. It was an outcall. Every single track was recorded in LA; every single track was recorded in Hollywood with DTB. [We recorded] at probably like, one; two; three; four in the morning.
Is that how you ended up working with The Stinc Team and 03 Greedo?
Those [The Stinc Team] are my boys, for real. Free Drakeo — that's already my partner. Ralfy, G2, Bambino and all of them were already in a session with Guapdad 4000 downstairs — in Guapdad's studio. Guapdad's been my boy since high school, so he tapped in with me to pull up; I pulled up — Stinc Team in the building. Earlier in that day, I bumped into Greedo at Pink Dolphin, and he pulled up — he was at the Guapdad session. We were all there just mobbing, and next thing you know, we made magic in there. We pulled up to DTB's studio, and made magic in there.
I really listen to these artists. With Nef the Pharaoh, he was already in Hollywood. We were actually supposed to make a whole project together. He was moving, I was running plays. I bumped into him at DTB's shit, and he was already mobbing with Greedo too. The only person who wasn't in person was Rexx Life Raj, because he had already dropped his verse with Nef. Nef was in there knocking something out with Raj. When he [Nef] was in there, I just started running plays like that.
Can't nobody be like Greedo though, period. I don't care who tries to imitate — especially if you meet him in person. 24/7, he's really turnt up like that.
With Outcalls, I noticed "P's & Q's" revolves around some heavy story-telling. What's the background behind that?
That's crazy too. It was like two, three in the morning and DTB had sent me that beat a week before [I made it] — when I was in the Bay. I told him I was going to write to it, but when I pulled up, I didn't really have anything. I was just like, "you know what, I'm tired; I'm whooped." He was still just playing the beat. I'm like, "hold on bro, I ain't even gonna shake like that." I was just listening to it, and about 45 minutes later I came up with that ["P's & Q's"]. That was probably like the first time I ever wrote in a studio — the first time I ever wrote a full song in the studio, not at home or a feature or anything. When I was putting it together, I was trying to rip the whole verse before he could really hear anything I was saying — he was already so turnt up, we were hella juiced. How we made that was just crazy.
I love that ["P's & Q's"]. That's my favorite song on Outcalls; I pressed for that one. I remember when I showed the song to a few people, and their mind was so blown, so I thought, "this motherf*cker's working." I was juiced; I was just like, "wait until you get to the end of the verse." It hit and they got so psyched and I just started laughing. I get excited with the storytelling, but I'm not trying to go overboard and kick out fairy tales and all sorts of crazy stuff like that. That [song] was just a reminder: you got two heads, make sure you're thinking with the right one.
When I was listening the project, I noticed every song feels like it's giving you a new piece of game.
That's my pen. I don't freestyle, and I've never freestyled or nothing. I've never even punched in — like with bars. Shout out to the people who do that, that's a real talent. When I write my music, my music is a diary.
I have to ask you about "07 Lynch," especially that line "I put a wig on a pig and a coat on a goat."
[laughs] "I put a wig on a pig and a coat on a goat." Basically, it's a "16" term. When you say [that], it means you can dress up anything and make anything work. I will dress this big BBW in the best way I can and send her. I'll put this ugly, baboon-looking weirdo — this Jumanji-looking, weird, nasty thing — out. Anything I get in my hands, I can still get it out.
If you listen, about four or five bars before, I'm talking about scoring. If I can't do it "this way," I'll do it like this, this and this. If I can do all that — please, someone tell me, how can I go broke? How can I never have no money if I can do all that?
Lastly, what do you want to accomplish or give to fans with this project?
I just want to keep people in-tune with my story and keep it locked into my diaries. I'm still living life, I'm still going through ups and downs. Keep running your plays — that's my whole thing. It's going to be alright if you keep running your race. Everyone that's slapping Outcalls: I hope it motivates them to run their plays, keep their cleats on and don't go against the grain. That money's going to come; that attention is going to come. If you can gain something from Outcalls, it's how to score.