Why Skepta Will Never Retire the Tracksuit
"Life is sick, don't cry for me when I die."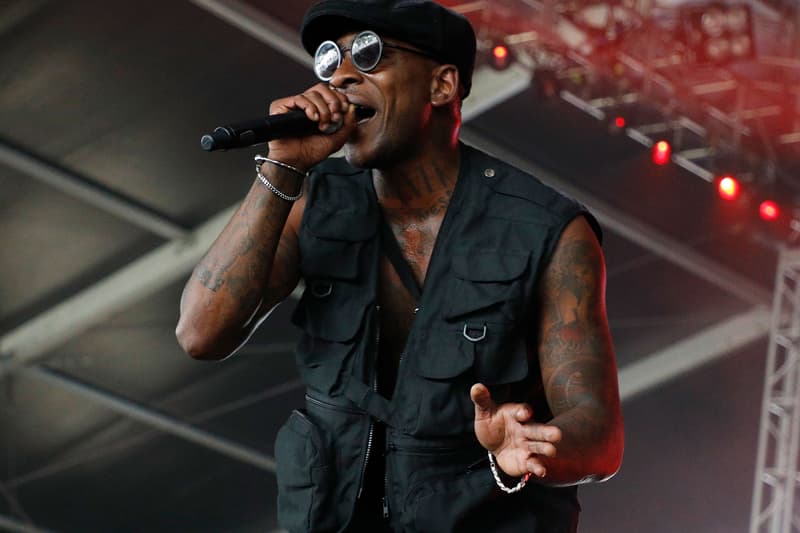 Skepta has brazenly charged through the year, championing a league of grime artists who bring a new meaning to rap music onto the global stage. Having just completed a three-year recording of his upcoming album Konichiwa, Skepta will be launching his first fashion line this year.
Not often analysed for his fashion, the London emcee, recently appointed Uniqlo ambassador and GQ's number seven on this year's Top 50 best-dressed has styled his own shoots like his shiny, white, Nike ACG-riddled "Ladies Hit Squad" video as well as Wiley's blacked-out ensembles in his "On A Level" music video. While the rapper certainly dabbles with luxury labels, the roadman would prefer to don humble outfit options like all-white tracksuits that stay true to the nostalgia of his youth. Style and sound can evolve, but Skepta's time in the limelight has solidified the artist's strong sense of personal style and his influence on culture across the pond and beyond.
And just how comfortable can one feel with fame? The Uniqlo billboards are a nice touch for the ex-girlfriends to see, the rapper laughs in a recent conversation with i-D. Skepta also shares stories about his British upbringing to Nigerian parents, the evolution of his style, and his recent partnership with Uniqlo in the new interview. Find excerpts below and read the full piece here.
What do you think of London's cultural scene right now?
We're the main hub of multi-cultural creativity. We are the motherboard. We've been that since I was at school. Even when I travel the world, people still say things to me about race and I proper don't get it. I say to them, "When I was at school, they had 50 different nationalities and I had to learn all their last names." New York, the youth of today, like A$AP Mob, The Zombies, Ratking — that's all gelling so well now. That's why I can chill with Ratking for a whole month and not feel out of place or doing anything that I wouldn't normally. When I first went to New York, all the Asians would hang around together, all the blacks, all the white people. Now they're being more open and not going with these old-skool ideologies and these boring old ancient ways any more. I feel that there's a real strong connection between the New York world and the London world. Everyone's really seeing eye-to-eye, because they're finally being as open-minded as we've been for all this time.

Who were your fashion idols when you were growing up?
When I was younger, my icons were all the old-skool street guys from where I live. They were all pulling up in flash cars and wearing new clothes, big chains, all the newest designers. They were the people who inspired me. Their influences must come from Jamaica, Africa, old-skool kings. They were street guys just wearing jewels and looking nice. They always wanted to look nice. Being a London boy, walking around, I just saw it all. I've got the African side from my parents and I was really into Jamaican music a lot, so there's that side. And then being from London, you see how everyone fuses it together. I'm just a fan. Even music. I'm such a fan. I make it myself and I'm blessed enough that people are fans of what I make. When I was in GQ, I never thought that was going to happen. I'm just a fan of buying clothes. I count all this stuff as a blessing, because everyone's a fan of something, but they don't get that chance.

Can we talk about your fashion evolution? You wore sportswear earlier on, then moved into more high-end designer, then denounced it on "That's Not Me," saying you'd put all your Gucci in the bin. Now you seem to have come full circle and be back into tracksuits.
I was just getting tired of going to the area where I hang around and different estates and seeing the kids hanging round always looking stressed out and troubled. But they'd always have a $500 bag and Balenciaga trainers. Big superman boots on and jeans with 1000 rips in them. You can do so much with that money. When I was younger, I was influenced by the guys who were older than me, so I thought maybe it was my time — because I can afford to buy Gucci or Louis if I want, let's be real — to sacrifice, because I thought maybe these kids are doing it because of me. So I wanted to get back to wearing clothes that are for us. The marketing teams at Nike and JD Sports, they came for us. I want the kids to see that maybe they should be aligning themselves not just with a price range, but the people who are designing for you.

Can we talk about your recent head-to-toe white looks?
They are difficult days! I've got Paddy [manager] around me always when I'm wearing all white [to tell me if it's dirty]. He's got to tell me the routes and everything! They're hard days. Most of the time I do it for shows or video shoots. I didn't think it was going to make as much of a statement as it did. I thought with wearing tracksuits, I just didn't want it always to be black. I thought putting on a white one was more vibrant. There is another side to this tracksuit thing. It's not always wanting to be discreet, wanting to be incognito. Sometimes it is about being flamboyant. You can be flamboyant in a tracksuit.

What's the best thing about being plastered all over Oxford Street in this [Uniqlo] campaign?
That all my exes have to see me! I get to stunt on them. An ex called me a joke one time. She's gonna have to see that. And it's good that my mom will get to see them as well.

You styled a Wiley video. Have you done any since?
I styled my recent shoot, "Ladies Hit Squad." That's it. I don't know what happened to me, but growing up there were a few deaths close to me and when you're young, you get into this mode where everything's forever, nothing's going to go. Just wait, do it tomorrow. But when people started dying and I was about to have a child, but had a miscarriage, it became clear what was important to me and what wasn't. So I started eradicating everything that wasn't to do with me. I started to concentrate on everything that mattered. To me, all the stuff that people were wearing in videos, what the videos were about, how flashy they were, how pretentious they were, I really got to a point where certain things didn't matter to me. And people could look at that styling job and be like, "Aw, he's amazing at styling." I'm not! I just didn't care about bullshit any more and that made that video good and made the styling good. I'll probably take any job on in my life at this moment. I don't think there's anything I wouldn't do.

Might you bring out a Skepta line with them?
I'm gonna bring out my own brand soon. It's gonna be for the streets, for your everyday person who doesn't want to wear jeans all the time and wants to be comfortable. You won't feel inferior in my sportswear!

You've got the Japanese connection now, with an album called Konichiwa and working with a massive Japanese brand.
Amazing bruv! I cannot believe this. I'm going to Japan in a minute to do my first show ever, because of my album. I'm in a tracksuit by Uniqlo. Nigo wants to meet. Japan's been trying to get me out there to do shows, but I didn't want to go there without my album. I want my whole Konichiwa setting to be correct when I go there. I've gone to Australia, New Zealand, killed that, went to Hong Kong, killed Europe, went to Nigeria, killed Africa, went to America, smashed the East Coast and the West Coast. You see what I'm saying? But I've never been to Japan, so to go in May with this, I'm buzzing. Life is sick, don't cry for me when I die.