Beyond Dream Pop: A Conversation with Blackbird Blackbird
We catch up with the enigmatic San Francisco producer.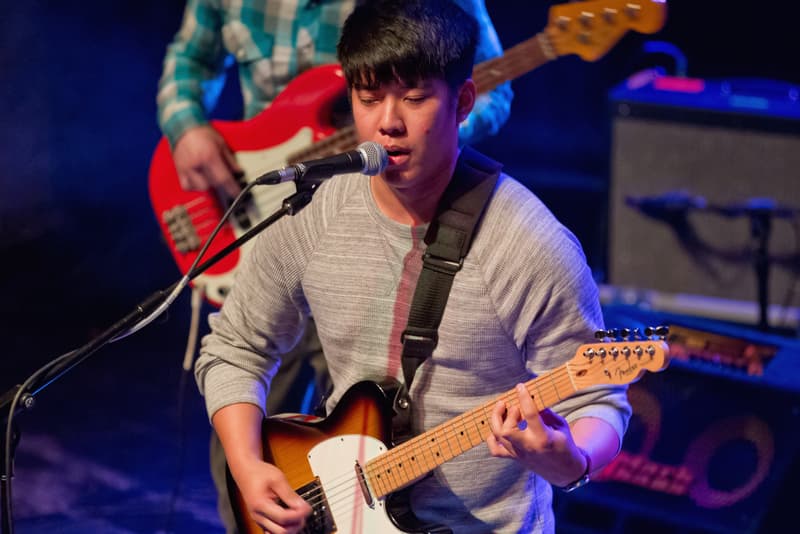 It's been a little quiet around Mikey Maramag, better known as Blackbird Blackbird. For years, he's been a consistent purveyor of blissful sunny dream pop sounds and clever remixes for the likes of A$AP Rocky, Ginuwine, Warpaint, and many more. While his albums, 2010's Summer Heart, 2012's Boracay Planet, and 2014's Tangerine Sky has earned him a loyal international following with his signature, his latest release, 2015's Strawberry Heart, a collection of unreleased rarities, remixes and b-sides, did not offer any new material from the enigmatic beatsmith.
Hence, we were fairly excited to find out that we'd meet the enigmatic San Francisco-based producer from Hawaii would stop in Hong Kong stop as part of his Asia tour with English electronic singer Chad Valley. Since it's his first time in Asia's 'world city,' we introduce him to famous local seafood dishes and dim sum and take him the city's infamous Sneaker Street, where you can still find some of the rarest footwear on the planet. While exploring Hong Kong, we find out Mikey is a low-key, laidback sort of dude in person. Not quite the impression he makes when he enters the stage. His live set-up is energetic and passionate, complemented with a tricky light show that perfectly translates his sophisticated sound. After his set, his down-to-earth persona reappears as he sticks around the afterparty and interacts with fans. Just the right moment to hit him up about his career, his relationship with Riff Raff, and his upcoming studio album. Little spoiler, don't call him a chillwave/dream pop artist.
Other than last year's album Strawberry Heart, it's been relatively quiet around you for the past couple of years as far as solo releases. What have you been up to?
I've mostly just been relaxing, working on new music and getting inspiration to write more music.
How has the time off influenced your music-making and new sound?
The time off has helped me figure out the new direction I want to take with my music.
How has the tour with Chad Valley been so far? What's been the most memorable stop?
The tour has been loads of fun. My favorite place so far was Shanghai. The people at the show were really feeling the music and came ready to party. Overall, the aura of the venue was very positive and I as a result I fed off the crowd's energy & gave them an emotional show.
Is this the longest tour so far with everything kicking off in Asia and then another full month and a half in the U.S? How have you liked it so far?
Yes, the tour is longest thus far! It's been wonderful–I love touring Asia the most out of anywhere so that is the easy part. The US is gonna be long and grueling but I'm ready to hit the road, and hopefully I can get some music done during our downtime in the tour van!
We noticed during your set that a lot of the new stuff incorporates a touch of future-ish sounds. Is the new album gearing toward that direction?
It doesn't incorporate future. That tag almost makes me cringe just as much as "chillwave."
You've also gotten into doing quite a few remixes over the past year (Ariana Grande, iLoveMakonnen, Gallant, Spazzkid, etc), has this also influenced your approach when you compose your own songs?
I don't think they effect my original work; although I do admit that some of my remixes contain hints of what's to come for me, all in all I regard remixing as mostly just me experimenting with my sound while simultaneously treating them as serious songs.
You've always been known as the "bedroom music" type of artist. How do you like this name and tell us about your creative process?
I can mostly support this term because I do in fact produce the majority of my music in my bedroom, however some songs I make have the bigger picture in mind–full live band, pyrotechnics, fireworks, interactive visuals, anthemic symphony, etc, so I'm not sure it really applies to my music or at least where I want to take it.
Songs like "It's a War" and "All" were special to me because although I did only spend a few days to finish them, something inside me just knew that those songs were going to be some of my best work.
I learned to identify what truly satisfied me as a songwriter after I wrote those songs, and that very feeling of fulfillment taught me to stay patient instead of rushing to release a song or album simply just to generate buzz or to temporarily satisfy my fans. Inversely, my goal is to write songs & albums that are classics; pieces of work which are true to myself as an artist & songwriter.
Do you still consider yourself a chillwave/dreampop artist and how do you see this form of music transform over the past few years?
I don't see myself as fitting that mold — to be honest, I cringe when I hear those terms because they have become so meaningless to me. Maybe in 2010 or 2011 I would have been okay with these terms but if you were to tell any normal, non-hipster, not blog-informed person about those terms they would cringe and be like "chillwave? Oh, you mean vaporwave?"
Dreampop is a better term because it aligns me with artists like Cocteau Twins, My Bloody Valentine, Slow Dive, The Pains of Being Pure at Heart, Beach House–those bands are all influences of mine and I wouldn't mind being compared to them.
How has the music industry changed since your last release?
I don't like focusing on the music industry as much as I like focusing on producing music but it is very important to keep up with what's going on on the internet and how things are drastically shifting. SoundCloud is becoming more draconian with remixes and mixes so I see it getting a bit more difficult for new artists to get big from just doing those things. This could be a good since more people will be forced to make more original content, but being an avid remixer myself, I'm not particularly a big fan of the increase in punishments for posting remixes.
What's your favorite music out there right now?
I'm really into Galamatias, Majical Cloudz, Mura Masa, Lxury, and Swindail.
What's up with the Riff Raff Twitter shootout? Is there really a collabo coming soon?
I'm working on a remake of an old Blackbird Blackbird song for his Peach Panther album, but I'm not sure if it will make it in time for the release.
Is there really going to be an emo band from you, Giraffage, and, Mark Redito? If so, what's the mechanics behind that?
Yes, there is an emo band in the works. We are working on new material & plan to rehearse for a live show very soon!