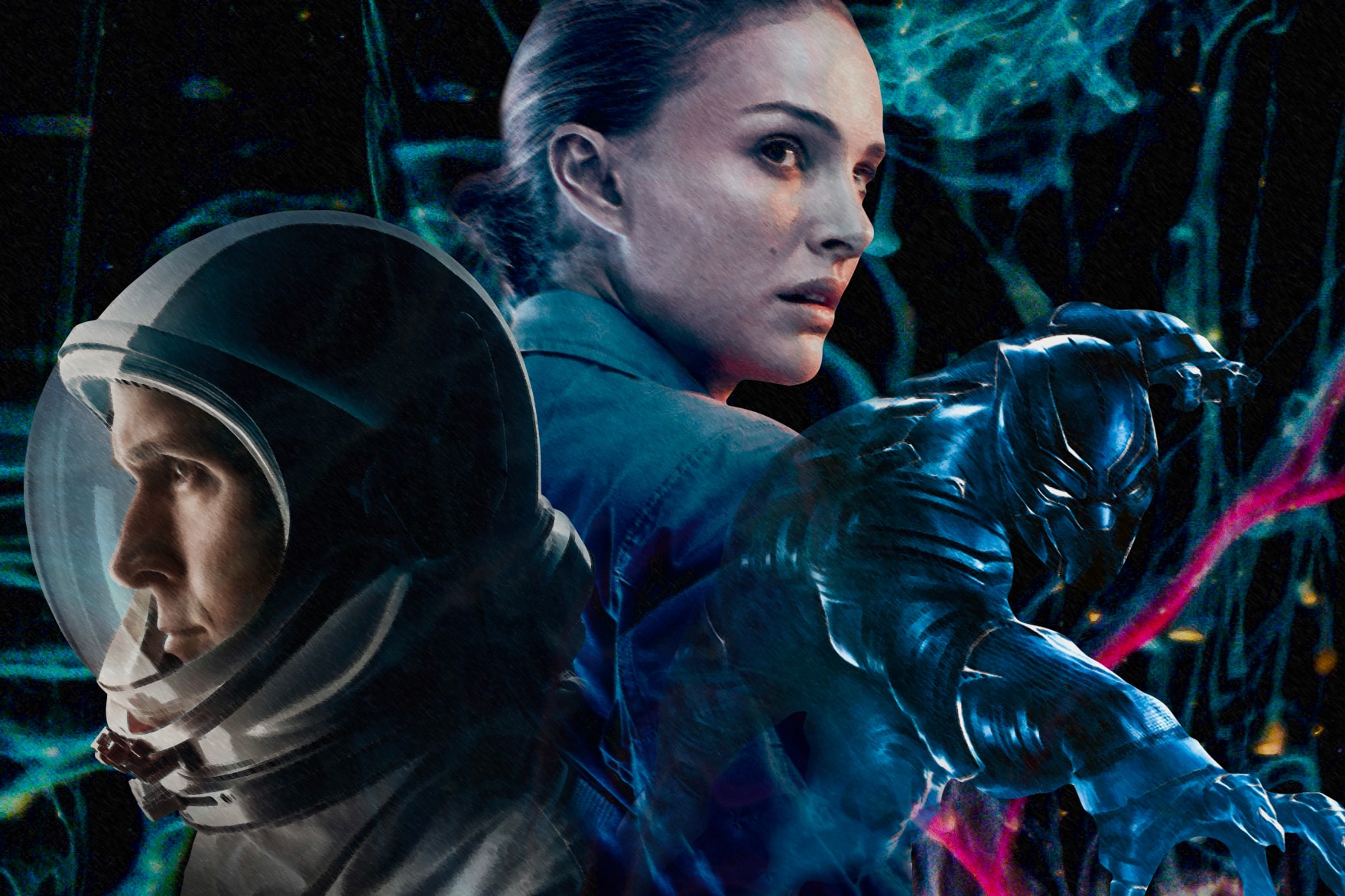 Top 10 Movies of 2018
With only a few days left in 2018, we return to our yearly tradition of looking back at the past 12 months. Focusing on entertainment, and more specifically movies, the past year offered up a bevy of cinematic ventures that delighted the hearts of cinephiles worldwide. From multiple auteur-driven films and directorial debuts, to vocal belting musicals and frightening horrors, this year's list includes a breakdown of the best movies by category.
So without further ado, these are the top 10 movies of 2018.
Best Drama: First Man
After gifting the world with the beat-pounding
Whiplash
and romantic musical
La La Land
, Academy Award winning director
Damien Chazelle
returned this year with a biopic of
Neil Armstrong
. Starring
Ryan Gosling
as the true life hero,
First Man
, like Chazelle's prior projects, showcases the emotional sacrifices one must make for their work. Taking a look back at one of the biggest cultural moments in history, Chazelle uses masterful shots to capture the emotions of just how lonely space travel can be.
Best Musical: A Star Is Born
Marking the fourth time this rocker/protégé love story has been recycled, 2018's rendition of the classic hit marked
Bradley Cooper
's directorial debut alongside
Lady Gaga
's silver screen introduction. With the duo taking on first time roles, this film could have easily set itself up for disaster. Instead Cooper's direction, and surprise singing skills, matched with Gaga's star power managed to place
A Star Is Born
 on a bevy of "Best of" lists. And let's not forget the infectious soundtrack boosting some of Gaga's best tracks to date, seeing the songstress going back to her musical roots, stripped down from all the glitter we've come to know her for.
Best Comic Book Film: Black Panther
As one of the strongest films in
Marvel
's arsenal,
Black Panther
 was able to inspire a whole movement this past year. Unlike many of Hollywood's past blockbuster films, which placed black actors into supporting or minor roles,
Black Panther
gave the world dynamic and strong characters. Thanks to
Ryan Coogler
, the director was able turn a story of conflict between the new king T'Challa (
Chadwick Boseman
) and the American revolutionary Killmonger (
Michael B. Jordan
) into a blockbuster treat.
Best Horror: Hereditary
2018 once again marked the year of
A24
's auteur-driven gems, including Ari Aster's disturbing horror-hit
Hereditary
. A24's highest grossing indie film to date,
Hereditary
, which was both written and directed by Aster, introduced the movie world to newcomer Milly Shapiro, who plays the film's nightmare child, Charlie. Another noteworthy performance comes by way of Toni Collette, who portrays a mother losing touch with reality as terrifying secrets about her family's ancestry are dug up and revealed.
Hereditary
goes right into creating an unsettling tone from the get-go, giving viewers nightmares for days. And let's not forget how the film served up one of 2018's most jaw-dropping scenes; you know the one we're talking about.
Best Indie Flick: Mid90s
Along with Bradley Cooper and Ari Aster, Academy Award nominated actor and frequent Palace frontman
Jonah Hill
also made his directorial debut this year with his film,
Mid90s
. Starring 13-year-old
Sunny Suljic
, this coming-of-age tale follows a group of young skateboarders as they navigate through life's obstacles. The film also stars
Na-kel Smith
, who took a break from filming a
Supreme
skate vid to join the project. Co-produced by
Mikey Alfred
of
Illegal Civilization
and distributed by film auteurs
A24
,
Mid90s
marks one of the year's best indie gems.
Best Foreign Film: Burning
Adapted from a Haruki Murakami short story,
Burning
 is Lee Chang-Dong's look at a love triangle set in South Korea. Centering around a young male named Jong-Su who finds himself infatuated with an old classmate, a suave, wealthy gentleman, played by
Steven Yeun
of
The Walking Dead
fame, soon shows up to cause a riff in their budding romance. What ensues in this updated love story is a masterful piece of work that leaves viewers both unsettled and unnerved until the very end.
Best Animation: Isle of Dogs
This
Wes Anderson
stop-motion film centers around a group of sick dogs trapped on a Japanese garbage island. Marking his first stop-motion since 2009's
Fantastic Mr Fox
, Anderson found inspiration in the works of Akira Kurosawa and Studio Ghibli creator
Hayao Miyazaki
. Amassing a team of 27 animators and 10 assistants, it's no wonder the hundreds of thousand of shots used in the film assisted Anderson in creating a visual delight. Also featuring symmetrical shots and frequent collaborators
Bill Murray
,
Tilda Swinton
,
Edward Norton
and more,
Isle of Dogs
keeps all of Anderson's signature elements intact.
Best Documentary: Minding the Gap
As one of many skate films to release this year, Minding the Gap is a real-life look at how the sport can become a means to an end. Shot over the course of a decade, filmmaker Bing Liu gives viewers a granular look at how skateboarding impacted his and his two closest friends' lives in Rockford, Illinois. Filled with beautiful, raw emotional scenes, Minding the Gap shows audiences how both filmmaking and skateboarding can be therapeutic.
Best Comedy: BlacKkKlansman
Directed by living legend
Spike Lee
and executive produced by
Jordan Peele
,
BlacKkKlansman
takes a comedic look at the racial and political parallels between 1970's America and now. Telling the true story of a black police officer Ron Stallworth (played by
John David Washington
) who infiltrates the Ku Klux Klan with the aid of his Jewish partner Flip Zimmerman (played by
Adam Driver
), Lee is able to effectively give context to today's political climate. To do so, the film included catchphrases of President Donald Trump and actual footage from last year's tragic Unite the Right rally in Charlottesville, Virginia.
Best Science Fiction: Annihilation
Crafted from the mind of
Alex Garland
of
Ex Machina
fame,
Annihilation
takes viewers on yet another mind-blowing trip. Unlike the sci-fi and fantasy movies that came before it,
Annihilation
takes a hallucinatory look at nature's cycle of synthesis and mutation through destruction and transformation, division and replication, creating something truly unique along the way. The small screen blockbuster stars Academy Award winner
Natalie Portman
, as well as
Oscar Isaac
and
Tessa Thompson
.