Timothy Weah: From the Big Apple to the City of Lights
The young footballer rocks pieces from Hermès, Louis Vuitton and Dior in our exclusive editorial.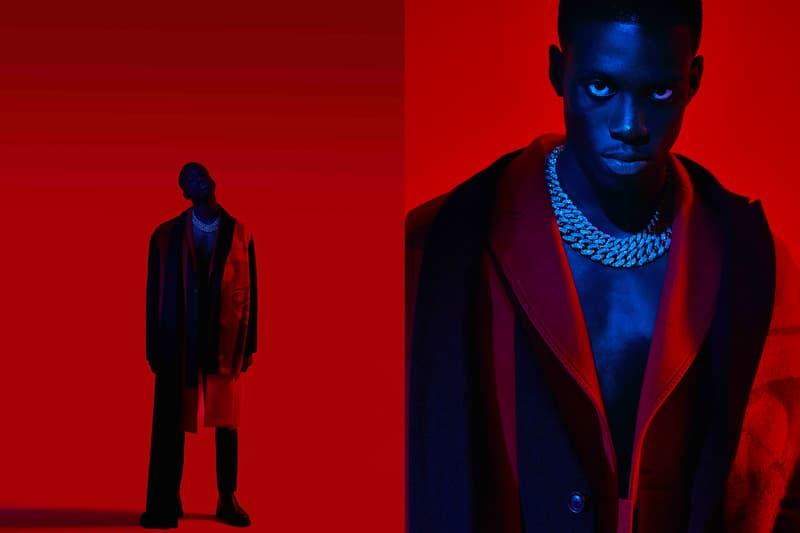 Following in the footsteps of his Ballon d'Or winning father and current president of Liberia, Georges Weah, Timothy Weah is the latest youngster to make headlines in the footballing world. However, when he's not turning heads on the pitch, the Paris Saint-Germain foward can be seen repping the hottest brands on the street; because for the 18-year-old prodigy, style matters.
Unknown to the general public just a few months ago, Tim Weah's life now seems to be going as fast as his speed on the pitch. Despite having to bare such an accomplished family name, over the course of our meeting it's very clear he's not so different than the everyday New Yorker and Parisian teenager.
Arriving at 9:30 a.m. on the dot, Weah is more than eager to get the photoshoot and interview session started. From the Big Apple to the City of Lights, take a look HYPEBEAST France's exclusive editorial with Timothy Weah below, featuring pieces from Hermès, Louis Vuitton and Dior.
You recently cut your hair, why?
"Good question. I think I really needed it. It got hot so I thought, 'I'm going to cut it off and let it grow back.' I'm a little in the transitional phase right now. I like having the outlines and the gradient."
How important is your appearance to you on and off the field?
"It's very important to me. If you are in the crowd or on the field, you have to be stylish. And then my haircut is, of course, my trademark. That's how you recognize me and that's why I'm going to grow it back out."
Do people often tell you that you look like your father with this hairstyle?
"Yes, I am often told that I look like my father with short hair and my mother when I have long hair. I really think I should grow it out again, so that people will recognize me."
Do you get tired of always being compared to your father, George Weah?
"I've been used to it a while now. It usually goes in one ear and out the other. I get these questions a lot. I just focus on talking about my motivations and my own journey; that's it."
We recently put together a list of the 10 Hypest Players in Ligue 1, in which you placed. Who else would you put on the list?
"Neymar obviously has a place in this ranking. I know a player who hides his game, that's Thilo Kehrer; he is really stylish. Kimpembe and Rabiot also have a taste for dressing. Adrien is a bit more elegant, however he can still dabble in streetwear. In Ligue 1, there is also Memphis, he is certainly one of the hottest players."
Kimpembe told us that when he was younger, he painted his boots when he couldn't get new ones; while Mbappé had to beg for new sneakers. What's something crazy you did for a pair of sneakers?
"Obviously, the stories won't be the same because my parents were lucky enough to have a comfortable financial situation and buy me the latest pairs of Jordans and boots. I always worked hard for them by doing well at school or being good on the field. But when I did get a new pair, I made sure to keep them clean as if they were new. My mother is Jamaican and for her it was inconceivable that I come home with dirty shoes. Ditto for my father, I had to keep my things clean. I was not one to play football in my new sneakers."
You said you are on one of the best teams in the world. Is it the same for fashion? Is Paris the ideal city for inspiration?
"Of course. Paris has already given me so many opportunities beyond football. Here I can make music, be interested in fashion and be an athlete all at the same time. Living in Paris allows me to do everything I love and to meet many people in many different fields."
You always keep your time occupied.
"I try to be proactive and do a lot of things. I want to be at the top at every level.
Where do you go shopping in Paris? What are your favorite brands?
"I don't really go shopping, I order on the internet. I like to go to Balenciaga as it is my favorite shoe brand."
Is there a designer that you particularly like?
"Virgil [Abloh] is by far my favorite designer. It is incredible that he is the artistic director of Louis Vuitton's menswear. I would also like to highlight the role of Kanye West in his rise and that of Jerry Lorenzo in the industry. Now Virgil has the right platform to express his talent. His collabs with Nike, his collection for Louis Vuitton, his work with Off-White ™… I love what he does. I support him thoroughly and I love what he brings to fashion."
Would you like to take part in Fashion Week?
"Yes, I think I will go to some shows in January during Men's Fashion Week."
Gosha, Palace, Supreme, Off-White ™, Balenciaga… football culture has greatly influenced these fashion brands and more. Is football becoming the coolest sport in the world?
"I think football is well on its way to joining sports like skateboarding and basketball. Basketball players are really known for their style and the sport is more of a "hypebeast" sport than football. Football cleats are starting to infiltrate the market, seeing Kim Jones design a pair for Nike; this is a sign that football is gaining status. It will take time, but with talented players like Neymar going to Fashion Week and collabs emerging with Virgil, in a few years football will be the number 1 sport in terms of fashion."
The Jordan x PSG collection is the perfect example, what do you think of this collab?
"I think it's a real springboard for PSG and for football in general. I come from New York and I know Jordan's American culture so it's amazing to be on the first team in history to have the Jumpman on its kit. There are lots of people who do not follow football or PSG, but now we are on the map because of this collaboration with Jordan. So many people bought the PSG x Air Jordan 5; wherever I go, I can see the colors of my club, it's crazy!"
You said you were from New York. Do you really have 3 nationalities? How is each origin reflected in your life?
"My mother is Jamaican; my father is Liberian; I was born in New York but I also have a French passport. My culture comes mainly from Africa because even if you are Jamaican, that's where your ancestors come from. I really like the bright colors of my continent. The vibrant colors have inspired many fashion brands. I try to take the best of each of my origins. I can be influenced by a very Parisian style as well as very colorful African dashikis, that's also wonderful."
Jamaicans are often very proud of their gastronomy, what is your favorite dish?
"My favorite dish is without a doubt Chicken Rice and Peas. My mother cooks it like nobody else."
So if you're also French, you're also a World Champion.
"A little then…for this year it goes, you got me there."
Is it more difficult to develop as a footballer while everyone sees you as the son of a legendary player?
"It can involve more pressure. But I feel that in everything we do, there is always pressure. I'm 18 and I'm expected to become a great player. I'm one of the best of my generation, I was on the Golden Boy list … I always have a weight to bare when I'm on the field. Even if it's harder for me, I do what I have to do. You cannot wait for your dreams, you have to go get them. Whether it is me or others my age, we will have to fight to be on the ground and stay there. In any case it is difficult to win a place at PSG so I better be ready and motivated."
To see young players Presnel Kimpembe and Adrien Rabiot find success at the club, how does that motivate you for the future?
"It gives me hope but it may not be the case for all of us. I will have to trace my own path but anyways, everyone has a chance at one time or another. Presnel does a good job, he's been here a long time, he's learned a lot. I am proud of him."
Regarding music, I saw that you spent a lot of time in the studio. When will your first record come out?
"We will try to release a record very soon. We've spent a long time working on it. Since I'm a pro, I don't have a lot of free time, but I usually spend it in the studio. Rapper Sofiane and others have recorded at the same studio. I try to take inspiration from them and learn as much as possible. I work hard and I hope to leave a quality piece very soon."
What's your sound?
"I really like hip-hop and R&B. Something like Bryson Tiller."
Do you listen to French artists?
"It's rare but when I do, I listen to Ninho, Hamza from Belgium, and Niska. I choose their best tracks; I rarely listen to the albums in full. I mostly listen to US music, because I can understand it more easily. I listen to a lot of underground artists like Jermaine Elliott who is a friend of mine from New York. He is really talented. I'm listening to a lot of FRVRFriday too; I think he's from Toronto. Then I also listen to popular artists like Chris Brown, Drake, Travis Scott, XXXTentacion, Ski Mask The Slump God, Kehlani, and Jorja Smith.
Do the French PSG players help you to discover new French tracks?
"Yes, when we hang out in the locker room."
In the locker room it seems your spot is next to Neymar. What relationship do you have with him?
"Yes I'm right next to him and when I come back to the United States, I see him every time. He spends a lot of time in New York so we sometimes hang out together. Our friendship is quite solid with the years spent in Paris too. He's a cool guy, a very good mentor and I have a lot of respect for him. I would like to thank him for his role as big brother with the young players on the team and his positive attitude on a daily basis. I learn alongside the best in the world; I cannot have a bigger dream."
In several interviews you confessed to playing FIFA with these players who are now your teammates.
"It's crazy. Last year I was playing as these footballers on FIFA and now I'm playing beside them. But sometimes they are also my opponents in the game. I've played against Thiago, Marquinhos, Neymar, and Mbappé, it's crazy."
Do you use yourself in FIFA now?
"Yes. And by the way, they have recently updated my face and it's pretty realistic. However, they have not changed my hair style."
You have a FIFA score of 69, how do you plan to improve it?
"I will work hard to get a better overall score. But I think they were wrong for my speed. I have 82 in FIFA but I am much faster than that. Some defenders are faster than me in the game; that's not possible (laughs). But I'm not worried. Anyways, it will be up to me to clarify things on the pitch."