You Can Now Buy 'Attack On Titan' Laundry Detergent in Japan
Featuring "humanity's strongest soldier."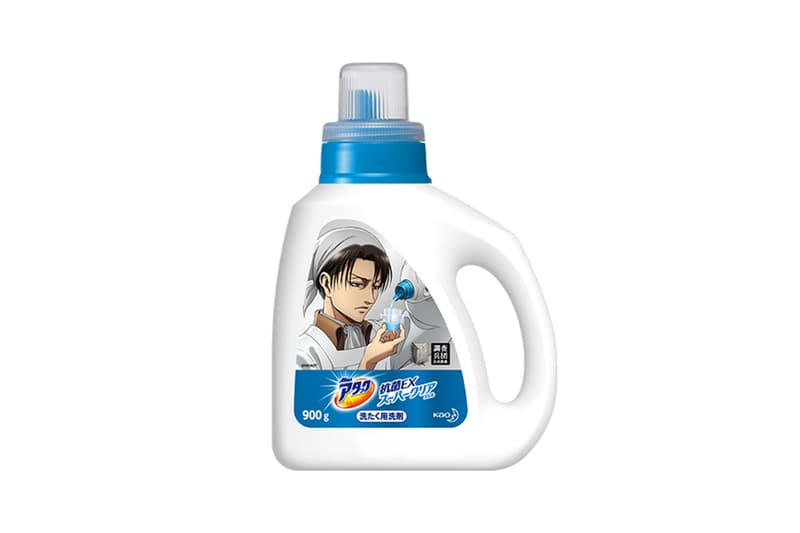 Kao, the Japanese household laundry detergent brand, has just switched things up by collaborating with Hajime Isayama's Attack On Titan manga/anime. Most likely spurred on from Kao's top selling detergent brand named "ATTACK," the laundry detergent features the nonchalant face of captain Levi Ackerman; a character who's know for this strict discipline towards cleanliness.
The most interesting part about this collab is that it was crowdsourced, and decided upon after Kao asked its Twitter following to vote on the package design. While the Amazon stock has already sold out, and the 40,000 bottles designated to Matsumoto Kiyoshi pharmacy are following a similar path, Kao has already taken to Twitter again to ask if more quantity should be produced — and the after 20,000 retweets, the answer is yes.
While many of us won't be able to get our hands on the Attack On Titan x Kao laundry detergent, it is still interesting to see how household goods are being marketed around the world.
In more animation news, 'Pokémon: The First Movie' is getting rebooted as 'Mewtwo Strikes Back Evolution.'
壁外調査完了!
兵長の破壊力
゚+o。ドキュ―(*゚д゚*)―ン。o+゚?
やばい!尊い!!を繰り返して泣きそうだったww 店員さんに許可を得て撮影!
マツキヨ 鹿児島県 姶良駅(割と)近くの店舗は、先ほど出したとのこと。まだ在庫ありますよ!#shingeki pic.twitter.com/9Rd3nvFRQc

— まりぽた(リヴァイ班) (@maripota_666) December 10, 2018
Messieurs dames, le Japon.
(En vrai, meilleure technique marketing ever) pic.twitter.com/GE2CUTVywd

— Momo in Tokyo (@Wrecked0ne) December 10, 2018
【増産意向調査】
進撃の巨人調査兵団公式洗剤リヴァイ 兵長モデルを増産して欲しいという人はこのツイートをRTして下さい。

20,000RTくらい頂ければ増産の材料となるはずです。もっと多くのみなさんに行き渡りますように。#shingeki #悔いなき洗濯 #進撃の巨人 pic.twitter.com/grKYy51X6X

— 花王 アタック(お洗濯全般) (@kao_attackjp) December 13, 2018