Tyshawn Jones Sits Down to Talk Skateboarding, Supreme, and Groupies in Latest Interview
"I mean, I get hoes but…"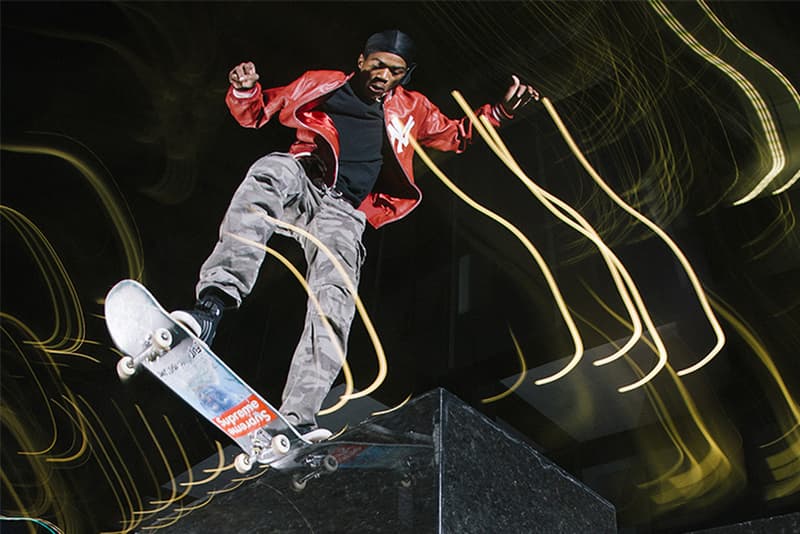 19-year old Tyshawn Jones holds many accolades, being the youngest pro skater with his own show with the Three Stripes and running skate line Hardies Hardware. In his latest interview with Jenkem Magazine, the skater discusses his Bronx roots, his sponsorship with Supreme and adidas, and his definition of success. The burgeoning athlete also discusses his non-interest in cars, and why he'll be taking it easy with the police in order to avoid getting his license revoked.
Check out an excerpt of the interview below. Be sure to check out the rest of the interview and leave your thoughts in the comments.
I remember seeing you around when you were a little kid. You were super small. Were you ever bullied?
Hell no! Niggas knew what was up with me. Ain't nobody ever bully me. I like to fight. I can't fight no more cause I got a name but… I wasn't a bully, but I used to tell people to do things for me and they just liked me or respected me so much they would do it. It was cool [laughs].

Was growing up in The Bronx a challenge because of finances or was it just a rough neighborhood?
I mean I wasn't broke as fuck, but I wasn't rich. I'm from a family of hustlers so sometimes there'd be a lot of money, and sometimes shit slow up. When you're hustling, that's just how it is. When I moved back to New York [from Jersey] shit was hard. The hustle started to dry up, cause hustles don't last forever.

As a rider for Supreme do you ever get hot Supreme groupies that try to bang?
I mean, I get hoes but… [laughs] Girls who are groupies or know who you are, they usually don't want you to know that they know. Even if they do try and come up and talk to you, they'll never be like, "Oh my god! I love you!" But sometimes you can catch them in lies.

The other day I met some girl for the first time, and later that day she mentioned that I had such cute dogs, and I was like, "How the fuck you know what my dogs look like?" [Laughs] Obviously the whole time she knew who I was, but she was frontin'. These girls are crazy.