Leader of the Pack: Skepta Talks Collaborating With Nike & Taking Grime to New Levels
"It's us directly to the people."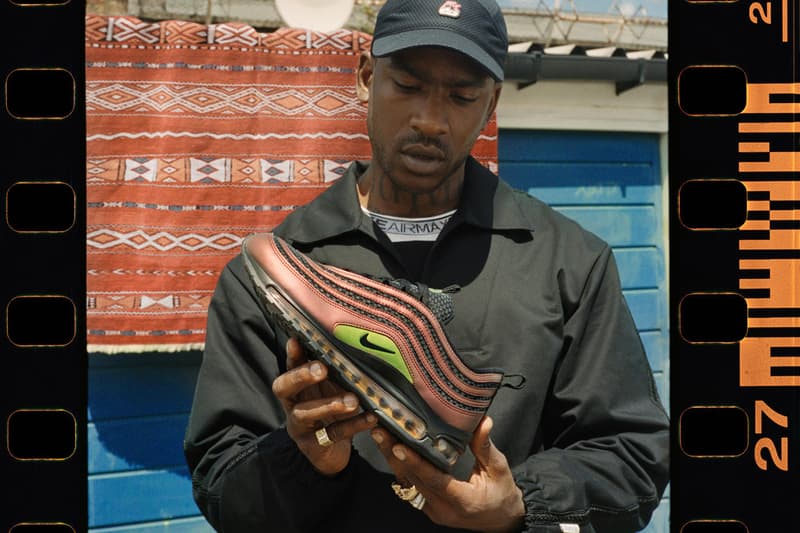 Not that long ago grime was overlooked in the UK. The genre and its accompanying artists had all but faded from public consciousness. The scene had moved from its early successes — characterized by an 18-year-old Dizzee Rascal winning the Mercury Price for his album Boy in da Corner – to a mainstream crossover and, eventually, perhaps inevitably, accusations of selling out. In 2014, though, Skepta returned from the wilderness with "That's Not Me" — a back-to-basics banger that heralded the second coming of grime. The single, and its £80 video, was passed from iPhone to iPhone and made its way to party playlists across the world as a new generation — for the most part too young to catch grime's first wave — began to champion the scene.
In the intervening years, grime has reclaimed its place at the top of British culture. Skepta, along with other artists — including his brother, JME, and Stormzy – have taken the genre to new heights. "This is what we saw awhile ago, and we wanted to make it like this," explains Skepta when we met at The Curtain hotel in London. "We're not looking to take over the Earth and we're not looking to kill everyone else who's not grime. We just wanted to be heard, and I feel like we're very much heard right now. There's endless opportunities for everyone in the hoods of London, or Birmingham, Manchester, to just be doing music. Footballers are hanging around with rappers now, just like basketball players and JAY-Z."
The idea of different scenes and genres sitting side by side and growing together is one of the key themes that has emerged over the past three years. "When I do it to a hundred percent, there's no one else on the planet that can do it," says Skepta, "other people have got their own thing, and I can't do their thing either. But they should just do their own as good as they can and everyone will be queens and kings, everyone can win. There doesn't have to be a loser."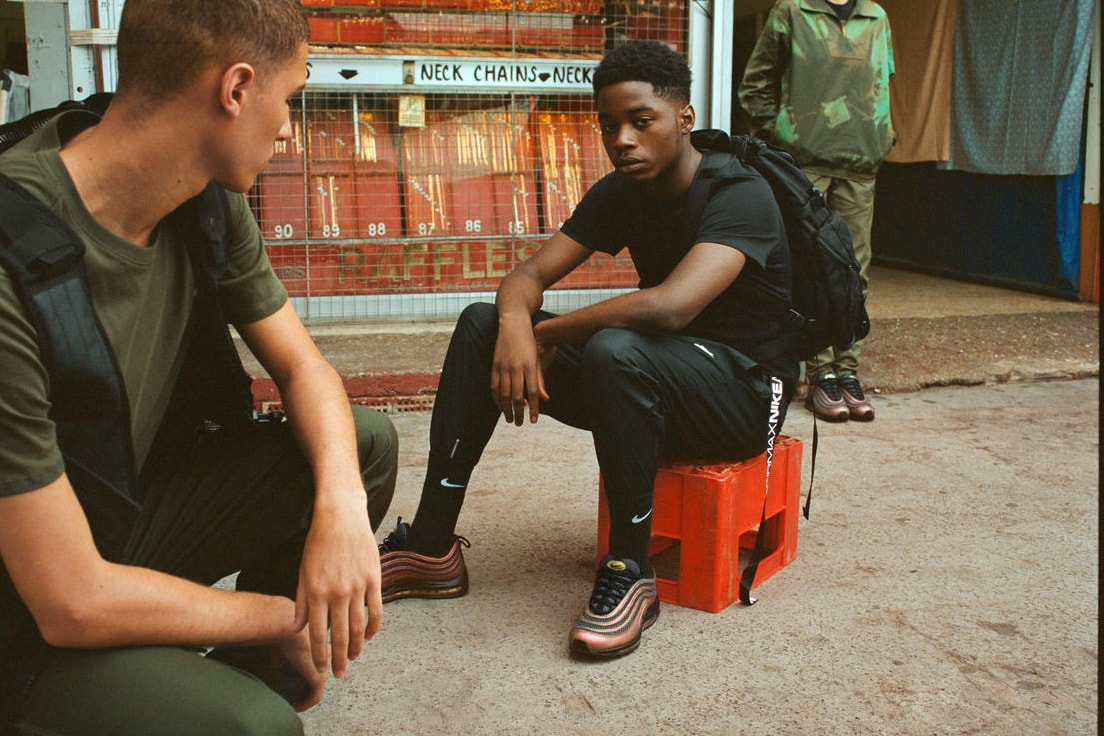 Another of the big themes associated with the current grime scene is independence, with Skepta's Boy Better Know collective/record label becoming the standard-bearer for making it on your terms. "We don't have a big building with loads of people working for us," the London-born MC explains when asked about his much-valued independence. "It's us directly to the people." And, for Skepta, BBK's independence is also one of the things that has allowed the collective to flourish: "That way of thinking has enabled us to navigate properly nowadays, seeing the world through our own eyes, making moves because you want to and not judging success by other people's opinions. That teaching was priceless, we'll be fine forever."
That independent method ("doing it directly from your bedroom, to the internet, to the fans") has meant that Skepta and co. have reached heights only previously expected of artists with the backing and clout of a major label behind them. "It feels good knowing that what every record label would be trying to pitch to me [is] 'we can get you around the world,' and we just realized we can do that ourselves."
The last three years have seen Skepta continually taking steps forwards, with last year's Konnichiwa arguably the crowning of grime's resurgence and a high point for the whole scene. Since then, the Pharrell-featuring album has been named winner of the Mercury Prize, while Skepta has had his own track on Drake's More Life and continued to tour the world. But even by the standards of the past few years, 2017 has been a big year for the MC, with a collaboration with No Fear, the debut collection for his MAINS line, the upcoming takeover of London's O2 Arena and, most recently, the unveiling of his second Nike signature shoe, the SKAir.
"Everyone will be queens and kings, everyone can win. There doesn't have to be a loser."
The Nike collaboration, a Moroccan-inspired Air Max 97, has already become one of the year's most hyped releases and Skepta is keen that the sneaker isn't just a collector's item with a massive resale price. "I didn't want it to be exclusive, I want as many people as possible to have this shoe," he says, "I remember being young and remembering seasons by what shoe I was wearing. I really want people, especially people in London, to remember winter 2017 with the SKAirs." The North London artist was, unsurprisingly, keen to work with Nike again after 2016's Air Max BW "Blacklisted." The sportswear giant played a huge part in the lives of people growing up across England, and the Air Max is a sneaker with a cultural relevance most brands can only dream of. "It's transcended generations, people just love it from birth," Skepta says of the brand, with its ubiquity and its flexibility being key touchstones in its importance. In his words, you'll see people wearing Nike "whether you're kicking ball on the estate, or going to a club, going on a date. Fresh Air Maxes, especially being from London, is something that we've always known."
For Skepta, though, his latest Nike collab represents more than just a sneaker. Through the campaign for his MAINS line (which drew criticism for allegedly copying another photographer's images – something Skepta is reluctant to discuss) to the details of his SKAir, Moroccan embroidery has proven to be a constant, if unexpected, influence. Speaking about his admiration for the country, Skepta describes it as a "haven" from a world of touring, producing, writing and everything else that BBK does. "I'd traveled so much and everywhere I'd go I'd end up in some kind of work mode, but I found I was relaxed there," he explains.
Yet, despite the country providing a welcome respite on a personal level, it was the embroidery that particularly caught Skepta's eye. "You go to a wedding and this family don't have that much money, but they got the clothes together and their embroidery makes it feel royal, they feel worthy." It's an idea which, having particularly resonated with the MC, he decided to bring back to London and combine with the things he was already doing. "I had the idea to mix that royal touch to tracksuits, which we don't feel entitled to anything in. Introducing embroidery to the streets, make people feel good, make people feel entitled, make people feel royal."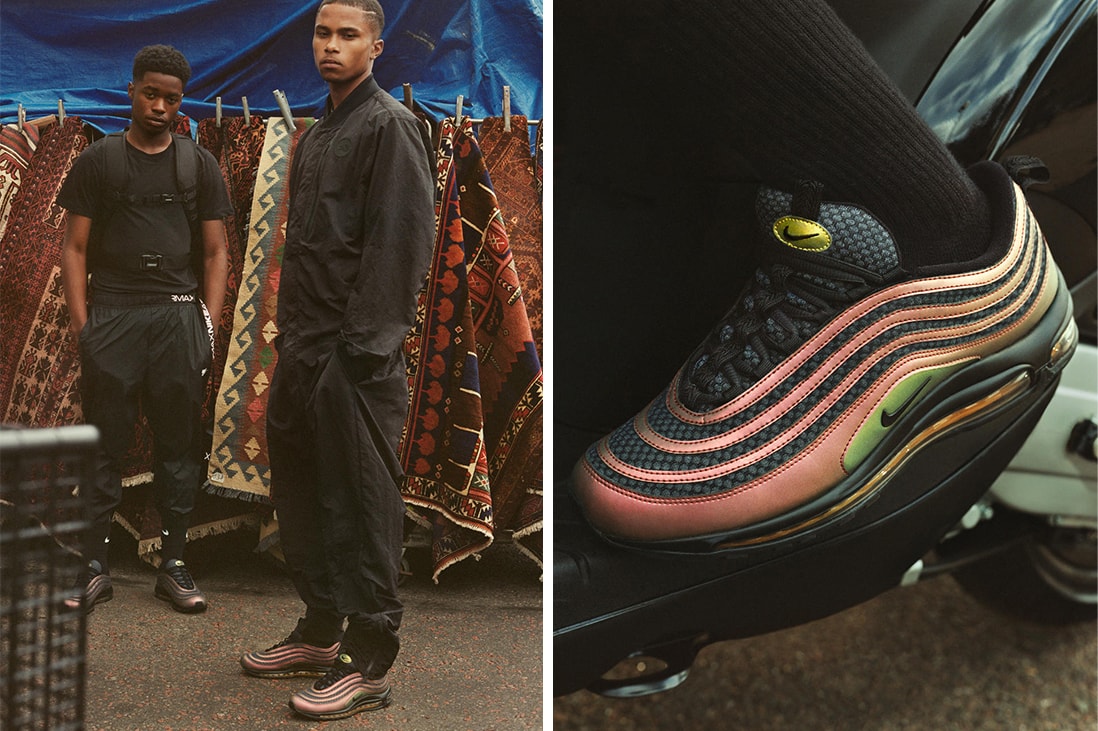 The icing on the top of a big year will be the BBK takeover of London's prestigious 20,000-capacity O2 Arena, with a full day of events ranging from football and gaming to performances from the likes of A$AP Rocky, Wiley and — of course — Skepta himself. "We do a lot of shit, a lot of activities, and music is just another thing that we do. So we wanted to bring it all together and make the fans have a fun day," he says about the takeover's eclectic lineup. "We've had such a good time on the planet for the past whatever years and sometimes to be with the fans and celebrate is a good feeling." It's also an undeniably symbolic homecoming for the collective: they've taken grime — a genre which can be traced back London's council estates at the turn of the century — worldwide, and now they're taking over the city's most significant venue. For Skepta, it's a "Boy Better Know celebration" and few can argue that they don't deserve a chance to celebrate.
After an unconventional route to the top, Skepta is enjoying his position. The last year has seen the rapper extend his reach across British culture and prove that grime's resurgence isn't just a passing trend. But, despite the world tours, the awards, the cosigns, and the collabs, Skepta's really still just getting started. As he says: "We're heard now, its time to talk the talk."
The Nike Sportswear Air Max 97 Sk launches on September 2, find out more by downloading the Nike SNEAKRS app or visiting Nike.com/Skepta. 
Join Our Discussions on Discord
The HYPEBEAST Discord Server is a community where conversations on cultural topics can be taken further.