Kyle Walker on Being Skater of the Year, Moving to LA, and the Best Place to Party
We sat down with the Thrasher Magazine award winner at the relaunch of London's House of Vans.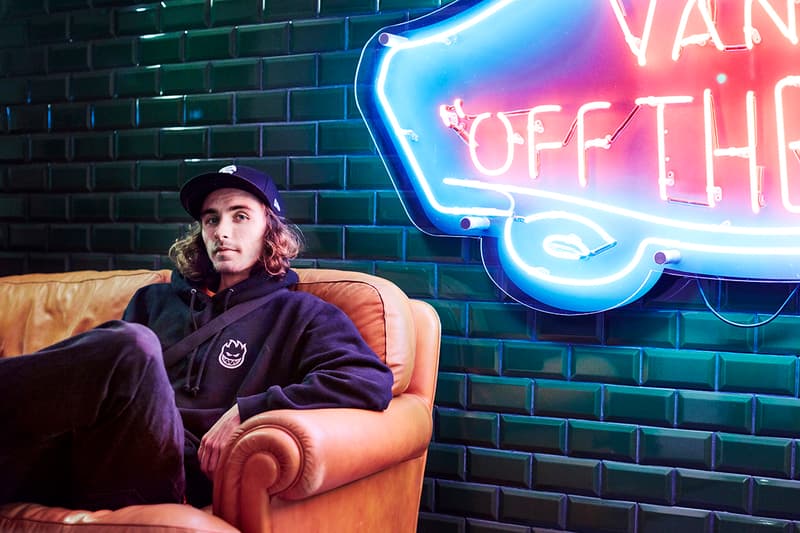 The Thrasher Magazine Skater of the Year award is one of the most prestigious prizes in skating. In 1990, Tony Hawk won the first ever crown, and since then some of the biggest skaters in the world have gone on to take the title, with people like Eric Koston and Geoff Rowley also winning. In 2016, the famous award was won by Kyle Walker, a young skater from Oklahoma but based in Los Angeles. Walker's parts in Volcom's "Holy Stokes!" video, Real's "Surveillance" series, and particularly his six-kink rail grind in the Thrasher x Vans "No Other Way" video meant that 2016 was destined to be his year. We sat down with K-Walks at the relaunch of London's House of Vans to talk about being Skater of the Year, spending your life on tour, and which city is the best to party in.
Have things been different since you were named Skater of the Year?
100% honesty, it's been a lot different. Not skating wise or anything, but just the amount of love that people be showing. A lot of love, it's pretty wild. I didn't expect that. First off I didn't even think I would get SOTY but I feel like now people are expecting way more so it's definitely a little different but I try not to look at it like that. Just keep it the same shit, keep it fun, keep it new.
What's it like to win it that early in your career?
I was pro for a year and a half, almost two years. It's definitely wild, shit kind of just took off really quick, I wasn't really expecting that.
Do you have any good Jake Phelps stories?
I got a lot, some I probably shouldn't share. As Burndog said in I want to say King of the Roadies, he's like a walking skating encyclopedia. Like literally he knows every single little thing about skating, it's so awesome. He's been sober lately and he's killing it, he's on point man. He's a legend. I'm going to meet everybody in Bust or Bail in Atlanta and he'll be out there so it's going to be a good time.
Is it quite hard spending so much of your life on tour?
Not really, because if there's certain stressful moments or anything I'll just try and think I've gotten so far, I could be back home just flipping burgers and have two kids by now and what not so I'm super stoked. I thank skateboarding for being able to see half the world. It's kind of crazy. But certain moments, like this one, there's so much travelling, hardly any sleep. It's nothing too crazy, I don't think I would trade it for anything.
I thank skateboarding for being able to see half the world. It's kind of crazy… I don't think I would trade it for anything
Have you got any particularly crazy tour stories?
I feel like there's a lot, because obviously I've been on a lot of trips, it's kind of surprising and a lot of them kind of blend together. I would say my first Thrash and Burn all throughout Europe, that was like 16 days with the heaviest squad. It was like Grant Taylor, Peter Hewitt, Phelps, P Stone, Robbie Russo, Tony T, Trixie… there were so many people but that was like my first actual trip say drinking all day, just getting it and seeing G T and everybody get down first hand; Ishod was on that too, Chima. It was just like wow, these fools get down and I think that was like my first gnarly trip. I feel like that one stands out the most maybe but there's too many trips like I honestly can't just pick one I'm so grateful for them all. And then after that was my first Vans trip and I wasn't even going to go, I was like so tired from that trip I was like probably just go home and whatnot, get rested and Chima was like "no dude, you're going. There's no way," and it was like another nine days after the Downtown Showdown in Amsterdam; it was that year, and then we just left for the Vans trip there. But those two trips probably like stand out almost the most, besides the most recent SOTY trip because that was a dream come true.
What's the best city you've been to skate in?
Sydney's pretty good, that's why I picked the SOTY trip out there. Actually, probably Copenhagen. I would say Copenhagen is pretty good because you hardly even get in a car; you ride bikes, you can drink all throughout the city, there's Christiania. I feel like whoever runs the city or whatnot is down for skating, because almost every park and stuff has something to skate. It's perfect.
What about the best city to party in?
I'm not the craziest partier but I'll damn sure have a good time. It's hard to think. Copenhagen. That contest [CPH Open] is like a contest but not really a contest, everybody just goes out there and fucking turns up, parties, kicks it and it's not serious, you know? Copenhagen is a pretty good place to party I'd say.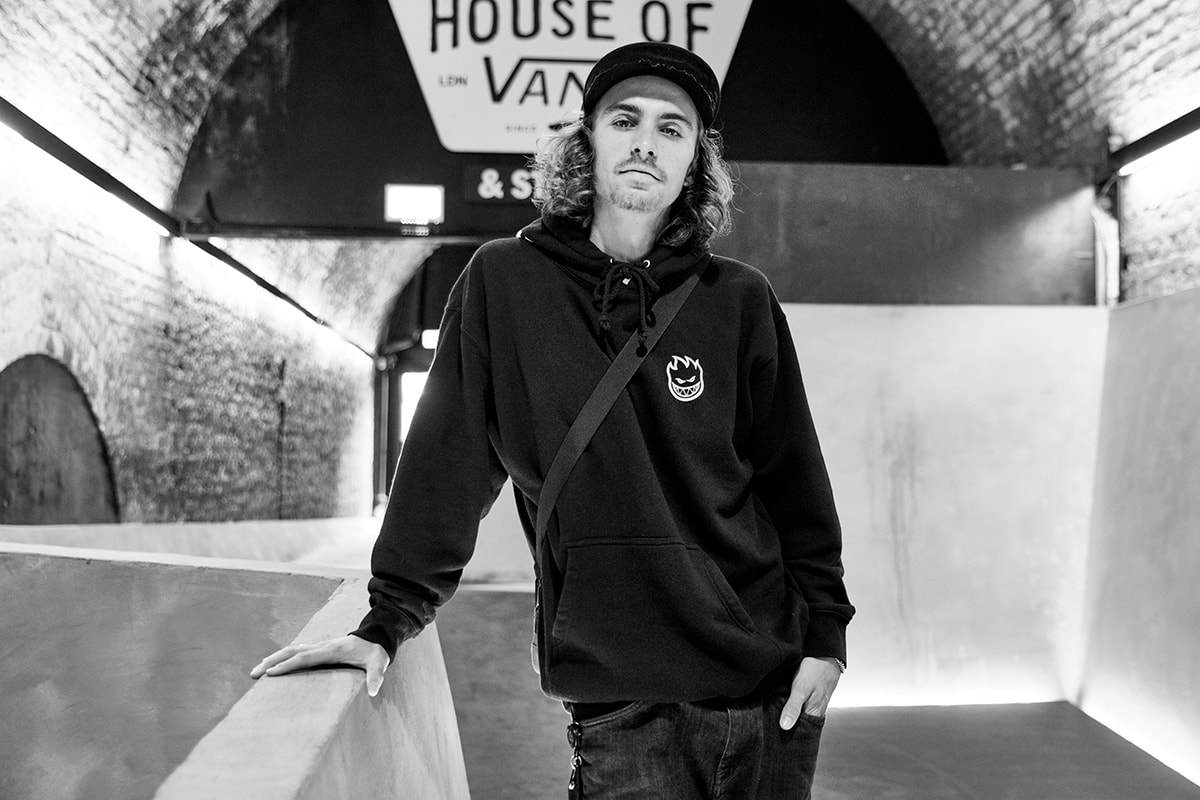 You moved from Oklahoma to LA at 16, that was a big step to take at that age.
At the time I was just like "I'm in Oklahoma all I want to do is skate." Mom was being a normal mom, as a mom should be, and was like "you've got to finish school" and all that and I started homeschooling and just kinda stopped doing that. And then my mom finally agreed and so my parents were like "alright go out there, that's on you." Not saying they thought I would mess up, obviously your kid going to move at 16 it's going to be worries, but thankfully it all worked out. I wasn't nervous, I just wanted to skate and get in California, the perfect weather, the perfect spots. So I wasn't too nervous, but my parents for sure were. That's normal, but thankfully everything worked out.
How different was LA from Oklahoma for skating?
I mean there's plenty of spots in Oklahoma but you also have the weather, there's a lot of crusty spots. LA's kind of same weather every day, perfect, perfect, perfect, perfect, and then maybe a little rain. Healthier food in California for sure, I would say there are nicer people in Oklahoma.
Have you had a chance to skate London?
I actually haven't, not like spots at all. Last time I was here was for the Propeller video premiere where we went around the world and we were only here for like 19 hours or something. So we went to South Bank had some drinks, we took the boat, went to the premiere, and then left. Now I'm back for this House of Vans stuff, and it's like I don't have any time to skate. But I would love to, I would love to spend a week or two here. South Bank every time for sure.
What's the difference between skating in Europe and skating in the States?
Spots are just way more different, I feel like there's a lot more marble. There's unique spots everywhere, but Europe just has something about it, it's like the marble, the granite, the way it looks, the buildings. I feel like the culture's way different, and spots are different everywhere. I've heard London is crusty, that's what everyone is saying.
2016 was so big for you, what have you got planned for this year and the future?
Just to try to stay healthy, busy, productive, keep it going. No parts or anything specific lined up, just kind of trying to get what we can get and whatever trips come up just see if we can get it. Like last year, was like 'right we're filming for this video we're just going to try and make this is the best thing.' Obviously I'm still trying to do as much, not take too much of a break. Just keep it going.