Five Things We Learnt From Tom Dixon at Milan Design Week
The British designer on technology, trends and the perfect collaboration.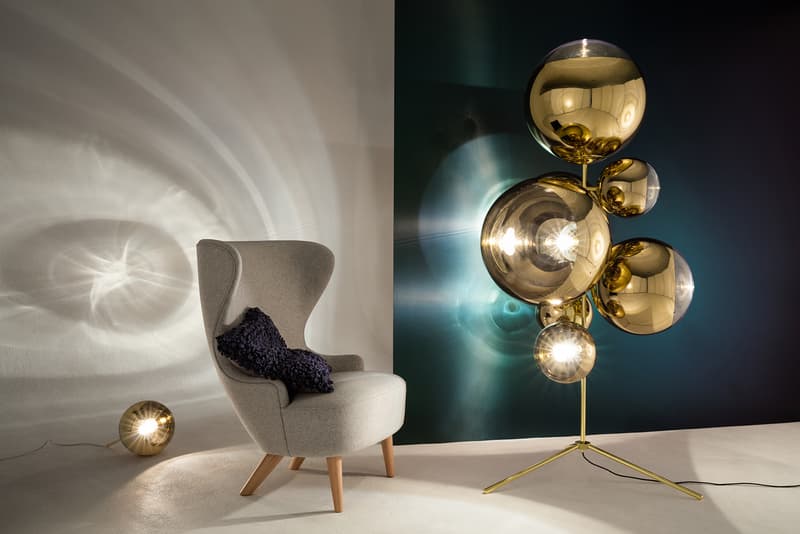 Over the course of a celebrated career spanning four decades, British designer Tom Dixon's creations have seen him become a household name and a byword for contemporary design. His furniture and lighting creations can be found in countless high-end locations around the world as well as on display in New York's Museum of Modern Art and London's Victoria and Albert Museum. And there seems to be no sign of slowdown — recent expansion into the US and the Far East will be bolstered this year with the opening of a store in Hong Kong.
At Milan Design Week this year he took over the cavernous Teatro Manzoni for his"Multiplex" exhibition. The cinema's elegant spaces — including the screening room, foyer and bar — were filled with a retrospective of his work as well as displaying a series of new collaborations including his modular sofa range for IKEA and the elegant Johnnie Walker Blue Label Capsule Series, which was inspired by the rarity and craft behind the storied whisky brand. We caught up with Dixon in Milan to get his take on heading up a design empire and what to expect in the future.
Entertainment Is Part of the Game
"It took three months of work to finish Multiplex and we started off in a completely different place — I originally wanted a completely white warehouse and to just lay everything out in a long line but my team came back with this and we changed the concept. I think we've got the right balance of commerce and entertainment, which is what you have to do to attract people now. You have to reinvent yourself in a way every year, which I enjoy but it can be very wearisome for my team."
Design Shouldn't Follow Fashion
"Because design is such a diverse field, it's much harder to follow than apparel, which is constantly changing but essentially remains the same. I've always been connected to the fashion business and my first clients included Vivienne Westwood and Comme des Garçons. But with furniture you don't want things to be so fast moving. It's a delicate balance of staying relevant and up to date while having something that feels like it has permanence. I'd love to do fashion but I see a clear separation between that and what we should be doing with longer-term products, avoiding the seasonal roller coaster the fashion business has to follow to survive."
Technology Is (Slowly) Changing Design
"There's not been nearly as much disruption as people anticipated, whether that's through rapid prototyping or the online retail model. With furniture things are really static and conservative right now — back in the 1970s there were huge bits of fiberglass, big sofas and beanbags but that's kind of vanished in place of neoclassicism. In lighting things are driven far more by technology though and people are much happier to be contemporary so we can be more playful and experimental. Working with IKEA has been interesting as these sofas are providing a platform — it's just a frame into which you can plug and play different components. It's a very different way of working to asking, "How can I produce the next iconic, killer chair." It's about high-end meeting low-end, a bit like Comme des Garçons teaming up with H&M. It happens all the time in fashion but doesn't always trickle down into design."
Design Could Work a Lot Harder
"It's a very frivolous field that we're working in and we're not really changing the world. But design has the ability to be transformational. There's a lack of engagement with the real issues right now — we need to wake up and smell the coffee. There are a few things where design seems to care a bit — for example we're making chair covers with Syrian refugees — but there's lot more that could be done."
Collaborations Are Great for Business
"We don't depend on collaborations but they're usually a strategic development to try to work out whether there's a different way of doing things — it might be dipping our toe into a new category or working with a new manufacturer. Working with IKEA has been brilliant in terms of opening up a world of new partners. We'll probably do one or two a year. You have to spice things up and it's always good to recontextualize yourself for yourself and your customers. Who knows, following my Arabeschi di Latte partnership here, maybe my future is in chewing gum."